4 Ways To Bank Like the Ultra-Wealthy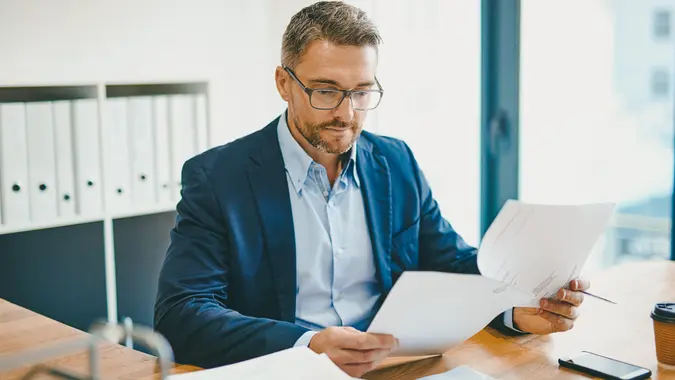 Cecilie_Arcurs / Getty Images
Sick of your bank and dreaming of something better? Really better?
More than one-third of Americans considered changing banks in the last year, according to the recently released Best Banks 2023 Survey, produced by GOBankingRates. About 20% of those surveyed are dissatisfied with the offerings of our current financial institution.
The survey goes on to list the following as top priorities for those in search of a new financial institution: low fees (40% said this was most important), good rates (15%) and sign-up bonuses (11%). Accessibility — good locations and strong mobile banking options — came in fourth at 10%.
All good things to look for, certainly. What would your banking experience look like, though, if you had all the money in the world? Or at least a good chunk of it? What sort of products, services, accounts and financial help would you be insisting on then?
As is the case in many areas, really rich people have many more options than most.
We should first attempt to define "really rich" as there are multiple levels to consider. Daniel Roccato, a clinical professor of finance at the University of San Diego, offers the following breakdown.
You've got your billionaires. Then there's the "Hundred Million Club" (think rich enough to afford your own jet). "Super rich" people might have net worths of $80 million to $100 million. Let's call $5 million to $80 million "very rich" and $1 million to $5 million "emerging or aspirational wealth."
The banking options increase depending on how high you are on the list. Billionaires, for example, have investment opportunities open to a very small club. Here are four ways that really rich people bank differently than most of us.
They Use Private Banks
Lots of national chain banks boast high-end services, but it's tough to match the offerings of private banks if you're really rich.
"You'll get a big difference in terms of personal attention, plus the array of services that are available," Roccato said.
Those services include high-value financing for things like jets, yachts and super-expensive real estate. There's also a level of personal service that most people can only dream of. Imagine having your own dedicated financial professional, someone who handles all of your banking needs and provides financial advice and is just a phone call away, 24/7.
"Your private banker is on-call," Roccato said. "If you're in Istanbul, and you see a piece of art that you want in your home, and it's the weekend … A private banker has to take that call on a Friday night and figure out how to get that done."
They Have Teams of People — Sometimes Big Teams — That Manage Their Money
The really rich often hire a team of financial professionals to handle their banking and all aspects of their finances, including charitable contributions. These teams may include a handful of people or dozens. They often take the form of "family offices" — privately held companies that exist solely to handle assets.
This offers a high level of control and privacy, plus customized strategies that are unique to the needs and goals of a particular family or other entity.
As you've probably figured, it ain't cheap. Let's say you hire a team of four professionals, including a CPA and maybe a lawyer. Salaries and overhead may run you around $2 million a year. So it's not something you're likely to do with a net worth of around $5 million. Think more like $50 million.
They Finance Themselves
The very rich are very strategic in their use of debt and leveraging of assets.
"These families are essentially their own banks," Roccato said. "They finance themselves. They're not going to go to Bank of America to get a mortgage for their second home in Vail."
Let's say you have $100 million worth of stock, and you want to buy that second home in Vail for $20 million. You could just sell the stock and buy the home. But that would mean a huge tax hit, plus being out of the market on that stock. Being rich enough gives you the opportunity to borrow the $20 million against your own assets, buy the home, keep your stock intact and avoid the tax blow.
"Up until recently," Roccato said, "they were doing this for insanely low interest rates."
They Invest … A Lot 
The really rich tend to be less risk-averse than typical investors and often place the bulk of their wealth in the market, surveys have shown.
There are also those rare investment opportunities available to only a select few, often presented to well-healed clients by their own dedicated private bankers.
"There are investments available to those folks that aren't available to you and I," Roccato said. "Those folks are shown opportunities globally that the mass market might not even know exist. It can be something as simple as investing in a private company. It can be as esoteric as something like investing in llamas in Peru."
More From GOBankingRates