4 Times It's Worth the Trip To Do Your Banking In Person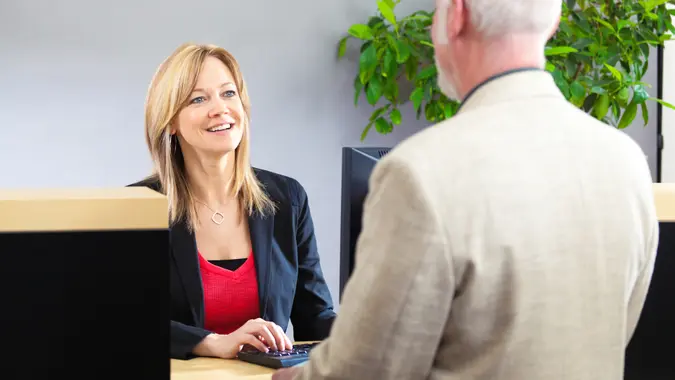 YinYang / Getty Images/iStockphoto
Fewer than 1 in 5 Americans prefer to make their bank transactions in person, a recent GOBankingRates survey found. The preferred banking method by far is now via mobile, with 59% of Americans choosing to bank this way, and an additional 22% preferring to bank online.
But are some transactions still better done in person? Here are a few reasons you might want to make a trip to your bank's physical branch.
Applying for a Loan
While you can apply for a loan online, you may be able to get better rates or terms when you apply in person, said Kunal Sawhney, CEO of Kalkine Group, an equities research firm.
"In the case of banking at physical branches, a person gets to establish a relationship with the person managing the information or finances," he said. "Applying for a loan may be better to do at a physical branch because when a customer has built a level of trust with the staff or manager, they may be able to get some changes to the terms of the loan."
Opening a New Account
Only 17% of those surveyed said they would visit a physical branch to open a new bank account, but it could be beneficial to do this in person.
"If you need to open a new bank account or make significant changes to an existing account, such as adding or removing a joint account holder, it's usually best to visit a bank branch in person," said Dennis Shirshikov, former adjunct professor of finance and economics at the City University of New York and strategist at Awning.com. "This allows you to verify your identification, discuss your financial needs and goals with a bank representative, and ask any questions you may have."
Reporting Fraud
If you see a suspicious charge on a credit card, this is usually easily handled via phone, but for more complex situations, it's probably best to pay a visit to your bank.
"If you suspect that you may be the victim of identity theft or financial fraud, it's a good idea to visit a bank branch in person to report the issue and take steps to protect your accounts," Shirshikov said. "A bank representative can help you identify any unauthorized transactions and take steps to secure your accounts, and may be able to provide additional resources or assistance if needed."
Withdrawing and Depositing Cash
As advanced as technology is, you still need to make a trip to a physical bank branch or ATM when cash is involved. According to the GOBankingRates survey, 40% of Americans go to a physical bank branch to cash or deposit checks. In addition, 38% bank in person when they need to make large cash deposits. Making these transactions in person can also add an extra layer of security.
More From GOBankingRates
Methodology: GOBankingRates surveyed 1,000 Americans ages 18 and older from across the country between Dec. 7 and Dec.12, 2022, asking 19 different questions: (1) What category does your current financial institution fall under?; (2) Have you considered changing banks within the past year?; (3) If you have considered changing banks in the past year, were any of the following factors? (Select all that apply); (4) Which feature, perk or other offering is most important to you when opening an account with a new institution?; (5) Are you currently satisfied with all the banking products and services offered by your bank/credit union?; (6) Would you ever have different types of accounts across multiple banks? (i.e. checking at Chase, but savings at TD Bank); (7) What is your most preferred method of banking?; (8) Which of the following is the biggest factor for you staying with your current bank?; (9) Which of the following bank accounts do you currently use/have open? (Select all that apply); (10) How much is the minimum balance you keep in your checking account?; (11) How much do you currently have in your savings account?; (12) What amount of a sign-up bonus would make you consider switching banks?; (13) Have you considered using any app-only banking platforms (aka neobanks) in the past year (e.g. Current, Upgrade, Chime, Dave, etc.); (14) How important is it to you for your bank to be affiliated with a crypto exchange/platform?; (15) In the past year, how often have you written a physical check?; (16) When was the last time you visited your bank in person?; (17) Why would you choose to visit your bank in person? (Select all that apply); (18) When you think about banking, do you think of it as something you need or don't need?; and (19) What services/products do you expect from your bank and/or credit union? (Select all that apply). GOBankingRates used PureSpectrum's survey platform to conduct the poll.