Map: What Is the Biggest Bank in Your State?
Which bank is the best in your area?
Whether you're looking to open a checking or savings account, or apply for a home or car loan, you have plenty of banks to choose from. Online banks, brick-and-mortar banks, regional banks, national banks — the list goes on. However, what if the best option for you is the biggest bank in your state?
A new GOBankingRates analysis maps out the biggest bank in every state. The study looked at which banks had the largest value of deposits in each state, according to data from the FDIC, while also being headquartered in that state. The results demonstrate just how diverse the American banking system can be.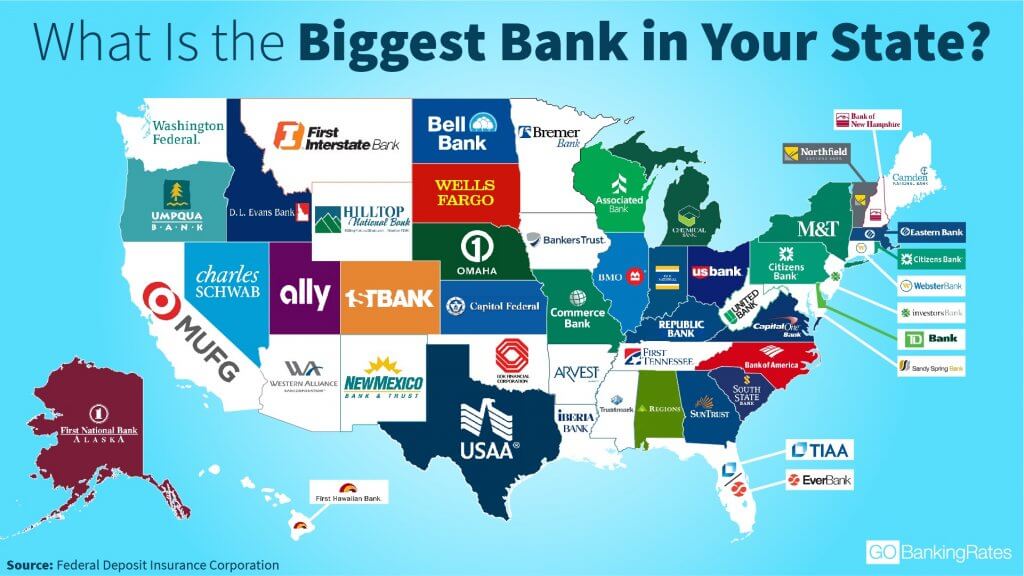 Of course, it's important to remember that the largest bank in your area isn't automatically the best bank for you. From small community banks to credit unions to giant multi-nationals, there are a lot of options out there — and you should shop for the right fit for you.
If you rarely find yourself heading into your local branch, online banks might offer all the services you need as well as better interest rates because they're saving money on operating physical branches. Likewise, if you're someone who prefers to see someone in person about your money, a bank with plenty of local branches is likely going to better serve you than options that are more focused on mobile banking customers.
Up Next: 10 Best National Banks of 2018