Here's Why 1 in 5 Americans Are Considering Switching Banks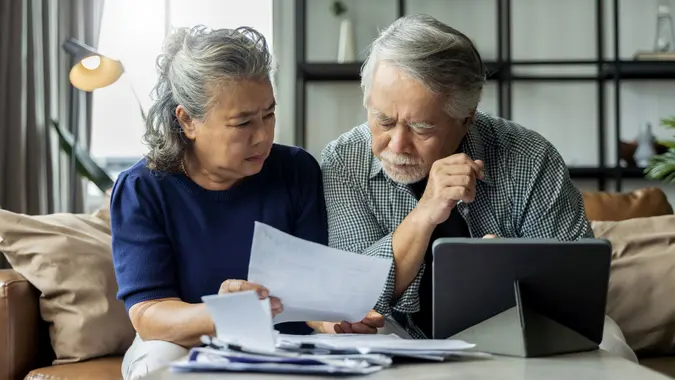 whyframestudio / Getty Images/iStockphoto
Between the big legacy banks, online-only alternatives, neighborhood credit unions and emerging fintechs, people today have more options for managing their money than ever before.
And a good portion of them are considering exercising those options.
According to a new GOBankingRates survey of 1,000 American adults, about 65% of people have no interest in changing banks — but that means more than 1 in 3 have considered seeking a new home for their money.
Anyone who has ever had a problem with their bank won't have a hard time understanding why.
"The common frustrations plaguing today's customers are, among others, poor customer service, long waiting times, complicated processes, and lack of transparency," said Fluent in Finance founder Andrew Lokenauth, an investing and banking professional who held senior positions at Goldman Sachs, AIG and other major institutions. "Over the next few years, banks will be working to improve these areas by investing in digital and AI technologies, and by training their staff to better understand and meet customer needs."
About 20% Just Want More From Their Banks
About 15% of respondents have considered changing banks in the last year because of events only indirectly related to their finances — roughly half because they moved and half because of COVID-19. Another 13% or so wanted better online access. But approximately one in five, the biggest percentage by far, has considered switching simply because they want access to better banking products and services than they're currently getting.
"Customers are on the lookout for seamless, hassle-free experiences that handle their requests almost instantly and without friction," said Goran Luledzija, CEO of fintech SaaS provider Localizely.
When They Flee, They Flee Mostly To Escape Fees
The survey showed that when customers go out searching for a new bank, they're most likely to be searching for shelter from fees — 40%, the biggest group by far, said fees are their chief concern. 
Fees and hidden expenses have long been the bane of banking, and while the industry has taken note of customer disgust, big legacy banks have been the slowest to come around to the idea of fee-free banking.
If your priority is to avoid paying extra without getting anything extra in return, look online. When it comes to truly fee-free banks — including even overdraft charges — names like Ally, Discover, Axos, Wealthfront and Betterment always rise to the top of the list. On the other hand, names like Chase, Bank of America, Wells Fargo, Citibank and PNC all have a place among the institutions that still charge at least some of their customers maintenance fees, minimum balance fees and overdraft fees.
Good Rates and Sign-Up Bonuses Are Always a Plus
Next, but much further down in line, are the 15% who prioritize good rates and the 11% who can be swayed to switch banks with a juicy sign-up bonus. 
Most of the biggest names in banking, both online and traditional, offer financial incentives to move your money over to them. But as Forbes points out, some banks with sign-on bonuses — like Citi, Bank of America and TD — also hit their customers with monthly fees. The trick is to find the handful of institutions that achieve the trifecta of good banking — no fees, good rates and a generous sign-on bonus all in one.
Improved Accessibility Can Keep Customers Loyal
Another 10% were chiefly concerned with accessibility — a suitable number of locations and comprehensive mobile banking — and that's on top of the 13% who considered leaving their current bank during the last year due to concerns about online access.
The industry seems to have gotten the memo.
"Banks have been increasingly investing in digital technologies such as mobile banking apps, online account management, and chatbots, and this trend is expected to continue in the coming years," Lokenauth said. "These advances will make the banking experience easier and more efficient, as customers will be able to manage their accounts, make payments, and access financial services from anywhere at any time."
Customer Service: The Most Basic Need in All of Banking
Finally, there's the 9% who would leave their bank if it meant getting good, helpful, 24/7 customer service. This one is self-explanatory for anyone who's been bounced between departments on the phone, trapped in an automated loop of button-pressing in hopes of hearing a human voice, or left wondering if the person they're chatting with online is really a person at all.
"Long wait times, limited branch access and confusing banking policies are obstacles that many financial institutions are looking to overcome by creating online and mobile banking options among simpler, more transparent policies," said Luke Williams, finance expert with Clearsurance.com. "Outdated and clunky digital banking interfaces are being upgraded, and banks are increasing communication with customers to keep them informed of fees and changes in terms of service."
More From GOBankingRates