5 Reasons You Shouldn't Do All of Your Banking in One Place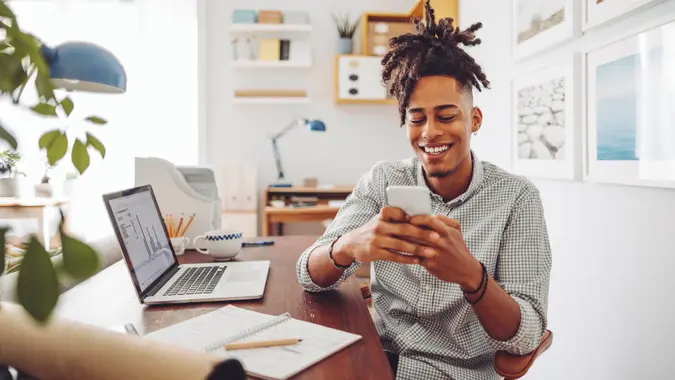 Kondoros Eva Katalin / Getty Images
The idea of a one-stop shop when it comes to a bank has much appeal.
For starters, keeping all of your money at a single institution makes it easy to track, as you don't have to chase down statements from different institutions, particularly at tax time. It also makes it easier to get a complete, easy-to-understand picture of your complete banking situation, potentially including even your investment performance.
GOBankingRates' Best Banks 2022: See the Top Banks, Credit Unions and More
Learn: How To Compound Your Income in 2022
But there are just as many reasons you might consider spreading out your banking accounts among different institutions, even if it may make things a bit more complicated on the surface. Here are just a few.
No One Bank Can Do Everything
Good banks tend to do at least a few things very well. Some may have low fees and high interest rates, others may have extensive branch systems and networks of fee-free ATMs, while still others may provide comprehensive estate planning services and advanced stock trading capabilities.
But no one bank can do everything well for all customers. In fact, many banks rely on the strengths of their best offerings to entice customers to stay with them, hoping they will use some more expensive services along the way.
The Top Picks: Best Savings Accounts of 2022
But nothing requires you to keep all of your money at a single bank. As a consumer, you are free to pick and choose the best offerings of any bank you can find. While you may need one bank to process in-person cash deposits, that shouldn't stop you from transferring those deposits to another bank with a no-fee, high-yielding savings account to earn money on that cash. By not limiting yourself to a single financial institution, it means you can shop around and pick the best of the best for all of your banking needs. 
Find Out: What Do Banks Do With Your Money After You Deposit It?
The 'Right of Offset' May Catch You 
One relatively unknown right that banks have is the ability to offset your debts with your cash deposits. For example, if you take out a personal loan and find yourself unable to keep up with your payments, your bank may have the right to dip into your checking or savings accounts to pay off that debt. This is particularly true in the case of bankruptcy.
While no one plans on defaulting on a debt, if it happens to you, having your cash deposits at a different institution than your debt accounts may prevent you from finding yourself in this position.
See: 5 Banks That Will Grow Your Wealth the Fastest 
Banks Can Fail
Although it's extraordinarily rare, banks can and do fail. If you have all of your assets at a single bank, that puts you at risk of being in a tough financial situation. While accredited banks have FDIC insurance to protect your deposit accounts, it can take days or even longer to receive that deposit insurance payout.
Meanwhile, you won't have any access to your funds to pay your bills, withdraw cash or maintain your automated payments. Keeping at least some of your money at a different institution can help keep you liquid in case of extreme disaster.  
Types of Savings Accounts: Where Is the Best Place To Put Your Savings?
Risk of Theft Increases
Cybercrime is rising exponentially. As more and more banks get hacked, it becomes less and less prudent to keep your money at a single institution. With one fell swoop, an unscrupulous hacker could drain your financial accounts — a risk you won't take if your money is scattered around at different banks.
While most banks have insurance against fraudulent activity in customer accounts, as with FDIC insurance, it may take days or even weeks to get your money back if you're hacked. That could put you in a financial bind for a potentially extended period of time. The risk level of this hazard may be low, but the disruption to your financial life would be high.
You Can Garner More Sign-Up Bonuses and Rewards
Consumer banking is a very competitive industry. As customers can choose from literally thousands of banks simply from their computer screen or smartphone, many banks offer sign-up bonuses or other promotions to drum up new business. 
For example, as of January 2022, Chase Bank is offering $225 to new customers opening a checking account and meeting qualifying criteria, while Citi is paying up to $1,500 for the same.
While some of those terms may be hard to meet for some customers, many other banks offer lower bonuses with fewer restrictions. The point is that there's no reason to stick with a single banking institution when there are lucrative bonus offers out there for the taking, particularly if you're unhappy with the high fees, poor customer service or other drawbacks of your bank. 
More From GOBankingRates