20 Banks and Credit Unions Building Strong Local Economies Through Education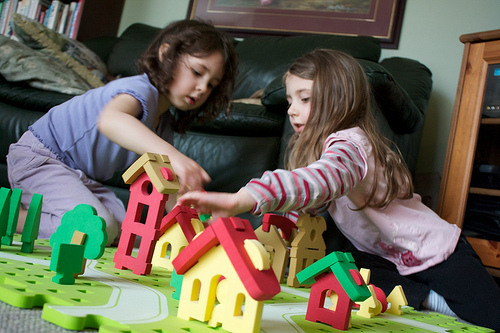 It's become common knowledge that local financial institutions — community banks and credit unions — are beneficial to the neighborhoods they serve. But why are they so important to our communities?
We can quickly point to their competitive interest rates or local decision-making power, but one of the biggest reasons local banks and credit unions are so great often goes unrecognized: Their deep commitment to community service, especially in the areas of education and financial literacy.
That's because the stronger an education system, the more economically-viable its community becomes. Whether or not residents realize it, their neighborhood financial institutions are directly responsible for their financial well-being, beginning when they're children attending school.
The Relationship Between Education and Economy
Joe Reagan, CEO of the St. Louis Regional Chamber Growth Association, recently told the eMissiourian.com, "(Education) is the surest path to economic prosperity." He added that industries require talent, and future jobs will put a high demand on a college education.
Education is the foundation to local economic development for this very reason. An uneducated labor force leads to slow growth and low wages; highly skilled workers not only enjoy better pay, but cause a ripple effect of higher employment, stronger local business and overall economic prosperity in the communities where they live and work.
20 Local Banks and Credit Union with Education-
Focused Community Service Programs
The following are 20 local financial institutions we identified as playing a crucial role in the economic well-being of the communities they serve by donating an impressive amount of time and money in the area of education.
America First Credit Union takes an active role in the local education system, partnering with Lakeview Elementary School and Robert O. Gibson Middle School to help mentor students and support school programs. Additionally, America First is involved in "Warm the Soles," which provides new shoes to economically-disadvantaged students in Utah.
American Savings Bank founded the Bank for Education program, which was established the help communities raise the funds necessary to allow Hawaiian residents gain access to tools for success. In fact, the bank has committed itself to awarding more than $200,000 to local schools.
Cy-Fair FCU offers a scholarship program to support the financial needs of local students, most recently giving a total of $7,000 in scholarships to seven graduating high school seniors in the Cy-Fair area. The credit unions was also recently awarded the Boys and Girls Country 2012 "Friend of Children" designation.
Dakota Plains FCU finds a number of ways to support children and schools, actively participating in scholarship programs, drives and donations. This year, the credit union expects to award a $250 scholarship to applicants from each of its five branches.
Dakota Plains also participates in the Lemmon SAFE Communities Program; in partnership with Bank of the West and Dacotah Bank, 25 backpacks filled with school supplies are donated to students in need.
Farm Bureau Bank is highly active in the farming community through its American Farm Bureau Federation website, as well as extensive community events and programs, including Partners in Agricultural Leadership (PAL), a program created by Farm Bureau Bank to enhance leadership skills that are developed through participation in the AFBF Young Farmers & Ranchers Discussion Meet, Achievement Award, Excellence in Agriculture Award and/or the AFBF Young Farmers & Ranchers Committee.
Flag CU puts most of its efforts in supporting education and the local community through partnership with local schools, supply donations and drives. For instance, Flag Credit Union delivered donated school supplies to W.T. Moore Elementary just before this year's back-to-school season.
In order to assist teachers in conducting special projects in classrooms, Foothill Credit Union developed the Classroom Improvement Grant, which supplies funds needed for academic awards, equipment educational software, special books or materials. Grants are awarded in $200 amounts and teachers/learning specialists don't need to be Foothill members to qualify.
Great Lakes Credit Union is highly active in community service surrounding financial literacy and financial matters and helping students achieve educational goals.
The credit union's "Mad City Money" program teaches high school students about finance through a series of real world role-play activities, in addition to awarding six $1,000 college scholarships through the GLCU Scholarship Committee. During the 2013-2014 school year, GLCU awarded six of these scholarships to high school seniors.

LA Financial Credit Union focuses on giving back to the local community, with special emphasis on youth and their education. In its mission to "be an active partner in our community with special emphasis on our youth," LA Financial Credit Union offers scholarships as well as an internship program for high school and college students who want to gain real world professional experience and learn more about the operations of the credit union.
The Marquette Bank Education Foundation was founded to help students with a financial need continue their post-high school education. Students from local high schools who demonstrate solid academic standing and good community citizenship are eligible.
Established in 1967, the Marquette Bank scholarship program has awarded $2.6 million to 1,388 graduating high school students so far.
The community service efforts of Mission Federal Credit Union center on supporting educational institutions and financial literacy needs of students. For instance, the credit union's "Mission 4 R Schools" program donates $25 to a school every time a member opens a Mission checking account.
Mission FCU also organizes "Mission 2 $ave," a financial literacy program for children. Additionally, Mission was a 2012 recipient of the 2012 Desjardins Youth Financial Education Award from the Credit Union National Association for best youth savings program.
MONEY Federal Credit Union focuses on education and providing all children with the opportunity to pursue their educational dreams. It supports this goal through its scholarship program (which gives away $7,500 in scholarships to ten high school seniors) and donations to Father Chaplain's Guardian Angel Society, which provides tuition assistance, mentoring and educational aid to local children.
13. Opus Bank – Irvine, California
Opus Bank developed the Opus Community Foundation, which supports an extensive number of programs that all improve the well-being of local residents.
In just the area of education, however, the foundation funds programs for after-school activities, mentoring, literacy and additional events and organizations that promote a sense of community and self-worth in youth. Opus Bank also sponsors financial literacy programs for grades pre-Kindergarten all the way through 12, prioritizing schools serving low- and middle-income communities highest.
Popular Community Bank has made impressive efforts in the areas of fundraising for local programs — just last month, the bank's foundation contributed more than $90,000 to Operation HOPE, Inc. (HOPE), "to support the youth empowerment programs, HOPE Business In A Box (HBIAB), and Banking on Our Future (BOOF) in Los Angeles over the next two years," according to a press release.
Republic Bank's community service efforts include partnering with the University of Kentucky to offer 20 four-year scholarships to high school students from the Kentucky counties included in the bank's network. The program is designed to give students real world, practical work experience within the financial services industry, as well as promote career awareness.
Space City Credit Union held its 3rd annual Wolf Scholarship Golf Classic on November 5th 2012, an event that helped raise $10,000 to be put toward the credit union's new scholarship fund. Space City Credit Union is offering a total of 10 scholarships for both university and community colleges. The 4th annual event is coming up on November 11th and promises to raise another several thousand dollars for the students who need it most.
17. Spring Bank – New York, New York
The focus of Spring Bank is to meet the banking needs of underserved and low- to moderate-income communities, working with a number of community development partners to widen the reach of financial literacy programs, expand access to asset-building tools locally, including:
ARIVA
The Financial Clinic
Start Small, Think Big
Bronx Works
Food Bank for New York
Business Outreach Centers
University Neighborhood Housing Program
Gramee America, G Next
Susquehanna Bank plays an active role in supporting the educational needs of the cities it serves. Last year, the bank donated close to $3 million in time and funds to nonprofit organizations in its communities.
Susquehanna places emphasis on supporting local teachers and classrooms, promoting financial literacy and teaching money management and programs for children in low-to-moderate income communities. Some of the programs the bank has established to accomplish these goals include Get Smart About Credit, Strikeouts for Stellar Education, Teaching Kids to Save and "Mind Your Pennies with Buck."
According to Travis Credit Union, "Community service is more than a slogan, it is a guiding principle in our decision making and it inspires employees—at all levels of the organization—to actively engage in community affairs." The credit union's community service efforts in the real of education include the Mary Keith Duff Memorial Scholarship Fund and support of the local Boys and Girls club.
Ventura County CU focuses on supporting children and education efforts. It partners with THRIVES and School on Wheels to donate books and other school supplies for local children in need.
Ventura County CU also participates in "National Credit Union Youth Week," when fun, educational activities are planned each day to help teach kids about finance and savings.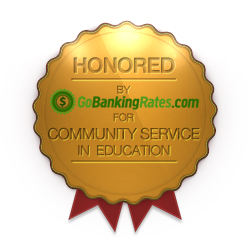 Credit unions and banks who would like to share their accomplishment in community service may do so by proudly displaying this badge.