Biggest Bank in Every State: Employment, Accessibility and Community Involvement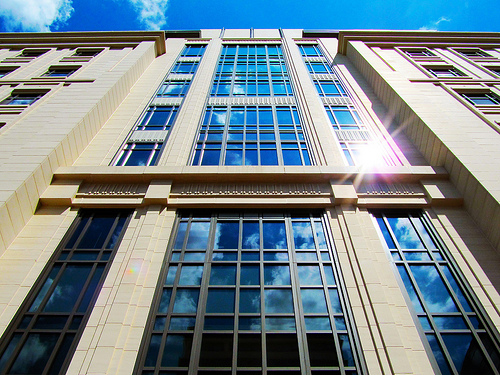 Do big banks really deserve a bad rap? A recent Nielsen poll found that more and more Americans have a positive opinion of big banks — and perhaps for good reason. GOBankingRates conducted a study to determine the positive contributions big banks make to the economy, their local communities and customers across the country.
Using Federal Reserve data of consolidated assets, GOBankingRates determined the biggest bank in each state and Washington, D.C., based on the location of their headquarters.
For each bank, GOBankingRates looked at the number of employees, corporate state tax revenue generated and charitable contributions made to determine social and economic impact, as well as the number of branches and ATMs, hours of operation, banking technology, areas served and financial services offered to gauge accessibility. Taxes paid were calculated using 2013 net income for each bank and state corporate income tax rates.
Alabama
Biggest bank: Regions Bank
Employees: 24,255
Taxes paid annually: $72.93 million
National ATMs: 2,029
In-state branches: 241
United States branches: 1,705
International branches: 0
Areas served: 16 states, primarily in the South and Midwest regions
Hours of operation: Monday through Thursday from 9 a.m. to 4 p.m., and Friday from 9 a.m. to 6 p.m. The same hours apply to the bank's drive-thru service, and some locations hold Saturday drive-thru hours.
Banking technology: Online banking and mobile banking app
Charitable giving: Regions Bank is involved in the City of Birmingham Empowerment Week, Commitment to Economic Development in Alabama, Improvements at Miles College Alabama and Bay Area Food Bank Alabama.
Services offered: Checking and savings accounts, debit and prepaid cards, cash services (with or without a checking account), protection services, priority banking, safe deposit box, money market, CDs, rewards, IRAs, auto buying service, tax center
Alaska
Biggest bank: First National Bank Alaska
Employees: 662
Taxes paid annually: $3.76 million
National ATMs: 28
In-state branches: 30
United States branches: 30
International branches: 0
Areas served: Alaska
Hours of operation: Monday through Friday, some Saturday hours and drive-thru access
Banking technology: Online banking and mobile banking app
Charitable giving: First National Bank of Alaska contributes about $1 million annually to charities and community events.
Services offered: Savings accounts, money market accounts, safe deposit services, trust and investment management, checking accounts, debit cards, escrow services, home loans, owner-builder loan program, consumer loans, home equity loans, MasterCard credit cards
Arizona
Biggest bank: Alliance Bank of Arizona
Employees: 1,051
Taxes paid annually: $7.98 million
National ATMs: 39
In-state branches: 10
United States branches: 39
International branches: 0
Areas served: Arizona
Hours of operation: Monday through Thursday from 9 a.m. to 4 p.m. and Friday from 9 a.m. to 5 p.m.
Banking technology: Online banking
Charitable giving: Alliance Bank of Arizona's Charitable Contributions Programs support 501(c)3 nonprofit organizations that provide services to low- or moderate-income areas.
Services offered: Checking and savings accounts, money market accounts, CDs, IRA and SEP accounts, personal flex accounts, ATM and debit cards, home loans, secured and unsecured loans
Arkansas
Biggest bank: Arvest Bank
Employees: 5,831
Taxes paid annually: $1.49 million
National ATMs: 300
In-state branches: 121
United States branches: 275
International branches: 0
Areas served: Arkansas, Missouri, Oklahoma, Kansas
Hours of operation: Some locations have extended hours (Monday through Friday from 8 a.m. to 8 p.m.) and Saturday hours (8 a.m. to 1 p.m. or 9 a.m. to 4 p.m.). Some grocery store locations have Sunday hours from 1 p.m. to 5 p.m.
Banking technology: Online banking
Charitable giving: Arvest Bank is involved in volunteering and monetary donations to support its local communities; notable charities include Children of Arkansas Loved for a Lifetime (C.A.L.L.), Relay for Life and the American Red Cross.
Services offered: Checking and savings accounts, debit and cash access cards, CDs, IRAs, home loans, personal loans, credit cards, auto warranties, AD&D insurance, ID protection, and investment management services
California
Biggest bank: Wells Fargo
Employees: 264,900
Taxes paid annually: $1.93 billion
National ATMs: 12,000
In-state branches: 829
United States branches: 6,200
International branches: 1
Areas served: The United States except for Hawaii, Kentucky, Louisiana, Maine, Massachusetts, Missouri, New Hampshire, Oklahoma, Rhode Island, Vermont and West Virginia
Hours of operation: Monday through Friday from 9 a.m. to 6 p.m. or 10 a.m. to 7 p.m.; some locations hold Saturday hours from 9 a.m. to 4 p.m.; some locations offer 24-hour ATM access
Banking technology: Online banking, online brokerage and mobile app
Charitable giving: In 2013, Wells Fargo donated $275.5 million to 18,500 nonprofits and schools nationwide; Wells Fargo runs Hands on Banking, an educational program that teaches consumers about personal financial management.
Services offered: Checking and savings accounts, CDs, debit and prepaid cards, foreign exchange, global remittance services, mortgage loans, home equity loans, personal loans, student loans, auto loans, credit cards, auto and vehicle insurance, life insurance, homeowners insurance, renters insurance, umbrella liability insurance, ID theft protection, IRAs, rollover accounts (401(k), etc), health savings accounts, education savings, online brokerage, portfolio management services, wealth management services and private banking
Colorado
Biggest bank: FirstBank of Colorado
Employees: 600
Taxes paid annually: $5.08 million
National ATMs: 200
In-state branches: 101
United States branches: 120
International branches: 0
Areas served: Colorado, Arizona, California
Hours of operation: Some locations have extended hours of Monday through Friday from 9 a.m. to 6 p.m. or 10 a.m. to 7 p.m. and Saturday from 9 a.m. to 12 p.m., with some branches extending until 2 p.m.
Banking technology: Online banking, mobile banking app, business internet banking and internet cash management
Charitable giving: In 2013, FirstBank donated over $5 million to Colorado-based charities; notable causes included Junior Achievement, United Way, YMCA of Metro Denver, Habitat for Humanity and Special Olympics.
Services offered: Checking and savings accounts, college savings plan, health savings accounts, CDs and time savings accounts, IRAs, mortgage loans, home equity loans, business loans, credit cards, other loans (construction, auto, single payment, etc.), and 1031 exchanges
Connecticut
Biggest bank: Webster Bank
Employees: 2,744
Taxes paid annually: $15.19 million
National ATMs: 311
In-state branches: 126
United States branches: 166
International branches: 0
Areas served: Connecticut, Massachusetts, Rhode Island and New York
Hours of operation: Monday through Friday from 8 a.m. to 5 p.m. with some locations open until 6 p.m. Some locations also offer Saturday hours from 9 a.m. to 2 p.m., and some locations offer night deposit options
Banking technology: Online banking and mobile banking app
Charitable giving: Webster Bank donates nearly $4 million annually to over 1,000 organizations; charity is often done in conjunction with United Way and its partner agencies
Services offered: Checking and savings accounts, debit and prepaid cards, health savings accounts, CDs, IRAs, credit cards, mortgages, home equity lines of credit and loans, personal loans, student loans, investment consulting, brokerage services, mutual funds, fixed income securities, college planning, annuities, life and disability insurance, and private banking