Study: Just How Far Have Interest Rates Fallen Since 2011?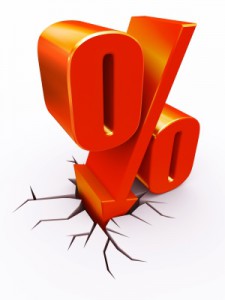 It's official: Gone are the days when depositors could easily expect to earn savings account rates of 1-2% or more. The 1% savings account rate is now the unicorn of banking — a mythical number depositors are sure doesn't exist — and even traditionally higher-yield certificate of deposit accounts aren't faring much better.
It feels like the state of deposit rates in the U.S. has always been this way, but even just two years ago, things were much better for savers.
Historical Comparison: Average Savings and CD Rates in U.S.
In an attempt to see just how savings and CD rates have changed in the past two years, we compared current average interest rates on savings accounts and 6-month, 1-year and 2-year CDs to average rates from 2011. See the comparison below:
Historical Average Interest Rates – February 2011
6-Month CD: .60% APY
1-Year CD: .85% APY
2-Year CD: 1.20% APY
Savings Account: .36% APY
Average Interest Rates Today – January 2013
6-Month CD: .30% APY
1-Year CD: .45% APY
2-Year CD: .67% APY
Savings Account: .21% APY
Steadiest Rate: Savings account (.15% difference)
Biggest Drop: 2-year CD (.53% difference)
Why is there so much movement among 2-year CD rates and less for savings accounts? Essentially, it all comes down to how banks set interest rates.
Savings accounts are demand accounts — account holders can request to have their money withdrawn instantly at any time. This limits what banks can do with deposits to generate revenue — such as lend it out — because they must be able to pay the money on demand should a customer request it. Due to this fact, interest rates are generally lower on savings accounts than CDs and thus, don't have much lower to go.
However, it also means that banks can change the interest rates on their savings accounts whenever they wish, responding to new rate trends as they occur, which may explain the steadier average for savings accounts.
Certificates of deposit, on the other hand, are timed accounts requiring a set deposit period during which the account holder cannot withdraw money without paying a stiff penalty. Banks have more freedom to use CD deposits as they wish, since they know they will not have to pay the money back to the depositor for a predetermined amount of time, and can therefore offer a higher interest rate in exchange.
This works against depositors during down economic times, however. CD rates are set not based on today's economic situation, but the future, so banks must be more careful in setting rates; overestimating where interest rates will be years from now would result in financial institutions losing money. It makes sense, then, that longer-term deposit account rates such as 2-year CD rates would experience the largest drop over time — as the economy shows few signs of recovery and will likely remain fairly stagnant over the next few years (for instance the Fed has announced the target rate will remain between 0 – .25% through 2015), banks must become increasingly conservative in the interest rates they offer until there is definite sign that rates will begin to pick up again.
Institutions Offering Savings Account Rates Over 1.00%
While it is rare to find a bank offering over one percent on a savings account, a handful of institutions still are. Below are the local U.S. banks and credit unions currently providing savings interest rates of more than 1.00% APY
| | | |
| --- | --- | --- |
| Rate | Institution | Location |
| 3.03% | Pioneer Muslim Federal Credit Union | Sugar Land, TX |
| 2.52% | Rutherford Postal District Employees Federal Credit Union | Rutherford, NJ |
| 2.02% | Houston Police Credit Union | Houston, TX |
| 1.60% | Twinstar Credit Union | Centralia, WA |
| 1.50% | University Settlement Federal Credit Union | New York, NY |
| 1.26% | Bivins Federal Credit Union | Masterson, TX |
| 1.25% | Champaign Postal Credit Union | Champaign, IL |
| 1.25% | Public Service Ed Trenton Federal Credit Union | Mercerville, NJ |
| 1.25% | Public Service Plaza Federal Credit Union | Newark, NJ |
| 1.25% | People's First Federal Credit Union | Birmingham, AL |
| 1.25% | Yonkers Postal Employees Credit Union | Yonkers, NY |
| 1.25% | Salem Five Direct | Salem, MA |
| 1.21% | Morris Sheppard Texarkana Federal Credit Union | Texarkana, TX |
| 1.10% | Greater Institutional AME Church Credit Union | Chicago, IL |
| 1.05% | Delaware Alliance Credit Union | New Caste, DE |
| 1.01% | Citizens State Bank of Florida | Steinhatchee, FL |
| 1.01% | Connecticut State Employees Credit Union | Middletown, CT |
| 1.01% | EQT Federal Credit Union | Pittsburgh, PA |
| 1.01% | Corps of Engineers Credit Union | Fort Worth, TX |
About This National Interest Rates Study
Interest rates used in this study were compiled from Go Banking Rates' database containing over 4,000 U.S. banks and credit unions. Current rates are as of January 31, 2013, while archived rate data is as of February 28, 2011. Only local financial institutions were considered in the study; no national or online banks were included in the figures above.
Interest rates are based on individual institutions' published online rates, assuming a $10,000 opening deposit. Note that rates may have changed since the publish date and it is advised that anyone interested in opening an account based on the information above first verify rates with the individual institution.