Best 3-Month CD Rates for May 2023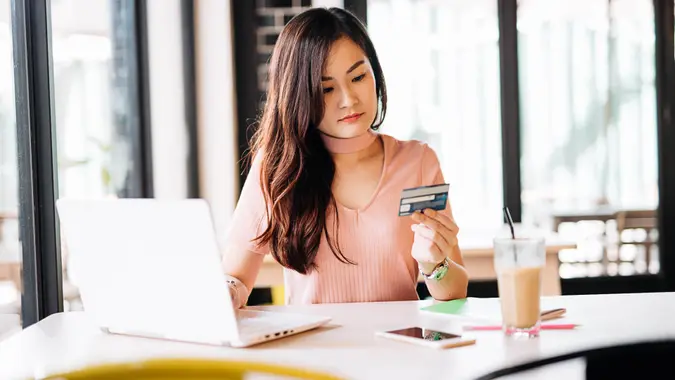 Drazen_ / Getty Images
As interest rates continue to rise, CDs are becoming a more attractive investment. When you purchase a CD, or certificate of deposit, you get a guaranteed rate of interest for a specified period of time.
The advantage is that you know exactly how much your money will earn, and you can choose how long you want to keep the money in the CD. The downside is that, if rates go up, you might pay a penalty if you want to take your money out and move it somewhere else.
See: How to Guard Your Wealth From A Potential Banking Crisis with Gold
Banks and Credit Unions With The Best 3-Month CD Rates
In times of interest rate volatility, a short-term CD may make the most sense. Here are some of the best 3-month CD interest rates for May 2023.
Details on the Best 3-Month CD Rates
Here's what you need to know about the best 3-month CD rates and the banks that offer them.
Popular Direct
APY:
Minimum deposit: $10,000
Popular Direct is an online-only bank. It offers CD terms up to 60 months. Popular Direct offers savings products only — no checking accounts — through Popular Bank.
Citi
APY:
Minimum deposit: $500
Citi offers a full range of banking and investment products and is one of the largest banks in the United States. It offers a wide variety of CD terms up to 60 months.
SchoolsFirst Federal Credit Union
SchoolsFirst Federal Credit Union offers different APYs for different balance tiers, which is somewhat uncommon for a CD. Balances between $500 and $20,000 earn you the minimum APY, but a deposit of $50,000 earns you the higher rate of . Jumbo CDs — with a balance of at least $100,000 — earn even more. You need to be a SchoolsFirst Federal Credit Union member in order to buy a CD. Terms are available up to 60 months.
Synchrony Bank
Synchrony Bank offers savings accounts — including IRA CDs and money market accounts — and credit cards. It offers several CD terms up to 60 months.
Bethpage Federal Credit Union
APY:
Minimum deposit: $50
Bethpage Federal Credit Union has a very low minimum opening deposit requirement for a CD, but you need to be a member of the credit union in order to invest in a certificate. Bethpage offers CD terms up to 60 months.
Ally Bank
Ally Bank offers a ten-day best rate guarantee, so if the interest rate goes up within 10 days of when you deposited your money into your CD account, Ally Bank will give you the higher rate. CD terms with Ally are available up to 60 months.
First Internet Bank of Indiana
APY:
Minimum deposit: $1,000
Interest is compounded monthly on CDs with First Internet Bank of Indiana. It offers terms up to 60 months.
TIAA Bank
APY:
Minimum deposit: $1,000
TIAA Bank offers a range of terms up to five years and alerts you 20 days before your CD matures.
Discover Bank
APY:
Minimum deposit: $2,500
Discover Bank offers checking, savings and retirement accounts, as well as twelve different CD terms, ranging from three months to ten years.
How To Choose the Best 3-Month CD Rate
Choosing the right CD is more complicated than just picking the one with the highest interest rate — though that is a significant factor. You should also consider the minimum deposit, any early withdrawal penalties and whether the financial institution is FDIC-insured.
Good To Know
There are a few things to be aware of before you invest in a CD. In most cases, you will pay a penalty if you take your money out before the CD matures. The penalty is usually at least three months' worth of interest, so if you take money out of your 3-month CD before the end of three months, you'll actually end up losing money — so make sure you can keep the money tucked away for the full three months.
Some of the institutions on this list are credit unions, which refer to their certificates of deposit as share certificates. To open a share certificate account at a credit union, you need to be a member of the credit union.
Typically, you cannot add money to a CD account. If you want to save additional funds, you need to open another account.
Takeaway
A CD is a good place to park your money if you know you won't need it for a certain period of time and if you're looking for a guaranteed rate with no risk. Financial institutions that offer CDs are typically insured — by the FDIC in the case of banks, and by the NCUA in the case of credit unions — so you can be sure that your money is safe.
If you're going to put your money in the bank and commit to leaving it there for three months, it makes sense to find the bank or credit union that's offering the best interest rate.
Compare CD Rates
FAQ
What's the interest rate on a 3-month CD?

Interest rates on 3-month CDs range widely, from 0.01% to over 4.00%.

Is it worth doing a 3-month CD?

A 3-month CD could be worth it, if you're willing to commit to keeping your funds in the account for the full term and lock in an interest rate. However, there are savings accounts with higher rates than many 3-month CDs offer, so you might be able to find a better rate.
Just keep in mind that savings account APYs generally are not guaranteed and might go down before those three months are up.

Where can I get 5% interest on my money?

There are very few banks offering 5.00% interest, and those that do typically have strict requirements and balance tiers to earn that rate. Capital One, however, has a limited-time offer for an 11-month CD with 5.00% APY and no minimum balance

– but you have to open the account by March 14, 2023.

You might be better off choosing a bank with a slightly lower APY

– some are offering over 4.00% APY on any balance with few requirements – rather than trying to navigate the terms to earn a higher APY on a small portion of your balance.
Amber Barkley and Cynthia Measom contributed to the reporting for this article.
Rates are subject to change; unless otherwise noted, rates are updated periodically. All other information on accounts is accurate as of May 18, 2023.
GOBankingRates is a personal finance and consumer interest rate website and an online marketing company serving top-tier banks, credit unions and other financial services organizations. Some companies mentioned in this article might be clients of GOBankingRates, which serves more than 100 national, local and online financial institutions. Rankings and roundups are completely objective, and no institution, client or otherwise, paid for inclusion or specific placement. Any opinions, analyses, reviews or recommendations expressed in this article are those of the author alone and have not been reviewed, approved or otherwise endorsed by the companies included in the article. All fees and rates are subject to change at the issuers' discretion. Some interest rates might be short-term or promotional offers only, and it is possible additional terms and conditions must be met to obtain the interest rates listed. Rates and availability might vary by region. Verify terms and conditions before opening an account.
GOBankingRates bases its assessment of "best" and "top" products on the above-stated parameters to create a baseline for comparison. This assessment is an approximation of "best" and "top" designed to help consumers find products that might be appropriate for them. There could be other options available as well. Consumers should consider various options appropriate for their circumstances.