4 Ways Real People Funded Their Dreams With a CD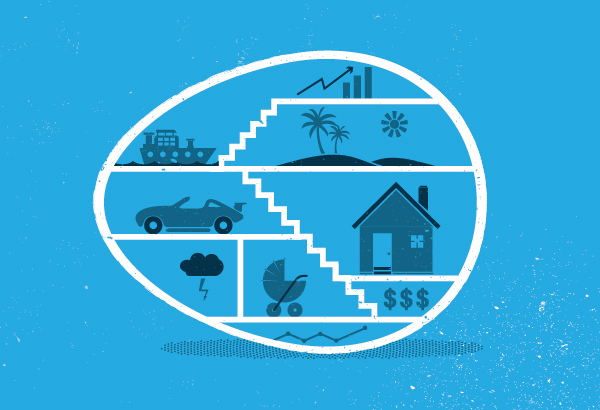 Examine the benefits of putting money into a certificate of deposit, and anybody who places priority on growing their savings would be remiss to pass on investing in a "CD" at least once in their lives. Unlike the fluctuating, lower interest rates of a regular interest-bearing savings or checking ccount, a CD allows you to collect a high, fixed APY with a financial institution, in exchange for keeping your funds on deposit for an agreed-upon period of time. Have a long-term savings goals in mind and a $1,000 cash surplus you won't need right away? Few other products let you tuck it away for a year or two and reap the rewards of over 1.00% APY.
Learn More: Investing In Certificates of Deposit: The Ultimate Guide
Four Success Stories Where a Certificate of Deposit Paid Off
From starting a new business, to paying college tuition, financing a trip 'round the world and more, compiled below are four real-life instances of investors who reached some major financial goals with the help of CDs.
1. A Professional Reinvention
After losing her job in the banking industry seven years ago, Cassandra Droogan used the principal and earnings from CDs she'd invested in to shift gears and start a new business.
Sponsors of
"The last CD I invested in was probably in early '08," Droogan said. "I put over $200,000 in CDs from 2005 to 2008. Interest rates were great then — I was earning over 4% … I always knew that I wasn't saving that money for retirement and I didn't have a long-term investment strategy. So, I wanted to hold on to my money, earn as much interest on it as possible and just be sure not to lose it."
Droogan had invested in a series of shorter-termed, 6- and 12-month CDs, and through the earnings, she was able to launch her own company, PYSIS. The timing was right. "Had I been investing aggressively, I'm sure I would have lost money on those investments through the recession," Droogan said. She added, "CDs turned out to be the best decision I had ever made."
2. A Continental Trek Around Europe
Judy Woodward Bates, known to Birmingham, Ala. TV viewers as the Bargainomics Lady, used the dividends from her 60-month, 4.00% APY CD to pay for a vacation to Europe with her husband. Bates recalls: "I put $100,000 in the 4% account and earned roughly $4,000 per year for two years until that type of account was discontinued by my bank."
Sponsors of
Luckily, Bates had earned enough interest to foot the bill for the majority of the cross-continental trip. "The earnings from that CD made our once-in-a-lifetime vacation possible," she said. "We flew to London for a mini-vacation, then joined friends in Norway for a month-long driving tour of Europe, going through Norway, Sweden, Denmark, Germany, Austria, Switzerland, and to beautiful Lago de Garda in Italy. From there we were able to do day trips to Venice and other wonderful spots."
"We were very budget conscious and spent about $8,500 on the trip," she said. "The interest earned came within a few hundred of paying for everything. We'll likely never do this again, but we truly made a lifetime of memories on that journey."
3. A College Education
Amber Sawaya's experience with CDs can be traced back over 30 years to when she was just three years old. "In 1983," she said, "my grandmother had open heart surgery and thought she was going to die. She had traditionally given all the grandkids $100 when they graduated high school — so she had $100 CDs opened for all the kids who hadn't graduated yet."
Sponsors of
Gratefully, the surgery was a success, and Sawaya's CD was eventually put to good use. "[My grandmother] lived for many more years, and when I went to college and cashed in my CD in 1999, it was worth enough to pay my share of tuition for a semester." Now the head of her own consulting firm, Sawaya says that she believes her CD was a "compelling illustration for the power of slow and steady investment throughout my life."
4. A Business Boost
Like Droogan, Khadi Madama used the power of CD investment to change career paths after a financial downturn, taking up to $2,000 in total interest earnings to segue into a new business venture. "I had a very small CD for $1,500, which I had for years, and which I kept rolling over," Madama said. "It started at a fairly good interest rate somewhere around 8%, but then in the following decade it went down to something like less than 3%. I decided to liquidate it when it came up for renewal and I used the entire sum, which was about $2,000."
Sponsors of
Madama's CD proceeds allowed her to financially supplement the growth of her new business. "Since I already had an office in my home set up, the money was just enough to help me transition from health care consultant into PR and Media consultant, where I had started years before when I was on television. The money was enough for me to get my new website up and running, and my computer/printer/and marketing ephemera."
Even though interest rates have been lower than usual in the past few years, depositing into a CD now can be one of the most worthwhile financial decisions you'll ever make, since you can pick the terms, how much you'd like to keep on deposit and trust in the added security of FDIC insurance.
The people featured in this story are living proof of how a simple investment like a certificate of deposit can yield the profitable gains to boost any diverse number of goals, and ultimately, make them come true in the long run.
Photo credit: tradingacademy.com