CD Rates Today: Feb. 13 — 6 Month Term Bounces Back to 4.5% APY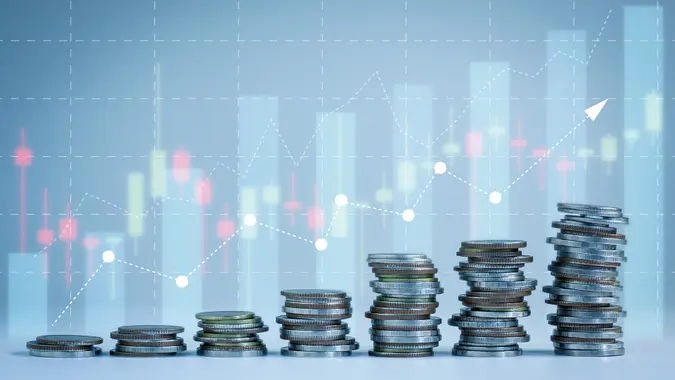 Mongkol Onnuan / Getty Images/iStockphoto
A certificate of deposit, more commonly known as a CD, is an investment that earns interest over a set period of time at a locked-in rate.
Costco's Best Deals: Employee Reveals 10 Standout Buys for Your Money
Find: 3 Things You Must Do When Your Savings Reach $50,000
Once you open a CD, you cannot close it without penalty, so ensuring you get the best rate is important. Every bank and credit union offers its own rate, with credit unions typically having higher percentages. A longer investment period will also typically offer higher rates.
Capital One is offering 5% APY on an 11-month CD with no minimum balance through March 14, 2023.
These are the other top CD rates for today:
Best CD Rates Today
| | | |
| --- | --- | --- |
| Term | Highest Rate | |
| 6 Months | 4.5% | |
| 12 Months | 4.5% | |
| 18 Months | 4.75% | |
| 24 Months | 4.5% | |
| 60 Months | 4.5% | |
Data from Bankrate.com (as of Feb. 13, 2023)
Average CD Rates for February 2023
| | | |
| --- | --- | --- |
| Term | Average APY | |
| 1 year | 1.47% | |
| 2 Years | 1.33% | |
| 3 Years | 1.16% | |
| 4 Years | 1.14% | |
| 5 Years | 1.18% | |
Data from Bankrate.com (for the week of Feb. 01, 2023)
How CDs Work
CDs have set rates and investment periods during which money cannot be removed. Typical time periods for investing are three, six, 12 or 18 months.
You can invest up to $250,000 per CD, and there is no federal banking regulation on how many you can open. There could be limits set by financial institutions, however.
CDs are federally insured when you open one in a bank or credit union.
Compared to stock investments, a CD is a more secure way to invest.
Pros To Opening a CD
Earnings are guaranteed.
Rates are set and will not fluctuate, unlike stocks.
There is less temptation to remove money than with a traditional savings account.
CDs are FDIC insured up to $250,000 per depositor.
There are no monthly fees.
Cons To Opening a CD
Invested money cannot be removed before the term is up without penalties, even in case of an emergency.
Rates will not increase as interest rates go up.
Earnings may be less than investing in stocks.
Auto rollover settings could lock you into a longer term than you desired.
You may need a minimum amount of money to open a CD.
Are CD Accounts Worth it?
If you are looking to tuck away a lump sum of money for a large purchase or future investment, a CD is a low-risk way to do just that. However, if you are looking to make more money faster, a CD may not be the right fit for you. Before making any investment, doing research and even speaking to a financial advisor is always a good idea.
Compare CD Rates
GOBankingRates' Best Banks 2023
Rates are subject to change; unless otherwise noted, rates are updated periodically. All other information on accounts is accurate as of Feb. 13, 2023.
More From GOBankingRates