CIT Bank Offers Best CD Accounts of 2016
With the best rates, this certificate of deposit account comes out on top.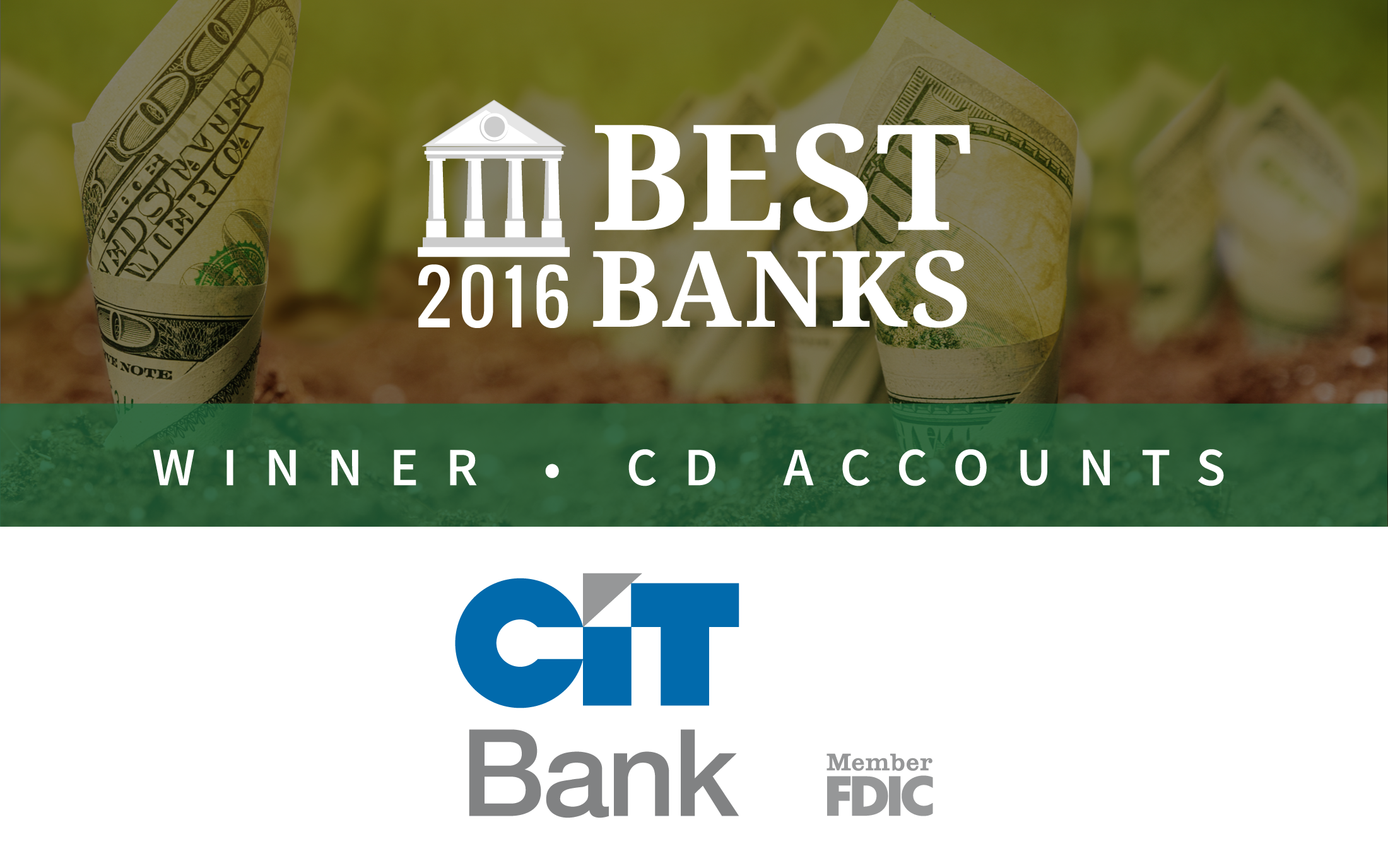 In GOBankingRates' Best Banks of 2016 survey, CIT Bank comes out on top as having the Best CD Accounts of 2016. In last year's Best Banks series, CIT placed fifth. Keep reading to find out how CIT took the top spot — and why you should consider opening one of the bank's best CD accounts in 2016.
Learn: How to Build a CD Ladder

Why CIT Bank Won Best CD Accounts of 2016
CIT Bank has more than 100 years under its belt as one of the country's leading banks. CIT has made a name for itself particularly as an authority in certificate of deposit accounts. With so many financial providers jumping on the chance to capitalize on the popularity of CDs, few can compete with CIT's wide variety of accounts, flexible terms and impressive CD rates.
Learn: What Should You Do With $50,000 Coming Out of a CD Account?
CIT Bank's CD Offerings, Rates and Key Features
12-Month CD
CIT's 12-month CD is available in two products from its deposit portfolio: the Term CD and the RampUp Plus CD. The basic Term CD requires a minimum deposit of $1,000 and carries no account opening or maintenance fees of any kind. Currently, a CIT 1-Year Term CD carries a 2.20% APY — higher than the national CD deposit rate, according to the FDIC.
A one-year CD option is alternately available on CIT's RampUp Plus account, an adjustable-rate CD to help protect customers against market fluctuations. Unlike other CDs, for which your funds are locked in place for the duration of the term, the RampUp Plus CD allows for one additional courtesy deposit.
Though not quite a jumbo CD, RampUp Plus depositors must be prepared to open their account with a minimum $25,000 in order to a receive the 1.26% APY, or more, depending on the term length. However, the larger deposit requirements might be worth the sacrifice because you can literally ramp up your savings APY to the going national rate.
60-Month CD
With a CD, patience is rewarded — the longer you keep your funds untouched in your CD account, the more your money can grow. Opt for the 60-month version of the CIT Term CD, and you'll get the highest CD rate of 1.70% APY, with the same minimal deposit requirements and terms as shorter CDs.
Your other five-year alternative is on the CIT Jumbo CD. For the serious investor, deposit a minimum $100,000 into this premium CD account with a 1.75% APY, compounded over 60 months. CIT Jumbo CDs also carry the same simple deposit requirements as the bank's Term CDs.
Other CD Accounts
Another option for depositors is the CIT RampUp CD, similar to the RampUp Plus. Although you won't be able to make an additional deposit into your account, you'll still have the option to bump up your rate to increase your savings potential. RampUp CDs come in 36-month and 48-month terms — minimum deposit requirements are $25,000 and $50,000, respectively — with a maximum APY of 1.38%.
APYs and terms aside, it's the RampUp series that truly pushes CIT Bank ahead of its competitors as the CD winner in our annual Best Banks survey. Few banks on the market today offer consumers the chance to adjust their interest rate or, more rarely, to deposit additional money into an account not usually associated with liquidity.
Keep Reading: 6 Exciting Bank Features for 2016 

Methodology: To compile its list of the top 120 banks, GOBankingRates surveyed the FDIC's list of banks sorted by asset size, excluding non-active institutions, those with less than $1 billion in assets, investment banks and any institutions that require customers to use investment services to access commercial bank accounts. This list of 120 banks includes 90 brick-and-mortar banks and 30 online-only banks according to the GOBankingRates database. No asset threshold was consulted for online-only banks.
Criteria for ranking: To determine its Best CD Account category ranking, GOBankingRates evaluated each institution's 12-month certificate of deposit product and five-year CD product. If the bank did not offer a 12-month or five-year CD, then the next-closest CD term length was selected for evaluation. GOBankingRates scored the CD accounts from most to least favorable for the following factors: (1) minimum deposit to open a 12-month CD, (2) annual percentage yield for a 12-month CD, (3) minimum deposit to open a five-year CD and (4) APY for a five-year CD. APY for a 12-month CD and APY for a five-year CD were weighted more heavily than other ranking factors, and accounts were then ranked by overall score.
Data was compiled via the GOBankingRates interest rate database and verified against the individual institutions' websites between Oct. 29 and Nov. 23, 2015. Rates, terms and conditions are subject to change at the discretion of the individual financial institutions. APY was based on the minimum deposit required to open the account. Some interest rates might be short-term or promotional offers only, and it is possible additional terms and conditions must be met in order to obtain the interest rates listed. Rates and availability might vary by region. Please verify terms and conditions before opening an account.
GOBankingRates is a personal finance and consumer interest rate website owned by ConsumerTrack, Inc., an online marketing company serving top-tier banks, credit unions, and other financial services organizations. Some banks mentioned in the Best Banks of 2016 survey are clients of ConsumerTrack, Inc., which serves more than 100 national, local and online financial institutions. Rankings are completely objective, and no institution, client or otherwise, paid for inclusion or specific placement.