First Commercial Bank 2.70% APY CD Rate for 18 Month Term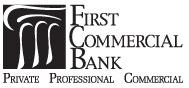 Minnesota – locals only. First Commercial Bank is offering a 2.70% APY CD rate for 18 months. They also have some other competitive certificate of deposit rates available:
2.35% APY CD for 12 month term
2.85% APY CD for 24 month term
Here are some important details for you to consider when opening an account with First Commercial Bank:
Minimum deposit required to open an account is $10,000
For deposit amounts < $10,000, the APY rate will drop 0.55%
The CD requires a monthly ACH deposit
Rates are subject to change at anytime, and there are no monthly fees
A branch visit is required to open an account for new customers
There is one branch office located in Bloomington, Minnesota
BauerFinancial gives the bank a weak 2-star rating.
***For more of the best CD rates online, visit with Go Banking Rates daily and be sure to check out our other rates offers.***
This rate may no longer be applicable. For updated rate information, see below.
Other Terms and Conditions may apply to this offer – please contact the financial institution to review.