HSBC Offers a 4.00% APY Online CD
HSBC Direct is offering a 4.00%APY Certificate of Deposit for a 6 month term, only available online.
HSBC have recently been increasing their efforts and ease at which you can transact online with them.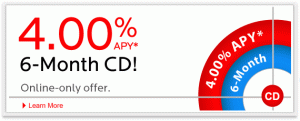 Some details; APY is only good online and qualifying deposits must be new money. New Money means funds not previously held by any member of HSBC Group within the past consecutive six months. A penalty may be imposed for early withdrawal and is equal to 30 days of simple interest. Minimum balance to open and obtain APY is $1,000.
HSBC Direct is part of one of the largest banking groups in the world and is FDIC insured. More CD rates.
Other Terms and Conditions may apply. Additionally, rates may have changed since this offer was posted. Please contact the financial institution for the most recent rate updates and to review the terms of the offer.
Current HSBC Bank CD Rates
Other HSBC Bank Rates