Study: CD Rates from Local Banks Are Surprisingly Higher than Credit Union CD Rates
Depositors who want to grow their savings in a time when banking interest rates are the lowest they've ever been are turning to certificates of deposit (CDs) to eke out a slightly better return on balances. And when it comes to where depositors choose to open CD accounts, the prevailing notion is that local is better. The important question is, does one type of community institution consistently provide higher-yield options over others?
Surveying more than 10,000 6-month, 1-year and 2-year CD rates from financial institutions across the U.S., GoBankingRates found that community banks, on average, outperform credit unions in interest rates offered on CDs. However, that's not to say that their rates are necessarily better. Find out why below.
The Study: Bank Vs. Credit Union CD Rates
CD rates for all financial institutions in the GoBankingRates interest rate database were averaged across each term. The average 6-month CD rate among this sample of local financial institutions is currently .30% APY, while 1-year CD rates average .44% APY and 2-year CD rates average a bit higher at .65% APY.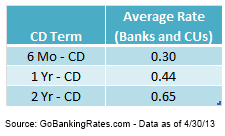 When broken down by institution type, however, average local bank rates are slightly higher than credit union rates for two of the three certificate of deposit terms:

In both the 6-month CD and 2-year CD categories, local banks actually average higher rates than credit unions — contrary to the popular belief that not-for-profit institutions always outperform banks significantly when it comes to interest rates on deposit accounts. Credit unions averaged the higher rate for only one of the CD terms examined in the study: 1-year CD rates.

However, it should be noted that these differences in rates are by hundredths of a percent in every case. Interest rates on deposit products like savings accounts and certificates of deposit are already so low across the board that these minor variations are negligible when it comes to earning interest — depositors will not experience any noticeable gain or loss on a deposit in, for instance, a 6-month CD with a rate of .29% APY versus .31% APY.
What the data tells us is not that local banks are superior to credit unions, but rather that they are just as competitive in terms of CD rates. Local bank rates are so close to those offered by credit unions that there is no discernible benefit to choosing one over the other for savers who are simply looking to maximize their returns, which means it's important for local depositors to investigate all of the savings options available within their cities, including from both credit unions and community banks.
About This CD Rate Study
The interest rates used in this study are accurate as of April 30, 2013 and come from GoBankingRates' database of several thousand U.S. banks and credit unions. GoBankingRates manually collects and updates these rates regularly, and rates are based on institutions' online published rates.
Interest rates assume an individual depositor with a $10,000 principal. Please note that rates may change at any time and may have changed since the publish date. It is always recommended that depositors verify individual rates with an institution before committing to an account.