7 Ways to Avoid International Checking Account Fees
Before you use your debit card internationally, understand the potential foreign transaction fees you could get stuck with.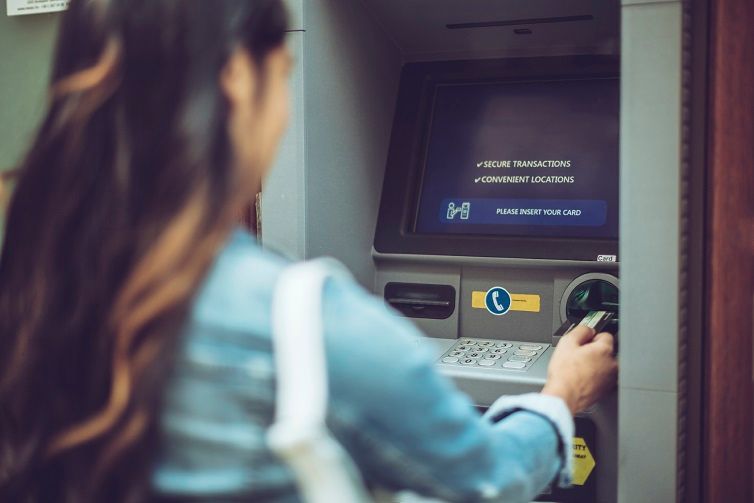 International travel can be expensive. Without knowing it, you could end up paying hundreds of dollars in fees. One way to save big while traveling abroad is to avoid foreign transaction fees, other debit card fees and withdrawal fees.
Using a debit card at a foreign ATM is convenient for quick cash while abroad. But before you push that card into the slot, understand the potential foreign transaction fees and bank withdrawal fees you could get stuck with.
Read More: 7 Secret Fees Cutting Into Your Travel Budget

Potential ATM Card Fee Combinations for International Travel
The ATM may charge one or both of these withdrawal fees, depending on your bank and the foreign ATM.
Flat fee: This is for international ATM card use. This charge is similar to an out-of-network ATM card charge. The fee ranges from $2 to $5 per transaction.
Foreign transaction fee: This is on top of the flat fee. This foreign conversion charge is a percent of the amount withdrawn from the ATM and ranges from 1 percent to 3 percent.
Potential Credit Card Fee Combinations for International Travel
If you're considering doing your spending abroad with a credit card, always check fees first. In general, Visa and MasterCard each charge a 1 percent foreign transaction fee. On top of those Visa and MasterCard fees, the card issuer usually adds on another fee. For example, with a Bank of America MasterCard, you'll pay 3 percent total: 1 percent allocated to MasterCard and another 2 percent to Bank of America.
A more recent strategy — which encourages additional fees — is the offer to charge an international purchase in your own home currency. When the foreign store clerk kindly makes this offer, don't take the bait. There's likely an additional service or conversion charge for this convenience.
Now that you understand the foreign transaction fee pitfalls, find out how to avoid other international credit card and ATM fees.
1. Choose the Right Bank
It is paramount that you know the possible fees attached to the bank you use, especially when traveling internationally. It might even make sense for you to open an account with a new bank that won't charge you a foreign transaction fee.
The following banks don't charge a foreign ATM fee:
Capital One 360 Online Bank: There aren't fees on any withdrawals outside the Capital One network, and the Capital One system covers the fees ordinarily charged by MasterCard. This applies only to the Capital One 360 Online Bank, not the brick-and-mortar Capital One.
Charles Schwab: All ATM fees are reimbursed at the end of the month. The qualifying cards and accounts are Schwab Bank Visa Platinum debit card, a High Yield Investor account or a Max Rate checking account with at least a $5,000 balance.
Citibank: As long as you withdraw from a Citi-branded network ATM, you avoid fees due to its broad international network. You can check your destination in advance at an international ATM locator. Only Citigold customers avoid all international transaction fees for out-of-network withdrawals.
First Republic Bank: The ATM Rebate Checking account gives you access to more than 800,000 ATMs worldwide as well as unlimited ATM access. Out-of-network international ATM fees and card usage fees are refunded. First Republic requires a $500 minimum opening balance and average balance of $3,500 to circumvent monthly fees.
Must Read: 9 Best Travel Apps to Get Before Your Trip
2. Choose the Right International Travel Credit Card
Sorting through travel credit card offerings to find one without a foreign transaction fee is no easy job. But having the right credit card can help you avoid fees associated with your bank or ATMs. Following is a list of current credit cards without foreign transaction fees. Each of the cards has various benefits, rewards and costs as well.
Credit Cards With No Foreign Transaction Fees

Issuer
Rewards
Capital One Venture Rewards
Capital One
Earn 2 miles per dollar on all purchases.
BankAmericard Travel Rewards
Bank of America
Earn 1.5 points per dollar on all purchases.
Capital One Quicksilver Cash Rewards
Capital One
Earn 1.5% cash back on all purchases.
Discover it Miles
Discover
Earn 1.5 miles per dollar spent on all purchases.
Capital One Spark Cash for Business
Capital One
Earn 2% cash back on all purchases.
Citi ThankYou Premier
Citi
Earn 3 points per dollar on travel and gas. Earn 2 points per dollar on dining and entertainment. Earn 1 point per dollar on all other purchases.
Chase Sapphire Preferred
Chase
Earn 2 points per dollar on travel and restaurants. Earn 1 point per dollar on all other purchases.
Chase Marriott Rewards Premier
Chase
Earn 5 points per dollar at Marriott. Earn 2 points per dollar on airline ticket purchases directly with airlines, car rental agencies and restaurants. Earn 1 point per dollar on all other purchases.
Southwest Airlines Rapid Rewards Premier
Chase
Earn 2 points per dollar on Southwest Airlines purchases, Rapid Rewards hotels and car rental partners. Earn 1 point per dollar on all other purchases.
United MileagePlus Explorer
Chase
Earn 2 miles per dollar on United tickets and 1 mile per dollar on all other purchases.
Related: Should You Get a Travel Credit Card?
3. Use Cash Whenever Possible
When you go the ATM, instead of taking out $50 or $100, withdraw enough cash to last a week or more. This is especially useful if you're using a credit card that might charge a foreign transaction fee. However, adding a new card to your arsenal before your trip — one with no foreign transaction fee — could be even more beneficial.
4. Always Pay in Local Currency
The offer to pay in your home currency sounds so friendly and useful. When buying a souvenir abroad with your credit card, the merchant might ask if you'd like to pay in your home currency. Although this sounds like a wonderful alternative, don't take the bait. When paying for an item abroad in your home currency, you're choosing to add currency conversion charges on top of any other fees you might already be paying.
5. Don't Exchange Money at Airports
As you land at a foreign airport, you might be delighted to conveniently find a currency exchange booth — but don't exchange your money at the airport. These currency exchange companies tend to offer the worst exchange rates along with plenty of large fees. Avoid Travelex as well, as this foreign exchange company is known for its poor conversion rates. Instead, do your money exchanging at your bank or an ATM.
6. Avoid Unusual ATMs
You can find these ATMs in your home country as well as abroad. These are the small ATM kiosks hidden in the recesses of major hotels and convenience stores. These proprietary ATM machines are known for high fees and poor conversion rates. Bypass these ATMs for a bank ATM instead. Be sure to research ATMs before you travel, so you know which you can use nearby and which to avoid.
7. Don't Get Scammed
All of the money and travel planning in the world won't matter if you don't use smart international travel practices. Even if you're a seasoned traveler, it's useful to remember that there are many friendly international locals looking to take your money.
The best way to avoid being scammed is to use reputable tour operators, not folks you meet on the street. Along with avoiding international travel fees, be wary so you don't divert the money savings into the hands of a scammer either. Avoid chatting with locals with perfect English, attempting to share "travel secrets" that no one else knows; they're not typically trustworthy.
Finally, when preparing for your international trip, spend some time lining up banks and a debit card or credit card with no foreign transaction fees. You'll have more money to spend on souvenirs instead of needlessly paying it to a financial company.
Editorial Note: This content is not provided or commissioned by the bank advertiser. Opinions expressed here are author's alone, not those of the bank advertiser, and have not been reviewed, approved or otherwise endorsed by the bank advertiser. This site may be compensated through the bank advertiser Affiliate Program.