This Bank Account Offers 200x the Interest, No ATM Fees — and Lets You Give to Charity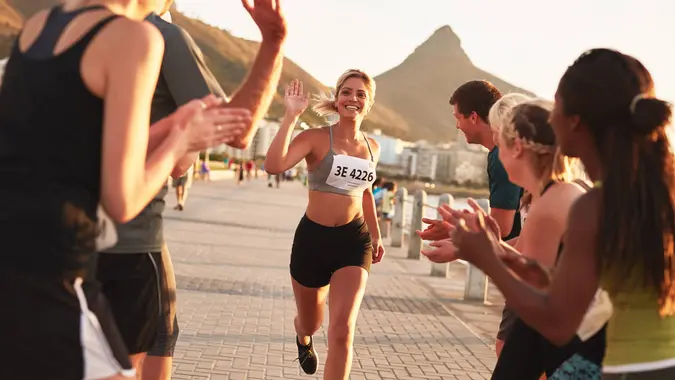 jacoblund / Getty Images/iStockphoto
If you're looking to open a new bank account, you might be overwhelmed by the seemingly endless choices that all come with plenty of pros and cons. But there's only one account (that I could find) that functions as both a savings and checking account, has high-interest rates, virtually no fees and gives back to charity. I'm talking about Aspiration's Spend & Save account, which really stands out from other banking offerings out there for a number of reasons.
It's far from your traditional checking or savings account, but don't just take my word for it. Here's a look at all the notable things that come with the online institution's signature account.
How To Open a Checking Account: All the Documents You Need
You Don't Have To Pay a Monthly Maintenance Fee — but You Might Actually Want To
One thing that's pretty remarkable about the Spend & Save account? It has no ATM fees, and will even cover fees from most other ATMs and banks both in the U.S. and abroad (but you will face a 1% currency conversion fee on any international ATM withdrawals). It also has no overdraft fees and no monthly maintenance fee — if you so choose.
Aspiration has a "choose-your-own-fee" structure that lets customers decide how much is "fair" to pay on a monthly basis, and you can choose a monthly service fee between $0 and $20 per month. Once your account is open, you can change the amount of your monthly fee at any time, as often as you would like, on its website.
Upgrade Your Checking Account
While it might seem as if every customer would automatically choose to pay nothing at all, the philosophy behind Aspiration as a whole is to give back to the world, and the bank donates 10% of all its earnings to charitable causes like poverty, health, the environment, clean water, education, human rights and opportunities for disadvantaged people — so for once, you might actually feel good about paying a bank fee.
Related: Fees, Rent and Other Things You Didn't Know You Could Negotiate
Earn 200x More Interest Than the Average Account
Earning more money on your money that's just sitting there is always a good thing. The Aspiration Spend & Save account, which is an update of its former Aspiration Summit account, offers up to 200 times the APY of most big bank checking accounts — a whopping 2.00% APY on deposits, whereas many banks offer just 0.01% APY if anything at all.
But that 2.00% APY only applies to accounts that make monthly deposits of at least $1. For accounts that don't qualify for the highest APY, the rate drops to 0.00% APY. But with $1 monthly deposits, it's easy to earn a generous rate at Aspiration — and it will also motivate you to contribute regularly to your savings (even if it's only $1), which you'll never regret.
Find Out: Here's How the Average Savings Account Interest Rate Compares To Yours
Other Perks From Aspiration
We've already covered how the Spend & Save account has a high APY, no major fees (unless you opt-in) and a charitable slant, but there are a couple of other perks that come with this account. For starters, there's no account minimum — although it does take $10 to open an account, there are no monthly minimum balances or deposits. And secondly, you can have peace of mind knowing your money is safe. The account carries FDIC insurance of up to $250,000 per depositor by being swept to FDIC Member institutions — for details, see the FAQ and visit https://www.fdic.gov.
Upgrade Your Checking Account
Should You Open a Spend & Save Account With Aspiration?
I think it's a pretty cool account with all kinds of unique perks — but you have to decide whether or not this Aspiration account is right for you. Someone who deposits just $1 per month can take advantage of the full 2.00% APY and won't have to worry about the overdraft fees, meaning Aspiration could offer them a lot of benefits. Socially responsible customers might want to support a financial institution that commits to donating 10% of its earnings toward charitable causes.
The main con of Aspiration is that it has no physical branches, but for a lot of people that's not a negative at all. After all, mobile deposits are actually a convenience for many account holders — and you can use pretty much any ATM without paying a fee.
Any account that offers interest rates that are about 200 times better than their competitors while covering all of your ATM fees in and out of the United States is clearly a solid option. And one that gives back to important causes is an even better option.
Don't Do It: 13 Banking Fees You Should Never Pay
Does That All Sound Good? Here's How To Apply
Here's the nitty-gritty all in one place: There's a $10 minimum to open, no monthly fee (if you want), up to a 2.00% APY, free global ATM transactions, mobile deposits and cellphone protection insurance, plus the fact that 10% of any fee you choose to pay goes to charitable causes.
Upgrade Your Checking Account
Sound good? There are only a few requirements to open an Aspiration Spend & Save account. You must be 18 years old with a Social Security number and a permanent U.S. address. To fund the account, you'll also need a checking or savings account from a U.S.-based credit union or bank.
Since Aspiration has no physical branches, you must open all accounts online. In addition to the above information, you'll need to provide various personal and financial information, such as your name and address, date of birth, employment status and investment experience. You should be able to get through the online application in about five minutes.
Keep reading to find out the best savings accounts.
More on Banking
John Csiszar and Joel Anderson contributed to the reporting for this article.