Bank5 Connect Offers Best Checking Account of 2016
From competitive interest rates to low fees, this is the best checking account of the year.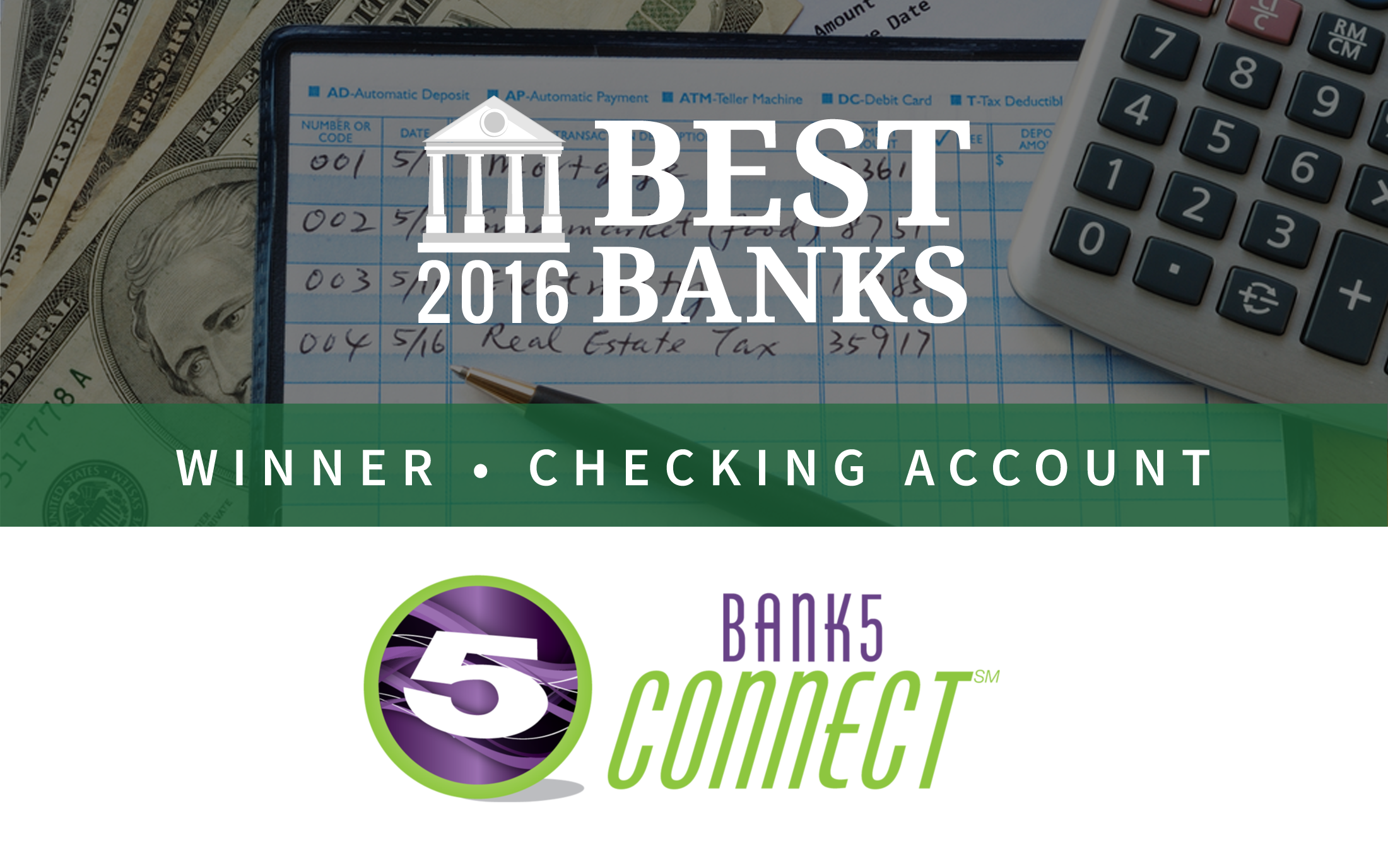 Whether you're opening your first checking account or transitioning to an interest checking account, choosing the best checking account can be a daunting task. Just about every brick-and-mortar bank has its own selection of checking products, plus there's the task of comparing products offered by online banks.
GOBankingRates' Best Banks 2016 survey removes the guesswork and simplifies your search for the best bank. If you're on the hunt for the best online checking account, a Bank5 Connect checking account might offer exactly what you're looking for in an account. For the second year in a row, Bank5 Connect ranked No. 1 for the best overall checking account — and here's why.
Related: What Are the Best Checking Account Features?
Why Bank5 Connect Won Best Checking Account of 2016
A savings account isn't the only way to grow your balance or save for a rainy day; an interest-bearing checking account offers the best of both worlds. You can use your account to write checks against your balance and manage expenses, all while earning interest on your account balance.
"Bank5 Connect's high-yield checking account combines technological conveniences with one of the best checking rates available anywhere," said William R. Eccles, Jr., Bank5 Connect's president and CEO. "In addition, while most of our customers manage all of their transactions online, our small team of skilled reps work one-on-one with customers who call or click. In fact, many customers have built a personal one-on-one relationship with a member of our team. You can get a top rate and personalized service at Bank5 Connect."
Competitive Interest Rates, Low Deposits and Low Fees
Bank5 Connect gives customers the opportunity to earn an impressive rate on their high-yield checking account and reach their savings goals sooner. Open a checking account and earn 0.76% APY with high-interest checking. Unfortunately, not all checking account balances earn interest.
The minimum deposit to open an account at some financial institutions can range from $25 to $100 — or higher depending on the type of account. In addition, some checking accounts have a monthly maintenance fee. With Bank5 Connect, you can open a checking account with only $10 and there are no monthly fees. The minimum balance to earn interest with a Bank5 Connect checking account, however, is $100.
In addition to free checking account offers, bank customers can also benefit from low checking account fees.
Bank5 Connect Low Account Fees
Returned Deposited Item
$5.71
Overdraft
$15.00
Uncollected Funds
$15.00
Stop Payment
$15.00
Garnishments
$25.00
Levies
$25.00
Convenient Online and Mobile Banking
If you don't have time to visit a branch in person, you might seek a bank that lets you manage your account from anywhere, anytime. Bank5 Connect offers online banking and mobile banking, which allows for easier account management. With a computer or mobile device, you can manage your account with just a few clicks or taps. Transfer money between accounts, check your account balance, deposit checks, pay bills and more.
Related: Here's Why 45 Million People Bank on Their Phones
Rewards and Free Offerings
Bank5 Connect's Visa debit card isn't your traditional ATM card. Not only can you use this card for purchases and ATM withdrawals, you can also earn reward points from everyday purchases redeemable for gift cards, merchandise, electronics and vacation packages with their UChoose debit rewards program. Whether you use your card at drug stores, gas stations, restaurants or a retail store, you can earn one point for every $2 you spend — but you must make sure to sign for your purchases.
Some banks are known to nickel and dime their customers, and they don't give anything away for free. This isn't the case with Bank5 Connect. Open a high-interest checking account and you'll receive a few freebies, such as a free first order of basic checks and free ATMs. There's never a fee for using a Bank5 Connect ATM, and if you pay a surcharge for using another bank's ATM, the bank will reimburse you up to $15 in ATM fees every statement cycle. You'll also receive free cashier's checks and free overdraft transfers.
Keep Reading: 10 Best Online Banks of 2016
Methodology: To compile its list of the top 120 banks, GOBankingRates surveyed the FDIC's list of banks sorted by asset size, excluding nonactive institutions, those with less than $1 billion in assets, investment banks and any institutions that require customers to use investment services to access commercial bank accounts. This list of 120 banks includes 90 brick-and-mortar banks and 30 online-only banks according to the GOBankingRates database. No asset threshold was consulted for online-only banks.
Criteria for ranking: To determine its Best Checking Account category ranking, GOBankingRates scored each bank's basic, personal checking account from most to least favorable for the following factors: (1) minimum deposit to open the checking account, (2) monthly maintenance fee, (3) minimum balance to avoid a fee, (4) annual percentage yield and (5) nonsufficient funds fee. Minimum balance to avoid a fee and APY were weighted more heavily than other ranking factors, and accounts were then ranked by overall score. In the case of a 10th-place tie, tiebreakers were used in the following order: APY, monthly maintenance fee and then minimum deposit required to open the account.
Data was compiled via the GOBankingRates interest rate database and verified against the individual institutions' websites between Oct. 29 and Nov. 23, 2015. Rates, terms and conditions are subject to change at the discretion of the individual financial institutions. APY was based on the minimum deposit required to open the account. Some interest rates might be short-term or promotional offers only, and it is possible additional terms and conditions must be met in order to obtain the interest rates listed. Rates and availability might vary by region. Please verify terms and conditions before opening an account.
GOBankingRates is a personal finance and consumer interest rate website owned by ConsumerTrack, Inc., an online marketing company serving top-tier banks, credit unions, and other financial services organizations. Some banks mentioned in the Best Banks of 2016 survey are clients of ConsumerTrack, Inc., which serves more than 100 national, local and online financial institutions. Rankings are completely objective, and no institution, client or otherwise, paid for inclusion or specific placement.