5 Checking and Savings Account Perks No One Talks About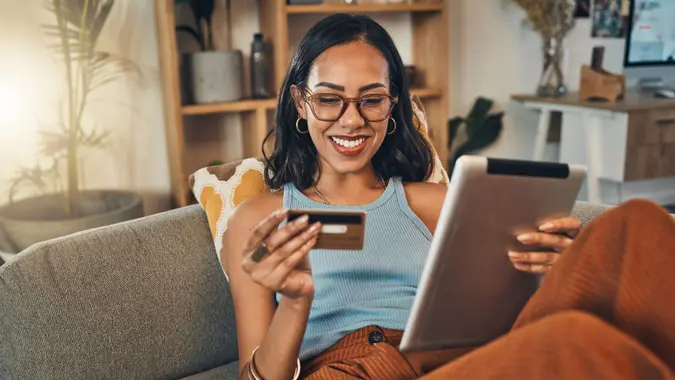 PeopleImages / Getty Images/iStockphoto
Despite the rise of fintechs, neobanks, hybrid alternatives and cash-management accounts that let you do your banking from your brokerage, the two most tried-and-true fixtures in personal finance still hold their thrones.
According to a new GOBaningRates survey of 1,000 adults, people are more likely to keep their money in checking and savings than in any other type of account — and who could blame them, considering all the benefits?
Money in the bank is FDIC-insured — safe and guaranteed by the United States government — and both savings and checking deposits enjoy the bank's fraud protection and data-security defenses. Account holders get debit cards, checks, access to customer service, mobile check deposits and instant internal transfers between accounts. 
But even with standard savings and checking accounts, the perks don't stop there.
"Most people are familiar with the basic benefits of these accounts, such as the ability to deposit and withdraw money, earn interest, and pay bills. However, many other perks are often overlooked," said Tim Doman, investment analyst, former private equity investment fund executive, and newly appointed CEO of TopMobileBanks. "Pay attention to the lesser-known perks of these accounts, as they can provide valuable benefits that can help you achieve your financial goals."
Upgrade Your Checking Account
Cash-Back Rewards Are for Credit Cards Only, Right?
Savvy spenders often use their credit cards for purchases to collect rewards and points and then pay their balances in full with money from their boring checking accounts.
But some banks deliver the benefits of plastic to non-credit customers.
"One such perk is cash-back rewards, which are typically offered on debit card purchases or when certain spending thresholds are met," said Melissa Terry, a chartered financial analyst with VEM Tooling, a manufacturing company.
For example, Discover Cashback Debit is a no-fee checking account that does everything you'd expect from a standard checking account while also paying 1% cash back on up to $3,000 in purchases per month.
Axos Bank offers a similar account with comparable rewards.
Wait. The Bank Has Been Delaying My Paycheck on Purpose?
The Discover Cashback Debit account offers another feature that's still mostly under the radar despite the fact that more banks now offer it — the ability to get paid early with direct deposit.
Upgrade Your Checking Account
Although Chime brought the concept into the public consciousness, Chime is a neobank, not a chartered, FDIC-insured financial institution, but now traditional banks are catching on, too.
According to Business Insider, at least 30 institutions now get paychecks to their direct-deposit customers up to two days early, including Ally, Axos, Capital One, Fifth Third, Navy Federal and Regions Bank.
It's a break from a long tradition in which banks maintained possession of direct deposits as long as possible to earn interest on them before handing them off to their rightful owners.
Every ATM Can Be In Your Network
Since the dawn of automated teller machines, the rule has always been that you can withdraw your money for free unless you use an out-of-network machine, in which case the ATM's owner would hit you with a fee even if your bank did not.
But with the right account, those fees can be a thing of the past no matter who owns the machine that happens to be where you are when you need your money.
Upgrade Your Checking Account
"Some banks may offer waived ATM fees, allowing customers to use ATMs outside the bank's network without incurring fees," Terry said.
For example, Ally Bank and Navy Federal Credit Union reimburse out-of-network ATM fees of up to $10 per month. It's $8 per month at Axos.
P2P Services Let You Pay Without Leaving Your Bank's App
Consolidating services can go a long way to streamlining your financial life, and many banks now alleviate the need for third-party p2p providers like Venmo with native payment services embedded right into their apps and websites.
For example, Providence Bank does what Zelle tried to do for its partner institutions — integrate a free and easy p2p payment platform directly into the bank's online interface.
Native, integrated money-transfer services let you split bills, pay someone who spotted you cash or give money to friends or family members experiencing an emergency without ever leaving the safety and familiarity of your bank's app. Most don't require anything beyond your enrollment in online banking and let you send money with only a recipient's phone number or email address.
Upgrade Your Checking Account
Youth Accounts Empower the Next Generation of Responsible Savers
Some banks let customers open savings accounts for their kids, which can be the most valuable perk of all. Youth accounts, after all, can help parents pass their money-management skills onto the next generation while serving as teaching tools for big concepts like interest and the power of compounding.
Chase, Capital One and Alliant Credit Union all offer junior accounts.
"It is a good way to learn more about savings and how your personal lifestyle can be benefited by the act of saving," said Jake Hill, CEO of DebtHammer. "Savings accounts are a fabulous resource for earners to start seeing interest grow on their deposits."
More From GOBankingRates