How to Create a Checking Account PIN You Can Actually Remember but No One Will Guess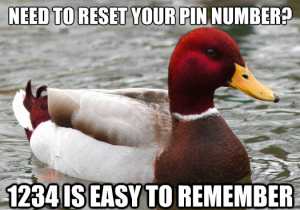 Want a shock? One in ten people uses the most popular PIN number out there: 1234. Sadly, we aren't kidding. This is just about the first thing that a thief is going to try if he gets his hand on your debit card.
Protecting the security of your checking account is closely tied to having a secure PIN. But you need one that you can remember, as well as one that will keep the thieves at bay — or you'll end up locking yourself out of your accounts, too! We spoke to Steven Weisman of Scamicide and Bentley College about how to choose PIN numbers and passwords that will keep you secure.
What Is a PIN Number?
A "personal identification number," also called (the slightly redundant) PIN number, is a 4-digit numeral password that you use to access your financial information at ATMs and to purchase things at the point of sale, typically with a debit card. "With a PIN you don't have the upper and the lower case," says Weisman, referencing one of the common ways that people are able to make email and social networking passwords more secure against identity theft.
What Can You Do to Secure a PIN?
According to Weisman, the best thing that you can do to have a secure PIN number is to make it as long as possible and don't use anything obvious like birth dates or 1234. "Consecutive numbers of any kind can be dangerous," he says.
Some other smart ways to protect yourself:
Keep your PIN number or passwords private, and don't share them with others.
Don't keep your PIN or password written anywhere, especially in the same place you keep your debit card (like a wallet).
Avoid using significant numbers or dates that can be easily found out, such as birth dates (like "0127" for a birthday of January 27th) or wedding anniversaries.
Choose different PIN numbers or passwords for different bank accounts.
Weisman recommends mixing numbers and "letters" (as in the ones on the keypad) to get something that's hard for people to guess but easier for you to remember. For example, the phrase "Four score and seven years ago" can be condensed into the code "4S7YA," which using a numerical pad creates the PIN "47792."
Protecting Yourself From Identity Theft
Of course, there's more to your personal security than just your PIN. In the 21st Century, lots of people do their banking online and that means you're going to need a more traditional password to access your financial information. It also means that you're at greater risk of identity theft and need to be wise about what you use as a password.
"Don't use anything that people can find out about you," advises Weisman. This is increasingly harder to do, as social media makes just about all of our interests somewhat public. The good thing about passwords, Weisman points out, is that you can use upper case and lower case letters, digits and even symbols in some cases. He advises that you mix up all of the above, adding that he's a big fan of the exclamation point.
Weisman also says that people should avoid using any word that's in the dictionary. This is because hackers now have programs that can cycle through 1,000 passwords in 17 minutes. "Words in the dictionary includes foreign words and slang terms," he adds. One way to protect yourself from this kind of identity theft is to make your password a phrase (again, going back to something like "4score&7yearsago!") or a pneumonic device ("4s&7ya").
At the end of the day, however, Weisman is frank about the fact that there's only so much that one person can do to protect themselves. "So much of your security is reliant upon other people and other institutions." He urges people to just do the best that they can. "You can't completely protect yourself, but you can do things that will dramatically reduce your chances of bad things happening."