Here's How Much You Are Really Wasting in Banking Fees — It's More Than They Say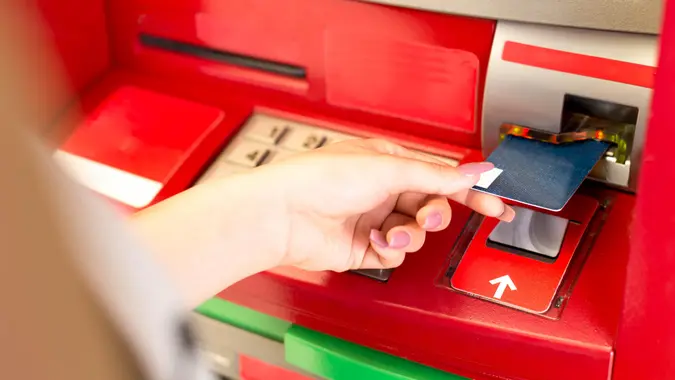 ©Shutterstock.com
Do you know how much you are paying in banking fees?
With the advent of online banks, banking fees might seem like a thing of the past, but most Americans are paying more than they think. And many of the fees in your account may be hidden and hard to track.
Recent studies show that most Americans are paying over $150 per year in banking fees, and some fees can cost you up to $35 per transaction. We've reviewed the data to find out exactly how much Americans are paying in fees, and break down how to avoid (most) banking fees forever.
How Much Are You Paying in Banking Fees?
According to a survey by MoneyRates.com, Americans are paying around $167 per year (on average) in banking fees. This amounts to about $14 per month.
While this might not sound like a lot, considering most Americans don't have more than $1,000 in the bank saved for emergencies, this means that banks are charging nearly 16% of a $1,000 balance per year in fees.
It's no wonder that a recent GOBankingRates survey found that 40% of Americans focus on low fees first when choosing banks.
Upgrade Your Checking Account
Take Our Poll: Are You Concerned About the Safety of Your Money in Your Bank Accounts?
Types of Banking Fees
Most banks have dozens of different fees, but here are a few of the most common:
Monthly Maintenance Fees
Many checking accounts or investment accounts charge monthly maintenance fees ranging from $10 to $15 per month and averaging around $13.95 per month. These fees can sometimes be waived, but that usually requires completing a certain number of transactions per month or holding a minimum balance.
ATM Fees
ATM fees are assessed when you use out-of-network ATMs to withdraw money. These fees are charged for every transaction and can range from $2 to $5, depending on the machine. ATMs may have independent fees for use, but if out of network, your bank may also charge fees. This double whammy can hurt your wallet in a hurry.
Overdraft Fees
Overdraft fees are assessed when you withdraw or make purchases that are more than your current bank account balance. The bank will allow the charge to go through, but you end up with a negative balance. On top of owing money to get your account out of the negative, you also might be charged a fee. According to the MoneyRates.com survey, overdraft fees average $30 per occurrence.
Upgrade Your Checking Account
Wire Transfer Fees
If you need to use a wire to transfer funds, you might be charged a fee. Wire transfers are used to move money internationally, as well as to transfer large sums. Fees can range from $15 to $35.
Excessive Transactions Fees
The Federal Reserve Board's Regulation D limits the amount of monthly transactions allowed in certain accounts, such as money market accounts and high-yield savings accounts. If you process too many transactions within the month, you might be charged up to $25 per incident. This fee has been waived by the government since 2020, but it might be reinstated in the future.
Return Payment Fees
If you attempt to make a purchase or write a check and you don't have overdraft protection available, your payment might fail and your bank might charge a returned payment fee. These fees are similar to overdraft fees, costing up to $30; but, instead of completing the purchase, you simply get dinged with the fine.
How To Avoid Banking Fees
Banking fees are a pain, and can be quite costly if you don't keep an eye on them. We've asked the experts how to avoid banking fees and keep your banking costs to a minimum.
Upgrade Your Checking Account
Meet the Minimum
Many banks waive monthly maintenance fees if you meet a minimum balance requirement. This means having a certain average balance each month. Ask your bank about balance requirements to avoid paying monthly fees.
Find a Free Checking Account
While banks make a lot of money off fees, there are low-cost checking accounts out there. Jonathan Bird, CFP at Farnam Financial, suggests finding one of the "many banks that offer checking accounts with no minimum balance and no maintenance fees." This helps you avoid monthly charges, while not needing a large account balance.
Use an Online Bank
Online banks are known to have low fees, and you might be able to avoid some of the more egregious ones by signing up for one. Blaine Thiederman of Progress Wealth Management mentions that "online banks are typically completely free and provide higher interest rates." So you can avoid fees and earn interest at the same time.
Keep All Accounts at One Bank
Using multiple banks can cause a financial headache. Marianne Nolte of Imagine Finance Services said, "When trying to avoid bank fees, think of how you benefit when bundling homeowners and auto insurance policies. The same concept applies if you aggregate accounts with one bank. Quite often, bundled banking  provides depositors with white glove service which is eligible for reduced or no fees." 
Upgrade Your Checking Account
Bottom Line
Banking fees have been steadily climbing over the past few decades. At an average of almost $14 per month, it can add up. Combine that with the fact that there are so many free online bank accounts, and credit unions that offer no-fee checking and no account minimums, it is worth it to shop around to avoid fees.
More From GOBankingRates
Upgrade Your Checking Account