Joint Bank Accounts: What You Need To Know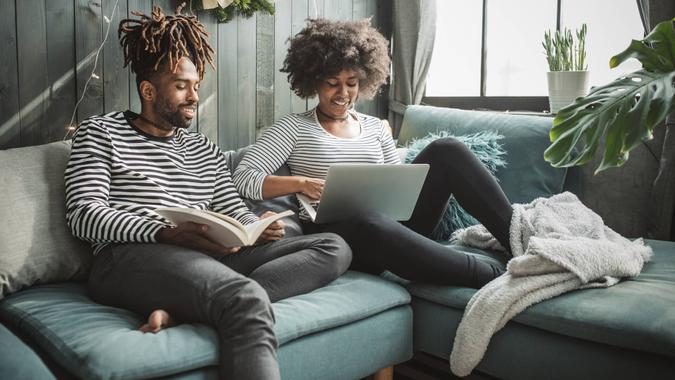 svetikd / Getty Images
As a long-term relationship progresses toward partnership, financial priorities and goals become part of the conversation. This leads to changes in how to make financial decisions and cover expenses. Whether partners want to admit it or not, money issues can make or break one's relationship.
To minimize financial secrecy, many couples choose to utilize joint bank accounts. These accounts can facilitate the bill-paying process for a couple. However, they often come with challenges of their own. Understanding both the advantages and pitfalls of joint accounts can help people understand whether this type of account will benefit their relationship.
What Is a Joint Bank Account?
A joint bank account is simply a bank account in the name of two or more individuals who equally share both the rights and the liabilities. This goes beyond married couples: Close relatives, unmarried couples or business partners can open such accounts, too. People who open joint accounts do so when they go into a partnership in which they both share financial expenses and goals.
How Joint Bank Accounts Work
People open joint bank accounts in the same way they open any other account. Both partners must furnish a Social Security number and a photo ID. In some cases, you can also add a partner to an existing account.
After the account is opened, each partner will receive a debit card, checks and login information with which to access the account. As mentioned earlier, both own the account and can make account-related decisions without the approval of their partner.
This freedom also allows just one partner to close a joint bank account. The process can also occur online, though both partners must log in, in that case. However, in person, only one partner needs to come to the bank with a photo ID. There, the bank will take you through the process. Once you sign the paperwork, the bank will close the account. Some banks will remit any remaining funds to the person closing the account.
Who Owns the Money in a Joint Bank Account?
All account holders are communally regarded as the owner of the account. The right to deposit or withdraw funds in the account depends on the type of joint account. The type chosen by most couples is called a joint-tenancy account. With this arrangement, each owner holds the power to deposit or withdraw funds without the approval of the other partner. If one of the partners passes away, the other partner takes full ownership of the account without going through probate.
Joint Bank Account Requirements
Joint accounts have relatively few additional requirements over an individual account. People may think of a joint checking account when couples combine their finances. However, certificates of deposit, joint savings accounts and other types of accounts can also be opened in such a manner. As stated previously, the relationship type matters little, although all partners have to approve the arrangement.
Benefits of Joint Bank Accounts
Joint accounts come with several advantages. The primary advantage is that it solidifies partnerships, facilitating both shared goals and accountability and promotes conversations about money. This extends to areas where they cover joint bills. Partners such as married couples have a place where they can cover their shared expenses such as a house payment, utility bills, taxes or groceries.
Moreover, the joint account becomes a resource in times of crisis or transition. If one spouse loses their job, their finances are banded together, and the financial ties will make it somewhat easier to weather a crisis. As mentioned earlier, should one spouse pass away, control of the account goes to the remaining partner without the lengthy and costly probate process.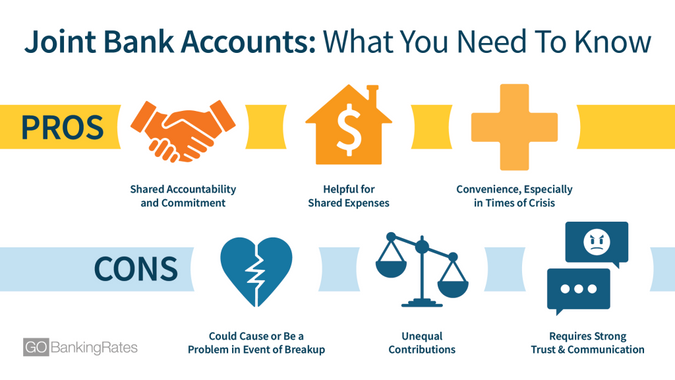 Drawbacks of Joint Bank Accounts
Despite the benefits, joint accounts come with downsides, as well. Differing spending habits can cause conflict. If one partner does not spend responsibly, the other partner could easily become apprehensive. Moreover, as mentioned earlier, only one partner is required to close an account. In either case, trust becomes necessary to make joint accounts work.
Tips for Joint Bank Accounts
Sharing a bank account can become a challenge. However, both couples and business partners can employ strategies to succeed. Here's how:
Maintain trust and communication. This point may seem obvious. However, without it, maintaining a joint account will not work. It only takes one partner to spend and clear out whatever funds are in the account. Should one partner "steal" the money in the account, the other partner may have little recourse.
Create a budget. By creating a budget, you simply make a plan for each dollar. By following a plan, both partners have an agreement on where the money goes. This eliminates potential conflicts. It also helps ensure that bills get paid.
Don't forget goals. Joint accounts can involve more than just paying monthly bills. In the case of a married couple, it might make sense to set up a separate joint account to set aside money for retirement, financial emergencies, kids' college tuition or a dream vacation.
Set aside discretionary money. Inevitably, partners will disagree on spending. Because money is the No. 1 reason couples argue, having a plan for such disagreements makes sense. Many couples address this by also opening individual accounts, others with agreements on spending. Whatever the strategy couples follow, each partner should gain a measure of independence without compromising each other's long-term goals.
Re-evaluate finances periodically. Time brings change. Over time, partners will have to tweak funding amounts as needs change. Moreover, you may meet a goal such as sending a child to college or completing a remodel. Updating costs and updating the plan for money as needs change will keep your financial future from going off track.
How To Open a Joint Bank Account
The specific steps for opening a joint bank account will depend on the particular bank. Some banks will allow you to open accounts online, while others may require you to open a joint bank account in person. Information or documents you may need include a valid photo ID, Social Security number, proof of address and opening deposit.
Joint Bank Account Takeaways
If partners have established trust, can budget and share mostly common goals, the natural extension of that relationship likely means opening a joint account. If one of these three elements is missing, the joint account arrangement may fail. However, if the plan can work, not only will a joint account strengthen the relationship, it leaves partners in a better position to achieve financial goals and cope with unexpected setbacks.
FAQ on Joint Bank Accounts
Here are answers to some of the most frequently asked questions about joint bank accounts.
Can you apply for a joint bank account online?

Yes, it's possible to apply for a joint bank account online, but it's up to each specific bank. The best thing to do is call the bank where you're interested in opening a joint account and ask.

How much money can you put in a joint banking account?

The Federal Deposit Insurance Corp. will insure up to $250,000 per co-owner or up to $500,000 for each joint bank account.

What is the best bank for a joint bank account?

The best bank is one that's convenient to access, offers a joint account with features that fit your financial lifestyle and charges minimal fees.

Does a joint account require both signatures?

Usually, anyone named on the account can access its funds and conduct transactions. However, it depends on the bank regarding whether you will need both signatures to conduct transactions on the account.
Cynthia Measom contributed to the reporting for this article.
Our in-house research team and on-site financial experts work together to create content that's accurate, impartial, and up to date. We fact-check every single statistic, quote and fact using trusted primary resources to make sure the information we provide is correct. You can learn more about GOBankingRates' processes and standards in our editorial policy.