Monifi Review: Jumpstart Your Financial Progress With This Goal-Based Banking App's $250 Bonus
Brought to you by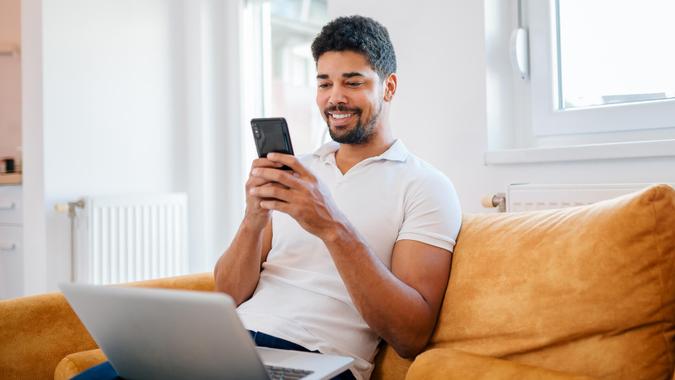 nortonrsx / Getty Images/iStockphoto
Monifi is a unique personal banking app that helps users optimize their finances by providing greater insights into their spending patterns as well as smart tools to support their savings goals. By allocating funds into Spend and Save Balances, users can control their spending while still earning a high rate of interest on their savings — Save Balances currently feature an annual percentage yield of 0.60%, which is among the highest you can get for a savings account.
A Monifi account also comes with no monthly fee, categorized transactions and a virtual assistant that can answer questions about your spending habits, balances and more. Plus, Monifi is currently offering a $250 bonus if you open a relationship and make two direct deposits of at least $1,000 each into your Spend Balance. That's free money you can use to make progress toward your financial goals.
Keep reading to learn more about the Monifi App, and whether it would be a good fit for you. We'll also reveal how you can claim the $250 bonus!
Monifi Overview
Within the Monifi App, you can deposit money into your Save Balance, establish unique, personalized goals and earn interest like a traditional savings account. Once you've reached your savings goals — or, as needed — you can move it to your Spend Balance.
Increase Your Income With Interest Earning Checking
This structure allows for goal-based banking, by which customers accumulate funds until they have enough to spend on their chosen goal(s). Users can set up any type of savings goal, from small to large. For example, an account holder might wish to avoid eating out until they have accumulated enough money to pay for dinner, or they might be saving up for an annual vacation. In either case, the money would first be deposited into the Save Balance, and, when the goal is reached, it can be transferred to the Spend Balance for use. Automatic savings plans can also be established through recurring transfers to make sure you reach your goal on time.
Benefits of the Monifi App
In addition to the savvy Spend and Save structure, the Monifi app offers a host of important benefits. First and foremost is that Monifi charges no monthly fees. With the signature Monifi Orange Visa® Debit Card, users can tap or swipe to pay, or they can link up with Apple Pay®, Google Pay™ or Samsung Pay. Monifi debit cards can be used to access cash nationwide with no fees when using the Allpoint ATM network (with 55,000 locations).
Increase Your Income With Interest Earning Checking
Monifi also conveniently allows users to switch their debit card on and off with a flip of a switch from within the app. The account comes with helpful alerts and rules to ensure that customers won't overspend. For example, the app can be set up to automatically move funds if a customer's Spend Balance is too low for a purchase.
Another helpful feature is Monifi's intelligent transaction enrichment. Under this system, transactions are automatically organized into the simple merchant name and categorized into easy-to-understand groups. Users have the freedom to tag, export or add notes to their transactions. Monifi also adds clarity and transparency by affixing the merchant's logo to the transaction, when available; if not, a category icon will be used. Plus, users can add their accounts from other banks and view all their transactions in one place.
The Monifi App includes a helpful built-in assistant that can be activated with voice or text to answer questions about purchases, categories and tags. As would be expected with a totally online banking experience, the Monifi App allows for mobile check deposits, and customers can make deposits via ACH, external transfer, wire transfer or Zelle®. The account also accepts direct deposits.
Customer Service Benefits
Although Monifi is a completely online experience, customer service is still available via email, phone and live chat with real people. Customer service reps are available from 7 a.m.-9 p.m., Monday through Friday, 8 a.m.-6 p.m. on Saturday and 12 p.m.-4 p.m. on Sunday. All times are Central time.
Other Benefits
Additional benefits of the Monifi experience include the following:
FDIC insurance

Biometric authentication

Bill pay

Fraud alerts

Card controls
Those that might initially shy away from an app-based banking experience will feel assured knowing that Monifi is a division of MidFirst Bank, the largest privately owned bank in the United States, with assets of $29.6 billion.
Potential Drawbacks
While you may think the main drawback of a Monifi account is that it doesn't pay interest, that drawback is countered by the impressive 0.60% APY currently paid in the Monifi Save Balance. That's up there with the highest rates currently available for a savings account. Plus, the goals-based framework encourages smart savings habits. Another potential issue for some customers is the lack of physical branch support, although that won't be an issue for those comfortable with online banking, plus Monifi offers phone and online support so you can speak to a human and get assistance when needed.
Although the fee-free Allpoint ATM network is 55,000 terminals strong, some customers may be located in areas with limited coverage. Unlike some other banks, Monifi doesn't offer any ATM fee rebates for out-of-network transactions.
How To Apply
It's easy to apply for a Monifi account. Monifi is an app-based experience — simply download the app and open an account from there. Here's the information you'll need to open an account:
First and last name

Physical address

Date of birth

Social Security number

Mobile phone number

Email address
After you open an account, you'll have the option to add a joint owner, if you so desire. Once you've set up your account, you can deposit money in one of four ways:
Mobile deposit

Zelle

®

External transfer from a linked bank (up to $10,000)

ACH

Wire

Direct deposit
After you've set up your account, Monifi makes it easy to personalize your experience, from changing your dashboard to setting up alerts and notifications.
Who This Account Might Be Best For
Monifi is clearly aimed at customers who want to set goals and build their savings in an easy-to-use mobile banking package. By allocating funds into two different accounts, customers are both encouraged to save and discouraged to overspend.
The slick mobile interface offered by Monifi allows users to easily customize their banking experience while understanding (through clear categorization) where their money is going. With no account fees and tens of thousands of fee-free ATM terminals nationwide, Monifi appeals to the low-cost and savers crowds. The high APY currently offered on the Monifi Save Balance makes for an excellent supplement to the primary Spend Balance.
How To Earn the $250 Bonus
Monifi is currently offering a $250 bonus if you open an account and make two direct deposits of at least $1,000 each into your Spend Balance. To get the free money, first download the app to begin your Monifi relationship. Once you have opened your account, fill out the direct deposit form and provide it to your employer or other entity that will be providing the direct deposit. You can find your account and routing numbers under the "Account Details" section of the app. After receiving two direct deposits of $1,000 or more in the first 90 days of opening your account, the $250 will be credited to your Spend Balance within 45 days of meeting the requirements. Qualifying direct deposits include a paycheck, pension or government benefits such as Social Security.
You can use the bonus money however you like. Whether you decide to treat yourself to something new or transfer the money to your Save Balance, it's an easy way to put hundreds of dollars in your pocket.
More From GOBankingRates
Last updated: July 23, 2021