Tired of Paying to Withdraw? No Fee ATMs May Be on the Way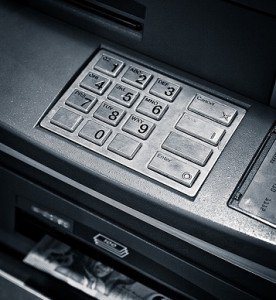 Photo: phozographer
Wouldn't it be nice to be able to withdraw money without having to worry about paying additional fees? The option of no fee ATMs may very well become a reality for consumers across the country, though there is a catch: You'll be required to watch a commercial before withdrawing your money.
Free ATMs NYC
Banks have attempted to implement new ATM and debit card fees for months now in order to pad losses from Wall Street Reform–namely, the Durbin Amendment, which placed a cap on bank interchange fees. Many have struggled to hold onto their customers as a result.
Get a New Checking Account
Sponsors of
However, starting next year, banks could suffer even more losses if a new company is successful in its nationwide launch of advertiser-funded no fee ATMs.
Free ATMs NYC, which was founded by 25-year-old Clinton Townsend, hopes to start a new trend in ATM usage. Just last month, Townsend began testing a no fee ATM in Brooklyn that allowed customers to withdraw money at no cost, as long as they were willing to sit through a few advertisements.
Here's how the process will work: Townsend plans to place no fee ATM machines in cafes, supermarkets, hotels, bars and malls where banks aren't located. Then when someone goes to pull out cash, company advertisements will be shown before, during and after the transaction in lieu of a transaction fee.
Every no fee ATM will feature a slideshow of ads on a regular display screen while some will have an additional screen above the ATM for a 24-hour stream of video advertisements.
Townsend noted in a recent CNN Money article that the ads won't prolong the time it takes to conduct a transaction. For many, this vital piece of information will make free ATMs NYC that much more attractive.
And what if you don't want to watch the ad? The company will allow users to opt out and pay the traditional fee if they prefer. The company has already signed on two advertisers and is in talks with advertising firms and several national companies.
If the venture is successful, Townsend plans to launch several thousand advertiser-based no fee ATMs throughout the country by the end of 2012.
Could No Fee ATMs Impact How Banks Earn Money?
Experts have already predicted that if the idea catches on as expected, it could change the ATM landscape. Not only could it save consumers a lot of money–in the ballpark of $4 billion–but it could impact how banks are required to manage their ATM business.
Banks stand to make significant income from fees on out-of-network machines. This is part of the reason why ATM operators filed a lawsuit against MasterCard and Visa in October for attempting to force fixed ATM fees.
So how could this affect banks' ability to earn incomes on ATMs?
It is likely banks will follow a similar process for when a customer uses a card with a machine that isn't considered an in-network ATM. On average, Free ATMs NYC expects banks to charge in the ballpark of $1.25 per transaction.
However, it's possible that some banks may even take the step to increase the price of the charge for using these and other ATMs if they realize that advertisement-based machines are gaining so much popularity that they have a hard time acquiring out-of-network traffic on their bank-owned ATMs.
As for how the company will pay to keep the ATMs in operation with so much competition, Townsend plans to charge advertisers a flat monthly fee, which he has chosen to keep under wraps for now. He did tell CNN Money, however, that the rates will be comparable to other forms of local advertising, such as newspapers.
With no other similar machines available, the market is wide open for Free ATMs NYC to find success.
But the company shouldn't expect to remain in the market alone for long. Many think it is likely that the success of Free ATMs NYC's machines will encourage others to take the advertisement-based, no fee ATM route, completely altering the entire ATM landscape in the years to come.