Study: A Single Overdraft Can Cost You up to 145% of Your Yearly Interest
With deposit interest rates still at dismal lows, concern about excessive checking account fees remains prevalent.
According to American Banker, depositors who overdraft pay an average of $225 a year in fees, seriously hampering their chances at remaining in the banking system altogether.

Unfortunately, despite the widespread practice of charging overdraft fees, customers are seeing less of a return in the form of checking account rates. In its latest study, GOBankingRates compared the cost of overdraft fees against 2,781 checking account interest rates today, in order to determine the real return that depositors can expect to earn.
Highest Checking Account Rates by State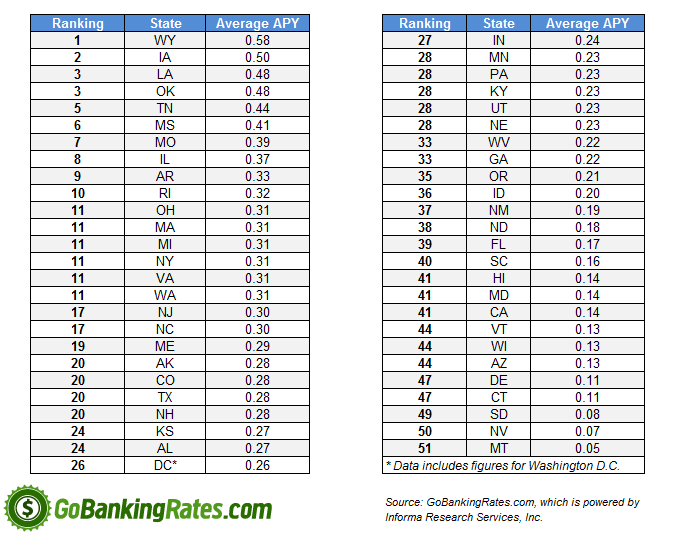 Checking Account Return by Institution Type
On the national level, average checking account rates stand at 0.27% APY. Bank deposit rates for checking accounts average 0.26% APY, while credit unions continue to demonstrate their ability to offer depositors higher average checking account returns, with rates at 0.32% APY.
When compared to national median overdraft fees, however, the disproportion of potential earnings versus fees is apparent.

According to a 2013 study on overdraft price hikes by Moebs $ervices, the national median overdraft fee stands at $30. Median bank overdraft fees are also $30, while credit unions remain competitive with median overdraft fees for the year at a slightly lower $28.
But just one overdraft can easily reverse customers' returns. Our investigation revealed that one overdraft in the course of a year equals 111.11 percent of a depositor's annual return, meaning that one misstep can not only jeopardize interest earnings, but also cut into principal deposits.
When broken down, the findings for banks and credit unions are just as eye-opening. A single bank overdraft fee costs customers 115.38 percent of their yearly return, while credit union members absorb a loss of 87.50 percent with just one overdraft charge.
Related: How to Get Overdraft Fees Waived
Best Regional Checking Account Returns

Regionally, the Midwest provides the most palatable ratio when it comes to comparing potential checking account interest returns with average overdraft fee amounts.
Though banks and credit unions in the Midwest charge a hefty $29 overdraft fee on average (according to the study by Moebs $ervices), average checking account rates of 0.30% APY — the highest average by region — balance out the losses of an overdraft. Depositors in the Midwest lose only 96.67 percent of their returns.
In contrast, the West — which charges the same average $29 overdraft fee, per Moebs $ervices — drains depositor returns the worst, mainly due to its lower average checking account rate of 0.20% APY. This seemingly insignificant rate deduction of 0.10% APY between the Midwest and West regions results in the West having the poorest percentage of returns after an overdraft fee, with a cost of 145.00% in earnings.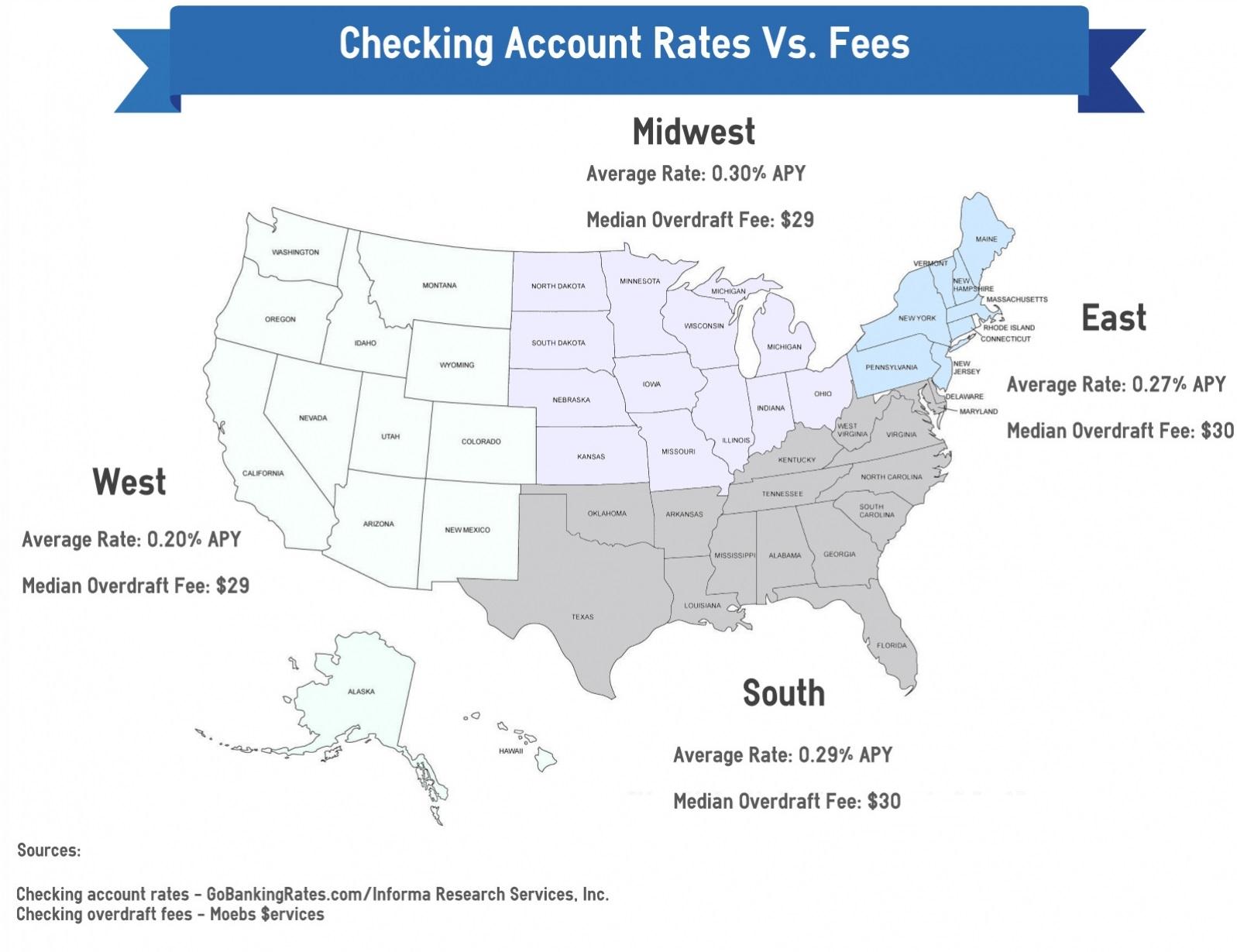 Share this Image On Your Site
Please include attribution to GoBankingRates.com with this graphic.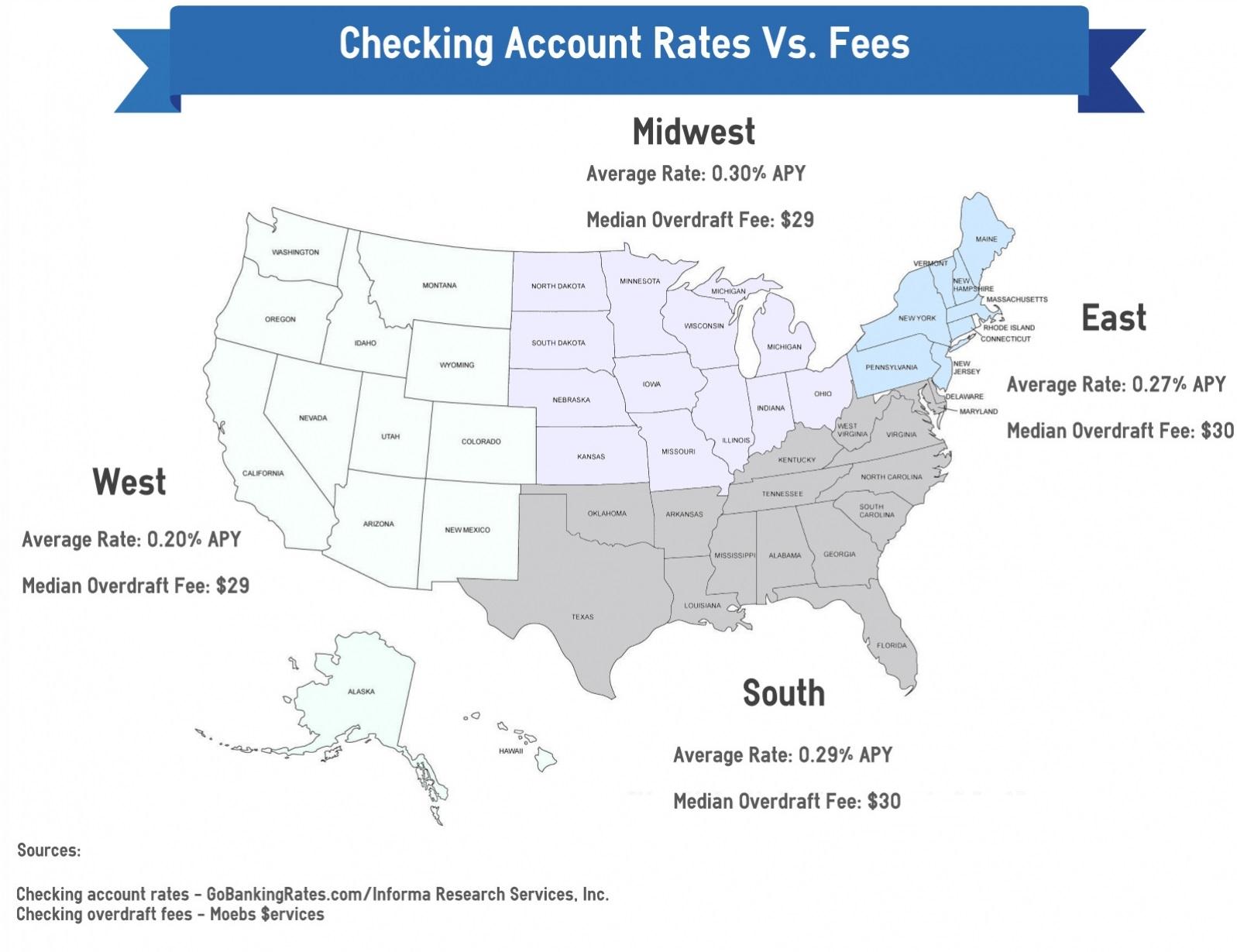 Find the best bank rates at GoBankingRates.com.

Sources: GoBankingRates.com, Moebs $ervices (Moebs.com) and Informa Research Services, Inc. (www.informars.com). Although the information has been obtained from the various financial institutions, the accuracy cannot be guaranteed.
All data current as of November 7, 2013. Fees and rates are subject to change at any time at the discretion of individual financial institutions. Additional terms and restrictions could apply. Please verify fees and rates before opening an account.