The Best Checking Accounts for College Students
Checking accounts offer students overdraft forgiveness and no fees.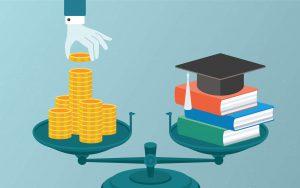 No matter what your financial situation is during college, it is likely you will need a checking account — after all, you have to park your money somewhere. Many banks are eager for your business and offer special checking accounts with terms, conditions and benefits suitable for college students; a dizzying array of choices are available. Here are some things to consider when looking for the best bank for college students:
A bank or

credit union

might not have a monthly fee, but you often have to make a minimum deposit to activate the

checking account.
Banks typically have customer service representatives available to answer questions about

checking accounts

by phone. Some banks offer such services 24/7, but others do not.
Determine what level of customer service you want. You might be satisfied with an online-only bank, or you might prefer

a financial institution with branches staffed by people.
Before searching for banks that offer free checking accounts, know that terms and conditions might vary depending on where you live. In fact, some of these student bank accounts might be unavailable in some markets. When you visit bank websites, you might be prompted to provide your ZIP code. The banks will immediately let you know if their student checking accounts are available in your area.
Following are some options for the best checking account for college students.
Ally Bank's Interest Checking
TD Bank's Student Checking
Capital One's 360 Checking
Discover Bank's Discover Cashback Checking
Bank of America's Core Checking
Chase Bank's Chase College Checking
PNC Bank's Virtual Wallet Student
BB&T's Student Checking
USAA's College Checking
Regions Bank's LifeGreen Checking for Students
Ally Bank's Interest Checking
In addition to having no monthly maintenance fee and no minimum balance requirement, the Ally Bank Interest Checking account earns interest. The annual performance yield depends on the amount of your minimum daily balance.
You can use any of the more than 43,000 Allpoint ATMs in the U.S. for free. Ally will also reimburse up to $10 per statement cycle if other ATMs nationwide charge you any usage fees.
Ally has no brick-and-mortar local bank branches. However, you can talk to a customer service representative at any time of the day or night, or you can use the chat function on the Ally Bank website.
TD Bank's Student Checking
If you are under 24 years old and enrolled as a full-time student, the TD Student Checking account is a low-cost, no-frills option. You do not need to deposit any funds to open a new checking account. The account has no monthly fee, and you do not have to maintain a minimum balance.
Access to ATMs is available at more than 1,900 machines in the U.S. and Canada. Fees apply if you use a non-TD Bank ATM. You can also conduct your transactions at a physical TB Bank branch if you prefer dealing with a local bank.
You do not want to plan on bouncing checks or overdrawing your student bank account, but sometimes overdrawing an account does happen. TD Bank offers several options for dealing with overdrafts, from paying a fee for each overdraft to enrolling in TD Debit Card Advance, an overdraft service.
Capital One's 360 Checking
Capital One's 360 Checking account is a no-fee, no-minimum-balance account for college students. As an added bonus, you earn interest on the money in your checking account. The amount of your balance determines the annual percentage yield you earn.
With more than 40,000 ATMs nationwide, you will be able to conduct banking business almost anywhere. Plus, free online and mobile banking is available. The bank provides a free MasterCard debit card you can use for your everyday purchases.
If you inadvertently bounce a check, Capital One will not charge you an overdraft fee, but you will have to pay interest on the amount you borrow to cover the deficiency.
Read: 10 Financial Planning Tips for College Students
Discover Bank's Cashback Checking
You have to deposit at least $25 to open a Discover Cashback Checking account. However, there is no minimum balance required and there are no monthly service fees. More than 60,000 ATMs are available nationwide.
College students can get printed checks at no additional cost, as well as a free replacement debit card. However, for security purposes, be careful not to lose your debit card.
You can accrue cash-back rewards up to $120 per year by performing ordinary transactions such as using your debit card, writing checks that clear or paying bills online. If you have a Discover credit card, you can add the cash-back rewards from your Cashback Checking account to the CashBack Bonus on your credit card.
Bank of America's Core Checking
One major advantage of the Bank of America Core Checking account is the opportunity to tap into cash-back deals associated with BankAmeriDeals. The cash back you earn using your Bank of America debit or credit card is automatically credited to your checking account by the end of the following month.
You also can build up savings automatically with the bank's Keep the Change savings program. Each time you use the Bank of America debit card, the bank rounds up the amount of your purchase to the nearest dollar. Then, the bank automatically transfers the difference from your checking account to your Bank of America savings account. It is an almost painless way for any college student to save small amounts that can add up quickly.
The account requires an opening deposit of $25. Bank of America waives the maintenance fee — normally $12 per month — if you are under 23 and enrolled in a college, university or vocational program. You can bank at any of the thousands of Bank of America ATMs, but you will pay a fee to use non-Bank of America ATMs.
Chase Bank's College Checking
You need to make a minimum $25 deposit to open a Chase College Checking account, but there are no minimum balance requirements. To be eligible for this student account, you must open the account between the ages of 17 and 24. You also need to provide proof of your student status at a college or university.
Chase waives monthly maintenance fees for up to five years while you are in college. Following graduation or the end of the five-year period, you can keep the account. However, you will have to pay a $6 monthly service fee. The bank will waive the fee if you have a direct deposit each monthly statement period or if you maintain a $5,000 monthly average daily balance in your checking account.
A Chase debit card, 24/7 customer service, and mobile and online banking are all included at no charge. You can bank at 15,500 ATMs or in person at any of the 5,300 bank branches nationwide.
Read: 15 Steps to Paying Off Your Student Loans
PNC Bank's Virtual Wallet Student
PNC Bank's Virtual Wallet Student is available without a monthly fee for up to six years, provided you show proof of active student status at a qualifying educational institution. The six-year period begins when your checking account is enrolled in the Virtual Wallet Student program.
You will not pay fees for using any of the 8,000 PNC Bank ATMs. The bank will reimburse the first two transaction fees you incur in a statement period for using non-PNC ATMs.
During the first 12 months that your student checking account is open, the bank will give you one courtesy refund for your first returned item or overdraft fee if you have insufficient funds in your account. Several options for overdraft protection and overdraft coverage are available.
BB&T's Student Checking
A BB&T Student Checking account is available until your 24th birthday or your graduation from college, whichever comes later. Afterward, your Student Checking will automatically convert to another type of BB&T checking account.
No minimum balance applies, and you do not have to pay an opening deposit. A $3 monthly fee applies if you want paper account statements delivered by mail. Online-only statements are free if you are enrolled in online banking for your checking account. BB&T has more than 3,100 ATMs that account holders can use for free. To avoid getting hit with an overdraft fee, link your BB&T Student Checking to other BB&T accounts.
Although you can access checking account information online 24/7, you are allotted only two free person-to-person calls per month. So make sure you have organized all your information and questions before you make a phone call to a customer service representative.
USAA's College Checking
USAA serves military members and their families. Membership in USAA is a prerequisite to get any USAA product, such as the College Checking student account. To see if you are eligible, apply on the USAA website.
A minimum $25 deposit is required to open your checking account, but College Checking is nearly fee-free. No monthly service fees or minimum balance requirements apply.
USAA Bank does not charge a fee for the first 10 ATM withdrawals each month from other U.S. domestic banks' ATMs. The bank will refund up to $15 in usage fees charged by those non-USAA banks each month. You will have to pay a fee of $2 per transaction after you have used up your free withdrawals and refunds. The ATM fee refund does not apply for the month in which your account is closed and might not be available at ATMs outside the U.S. If you are using any of the 60,000 USAA preferred ATMs, no ATM usage fees will be charged.
Related: 21 Budgeting Tips for College Students
Regions Bank's LifeGreen Checking for Students
The LifeGreen Checking for Students account has one of the highest opening deposit requirements for a student account: You need to pony up $50 to activate your checking account.
However, students age 25 or younger who have an account do not pay monthly service fees. Regions Bank doesn't charge LifeGreen Checking account holders a fee for online account statements. Paper versions of statements cost between $2 and $5, depending on which option you select.
Use any of the 2,000 Regions ATMs for free withdrawals, balance inquiries and transfers. However, you might have to pay a fee for other types of transactions, even at a Regions ATM. You will pay a $2.50 fee per domestic transaction when you use an ATM that is not owned or operated by Regions.
Regions Bank provides a one-time refund of the paid overdraft or returned-item fee for the first overdraft or returned item that occurs after you open a checking account.
Your personal paper checks cost at least $16 per package, although Regions Bank gives you a 50 percent discount on your first order.
You might be eligible for Regions Relationships Rewards by using your Regions student checking account or a Regions Visa credit card. You can also earn rewards through the Regions Cashback Rewards program available when you use your Regions Visa check card and online banking.
Up Next: Apple Bank for Savings Review: Top Rates for CDs and Savings
This content is not provided by the banks reviewed in this article. Any opinions, analyses, reviews or recommendations expressed in this article are those of the author's alone and have not been reviewed, approved, or otherwise endorsed by the banks reviewed here.
Editorial Note: This content is not provided or commissioned by the bank advertiser. Opinions expressed here are author's alone, not those of the bank advertiser, and have not been reviewed, approved or otherwise endorsed by the bank advertiser. This site may be compensated through the bank advertiser Affiliate Program.