Top Questions To Ask Before Opening an Account at a Neobank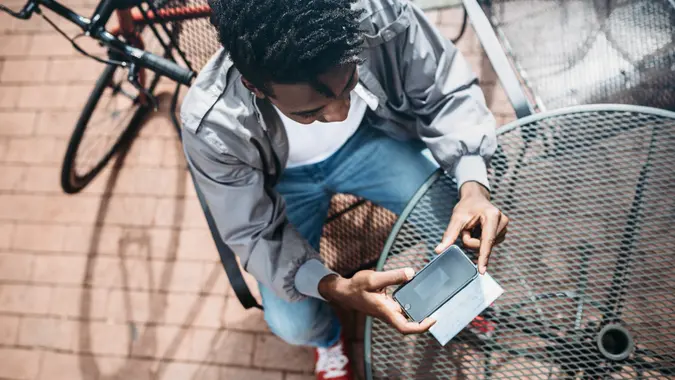 RyanJLane / iStock.com
One banking option steadily growing in popularity with customers is the neobank. A neobank is best described as a niche fintech and works to bridge the gap between traditional banks and digital alternatives. 
See the List: GOBankingRates' Best Banks of 2023
Discover: GOBankingRates' Best Neobanks 2023
And More: GOBankingRates' Best Checking Accounts 2023
Customers new to neobanks — and possibly existing customers — are likely to have questions about what it means to bank in these spaces. The best approach is to ask first and decide whether this is in your best financial interest. Here are the top questions to ask before opening an account at a neobank.
Is There a Suite of Products Available?
Rachel Huber, market intelligence lead at Marqeta, said during the initial emergence of digital banks that several neobanks launched with specific flagship products and not much else. 
Some customers may want only a single service from their digital banks. Others seek well-rounded suites of products. Huber recommends asking whether the neobank offers all of the banking basics. These should include checking and savings accounts, debit and credit cards, direct deposit and bill payments. By learning what the neobank offers, customers may be able to complete as many financial transactions as possible under one roof.
Earn Perks With A New Checking Account
Take Our Poll: How Big of a Sign-Up Bonus Would It Take for You To Change Banks?
How Do I Contact Customer Service?
This is an extremely important question to ask if you choose a neobank. While digital-only banking may sound appealing, to whom do you reach out if you have questions or if there is an issue that needs to be resolved? How can you get in touch with customer service?
"Consumers are savvy," Huber said, "but there is still a very human desire to be able to connect with someone and have help with more complex questions or financial products, especially for big or complex transactions like applying for a mortgage."
Before opening an account with a neobank, contact customer service by phone or online, said Paul McAdam, senior director of banking and payments intelligence at J.D. Power. 
See how this outreach goes. Is it a smooth process or difficult? Was the representative able to help?
McAdam cites a J.D. Power 2022 U.S. Direct Banking Satisfaction Study where the primary criticism of customers with neobank accounts was difficulty in reaching customer service by phone.
A good representative experience, McAdam said, will tell you a lot about what it's like to be a customer of the neobank.
Earn Perks With A New Checking Account
Pro tip before you hang up: McAdam recommends asking about availability. Can you contact customer service 24/7 or is there a limited set of hours, days and time zones for outreach?
How Do I Access My Money?
Interested in opening an account with a neobank? Corey Carlisle, AFC and head of public policy at Varo Bank, recommends asking these questions first: 
How is the neobank regulated?
Does the neobank have bank charters? If the answer is yes, what protections does a bank charter offer to you as a customer?
How can you deposit money into your account?
How can you access your money?
What ATMs are accessible to you?
Additionally, McAdam recommends asking the following account-specific questions:
How might you be charged fees on this account? How is it possible to avoid these fees?
What is the neobank's availability of funds policies? McAdam said this can cause delays in the ability to spend deposited funds. 
Why Should I Become Your Customer?
As soon as you start speaking with a neobank representative, McAdam recommends starting the conversation with this simple question: Why should I become a customer here versus another financial institution I'm thinking of?
Earn Perks With A New Checking Account
"You'll be amazed at the quality of the responses you'll receive," McAdam said. "This question is a great indicator of the overall level of service quality you will receive, in those instances when you may need to call or chat to resolve a problem."
More From GOBankingRates
Earn Perks With A New Checking Account