Where To Easily Get a Money Order: 10 Best Places To Buy One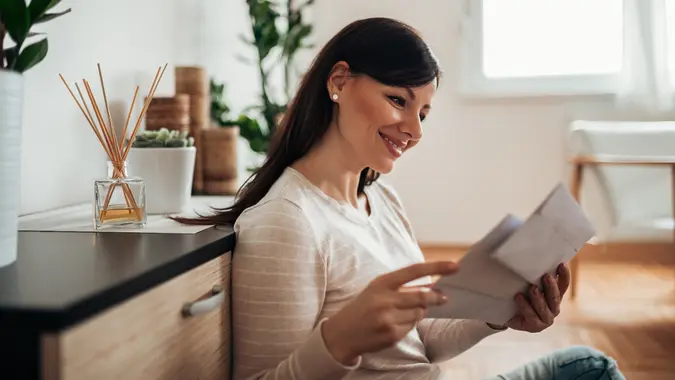 nortonrsx / Getty Images/iStockphoto
Many companies do not accept personal checks. So in some instances, you may need to make payments, pay bills or send money via money orders. But where are the best places to get a money order? It is best to know your options before you decide to choose one provider over another. 
Where To Get a Money Order: 10 Best Places
A money order can be purchased from a variety of places, including post offices, convenience stores, banking institutions, credit unions and retail establishments like Walmart. Keep in mind that each provider has its own money order costs, limitations and fees. Here is a list of the 10 best places to get a money order, considering maximum limits and fees:
Banks and credit unions
Western Union
US Postal Service
7-Eleven
CVS Pharmacy
Safeway
Kroger
Meijer
Publix
Walmart
1. Banks and Credit Unions
One of the best places to get your hands on a money order is your local bank or credit union — as long as your bank offers competitive fees. For example, Wells Fargo charges $5 per money order, which is significantly higher than the average fee of around $2. On the other hand, Regions Bank offers money orders for $2.
If your bank or credit union charges above-average fees for money orders, do not worry. There are plenty of other options. If you have a savings or checking account with the bank you may be able to waive the fees for the money order.
2. Western Union 
Western Union is a popular option for money orders. As with most money order providers, Western Union representatives confirm caps of $1,000 on money orders. The challenge is that Western Union does not have a set fee across all its branches, often because it can be housed within other businesses like Kroger. 
Upgrade Your Checking Account
Some locations may charge as little as $0.50, while others charge much more, so be sure to ask your Western Union representative about fees before you place the order.
3. US Postal Service
The United States Postal Service is a cost-effective option for purchasing money orders, especially if you need one for under $500. Here is how the fees work:
If your money order is under $500.00, the fee is $2.00.
If your money order is $500.01 to $1,000, the fee is $2.90.
Military money orders of any value have a fee of $0.65.
As with all providers, limits apply. The United States Postal Service caps domestic money orders at $1,000 and international money orders at $700. 
4. 7-Eleven
Most 7-Eleven locations offer money orders. However, as is the case with Western Union, the fee you will pay depends on the location you visit. You will typically pay between 1% and 3% of the total value of the money order. Also, 7-Eleven limits money orders to $500 each.  
5. CVS Pharmacy
"Does CVS do money orders?" is a common question among those in search of one of these valuable pieces of paper. Yes, CVS does offer money orders. While the exact pricing is not listed on their site, the cost previously listed was just $1.25, making it one of the cheapest options. CVS caps the value of each money order at $500.
6. Safeway
Safeway is another great place to get a money order. The company typically charges $1 per money order with a $500 maximum, but that may vary per location. 
7. Kroger
Kroger is a low-cost option for accessing money orders. If you are a member of Kroger, you will only pay $1 each. If you are not, you will pay $1.10 each. Money orders at Kroger are typically capped at a total value of $1,000, but the company may wave this cap in certain circumstances. If you need a money order with a face value of more than $1,000, call your local Kroger store and ask if your circumstance qualifies. 
Upgrade Your Checking Account
8. Meijer
If you live in Illinois, Indiana, Kentucky, Michigan, Ohio or Wisconsin and you have a Meijer nearby, you are in luck. This company offers money orders for a fee of just $0.65 each. Even better, you can purchase money orders with your debit card as opposed to cash and incur no additional fee.
9. Publix
Publix is not just a grocery store, the company also offers a wide range of financial services, including money orders. Like Meijer, it is also one of the cheapest places to get a money order: the company charges between $0.89 and $0.99 per order with a maximum value of $500. 
10. Walmart
How much is a money order at Walmart? The answer is $1 or less. Walmart states that its fee for money orders will vary by location, but it will never be over $1. And like most places, the company also limits the value of money orders to $1,000.  
Final Take To GO
Whether you need a money order to place a deposit on a new apartment or pay for services from a provider that does not accept checks, you will not have to look too hard. Compare the fees and limits of the services above that sell money orders and you will be ready to roll. When your checking account or credit card won't cut it, a money order can help you out in a pinch. 
FAQ
Below are some of the most frequently asked questions regarding money orders.
How do you get a money order?

Once you decide which company you'd like to purchase a money order from, the process is simple. In most cases, you'll fill out a short form that provides the company with your contact info and details about the money order itself. From there, you simply pay the face value of the money order plus any fees, and the company will print it for you.

What locations do money orders?

Many common businesses provide money orders, including banks and credit unions, post offices, convenience stores, pharmacies and grocery stores.

How can I get a money order near me?

To get a money order you can type "money order near me" into Google Maps, or consider one of the following places known to sell and cash money orders:

Western Union

U.S. Postal Service
7-Eleven
CVS Pharmacy
Safeway
Kroger
Meijer
Publix
Walmart

Where is the easiest place to get a money order?

Some of the easiest places to get a money order from are Walmart, Kroger and the U.S. Postal Service.
Upgrade Your Checking Account
Banks and Other Services Nearby

Bank Branches

Other Services
More on Money Orders and Checks
Money Order Costs
Cynthia Measom, Caitlyn Moorhead and Kelli Francis contributed to the reporting for this article.
Data is accurate as of Oct. 24, 2023, and is subject to change.