Best Military Banks and Credit Unions of 2014
Serving the country has its rewards, such as educational support and retirement benefits for those who turn military service into a life-long career. With the economy in the process of recovery and in light of the uncertain fate of military pensions, service men and women must turn to financial institutions who are committed to helping bolster and support the armed forces community.
Banking products and services from the best military banks and credit unions in the United States allow families to thrive with accounts and services that are tailored to meet their unique needs. That said, sifting through the pros and cons of the countless military financial institutions can get more than confusing. GOBankingRates takes the guess work out of finding the best banks and credit unions that serve armed forces personnel with its list of the top five military banks and credit unions of the year.
1. USAA Bank


USAA Bank has had decades of experience when it comes to understanding the hopes and dreams of its customers. Since its inception in 1922, the bank has grown its customer base into the millions, offering banking solutions including deposit accounts, loans, health and auto insurance, as well as retirement planning services that help customers stay financially balanced even after they've served.
In particular, USAA Bank gives customers' deposits the edge they need to stay afloat, with no-fee savings and checking account options that offer as much as a 0.20% APY return. To make sure that USAA Bank plays a giving — not a taking — role, it provides nationwide ATM access. If another institution charges customers a surcharge, USAA Bank will issue the customer's account with an ATM rebate for the incurred fee.
Ryan Guina, USAF veteran and founder of The Military Wallet, spoke highly of his experience as a USAA customer.
"I became a USAA member over a decade ago, while I was serving in the USAF and living in England," Guina said. "Over time, they also became my primary bank. … There are two things that impress me about USAA: The first is their amazing customer service. I have never had a problem that couldn't be resolved with one or two phone calls. They are true professionals. The second, and more important thing, is USAA's dedication to serving military members and their families. It isn't lip service to say that everything they do is based on the core mission of serving their community of members."
Ryan Guina isn't the only one vouching for USAA as a stand-out military bank.
Hank Coleman, an Army Major with more than 11 years on active duty and two combat tours to Iraq, and the voice of Money Q&A,a resource offering both civilian and military members tips on saving, retirement and investing, said, "I'm not surprised one bit that [USAA] ranked No. 1 on the list. These institutions, like USAA, understand what it means to be in the military and the unique circumstances service members and their families deal with every day. They provide incredible advice tailored specifically for the military clientele that you simply won't receive with the same degree and depth from a traditional bank. I like USAA because they are caring. I'm not just a number to them."
The bank's commitment to helping veterans and transitioning service men and women into new employment opportunities was recently recognized by the U.S. Chamber of Commerce Foundation's Hiring Our Heroes program; the institution accepted the 2013 Lee Anderson Veteran and Military Spouse Employment Award in November.
"USAA Bank is honored to have been named the top military bank," said David Bohne, president of USAA Bank. "Serving the military is more than a focus area for USAA, it's our reason for existing. … To ensure our employees understand the unique lives of our members, we hire and train military veterans and spouses to serve our members. In 2013, 27 percent of USAA Bank's new employees were former military or military spouses and we seek to grow that number this year."
2. Navy Federal Credit Union



Not new to receiving recognition for its unyielding service to the military community is Navy Federal Credit Union. The nonprofit institution has rallied for members and staff of the armed forces as far back as 1933. Today, its membership has flourished to more than 4 million members thanks to its ongoing support of the military community.
The credit union receives high marks for its wide variety of financial products, offering five checking account options for even the most discerning depositor. Its EveryDay Checking account has no maintenance fees, while its Flagship Checking account gives members the benefit of earning competitive interest and having monthly fees waived simply with a minimum balance of $1,500. ATM fees under the Flagship Checking account are also refunded up to $10 per statement cycle for an added savings advantage when account holders sign up for direct deposit.
"While members look to the credit union for products that add value and help them save money — they also know that we are here to help give them the tools to keep them financially strong," said Cutler Dawson, CEO and president of Navy Federal Credit Union. "We provide free financial education to assist members in managing their immediate and long-term financial goals. It's this level of personal service that helps members succeed."
Simply put, our uniqueness is defined by two things: loyalty and the people we serve — the men and women of the military, and their families. They deserve a financial institution that will go the extra mile for them. We truly live our mission. We do the right thing, and we do things right."
3. Air Force Federal Credit Union



Air Force Federal Credit Union supplies military members and their families with great financial products, without the hassle of having to fulfill costly account requirements to avoid a fee. The credit union's Regular Savings account just needs a minimum of $5 to remain active, and does not charge a minimum balance fee. The same no-fee principle applies to Air Force Federal Credit Union's Simple Checking account, which also has no minimum balance to uphold once the account is active.
In addition to money-saving deposit products, Air Force Federal Credit Union offers other helpful services, such as low-interest consumer loans and retirement calculators to help educate its members on ways to remain financially savvy.
"We understand the demands of the military culture and challenges our men and women in our armed forces, including their families, face every day. From deployment to frequent relocations and the life and death risks they encounter on a daily basis, the sacrifices they make are immeasurable," said Danny Sanchez, vice president of marketing at Air Force FCU. "It is our mission to be the one financial institution that best understands and meets the needs of our members wherever they are. As they continue to be there for us, it is our responsibility to be there for them."
4. Pentagon Federal Credit Union



As one of the largest military credit unions in the nation, Pentagon Federal Credit Union secures its members' financial stability with low-interest credit card offers, affordable auto financing options and a Regular Savings account that yields 0.10% APY with a minimum deposit of $5.
"PenFed is proud of the service we provide our nation's military heroes. While our products are some of the most valuable and lowest-cost in the country, the PenFed Foundation also provides critical, unwavering support to military members," said James Schenck, executive vice president at PenFed. "Our service to the military isn't about business — it's the focus and core of all that we do. Our great rates and low fees aren't an accident; these are the kind of outstanding financial products that our nation's heroes deserve."
The credit union's Complete Access Checking account offers free bill pay and overdraft protection to qualified members. A monthly fee of $10 is waived as long as a minimum daily balance or monthly direct deposit of $500 is maintained.
"While I use USAA for my primary banking, I also have an excellent opinion of both Navy Federal Credit Union and Pentagon Federal Credit Union," Guina said. "Being in the military can lead to unique financial situations and frequent travel. All of these institutions are aware of what service members go through and are willing to work with military members through financial issues."
5. Armed Forces Bank



Coming from a history of family ties, Armed Forces Bank knows the importance of setting military families up for success. This full-service institution offers its Freedom Checking account to customers with zero minimum balances to worry about and no service charge as long as depositors set up direct deposit or have at least five debit card transactions processed each statement cycle.
Unlike big banks that have done away with interest-earning checking accounts entirely, Armed Forces Bank offers checking account holders a 0.05% APY return that helps chip away at savings goals.
The institution takes saving money seriously, which is why customers are encouraged to maintain at least $100 in their savings account to cultivate smart savings habits and waive a $5 service fee.
"Armed Forces Bank has been proudly serving active and retired members of the military and their families since 1907. We welcome the opportunity to provide the tools that will help our military customers learn money management skills that will last a lifetime," said Don Giles, president of Armed Forces Bank. "In 2013, we provided on-base financial education briefings to over 5,000 military personnel on important topics such as budgeting, managing a checking account, saving and investing, managing credit, identity theft, and predatory lending, and during Military Saves Week we opened over 500 savings accounts. We are honored to be recognized as one of the Best Military Financial Institutions for 2014."
With so many resources within reach, active military members, their families and veterans have a prosperous year ahead as more banks and credit unions look to support this community.
6. Service Credit Union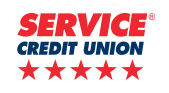 Service Credit Union has grown from serving the Pease Air Force Base in New Hampshire in 1957 to a more than 183,000-member credit union today, with both domestic and international branches. Knowing that soldiers are often deployed overseas, Service Credit Union has 15 branches and 39 ATM locations in Germany, making it easy for military personnel stationed throughout the country to access their funds with ease.
The credit union's military-specific focus goes beyond branch locations and history. Service Credit Union offers a special Warrior Rewards program for military members of certain distinction. Qualified members include:
Those who have returned in the last 120 days from peacekeeping operations, hostile locations or war zones where they were in imminent danger of enemy attack
Those who have earned a Purple Heart, Bronze Star or a higher combat-related honor
Active, reserve, guard duty or retired members with 20 or more years of service
These rewards include special rates on loans, free online banking and bill pay, a free debit card, and 24/7 free access to a live representative. The credit union's Warrior Savings account also rewards qualified members with a 10% APY on deposited funds while deployed, good on balances up to $10,000.
The credit union also provides military personnel with extra resources, including a military relocation kit featuring checklists to help members move with ease. Those who need extra money for their moves can obtain a military relocation loan that requires no payments for the first three months.
7. SAFE Federal Credit Union

SAFE Federal Credit union was founded by 15 civilian employees at Shaw Air Force base in Sumter, S.C., in 1955, and has since grown to over 108,000 members and more than $874 million in assets. The credit union has 15 branches including one on the Shaw Air Force base. Thanks to its close military roots, SAFE Federal Credit Union offers many products and resources specifically for military personnel.
The credit union is acutely aware of the many unique circumstances that affect military servicemen. Its site provides information about Visa Security Sense, a site Visa launched to help protect cardholders' personal information — especially important for soldiers who are deployed or stationed abroad. SAFE Federal Credit Union's shared branch network is worldwide, perfect for military personnel who are en route to an assignment.
SAFE Federal Credit Union takes the guesswork and hassle out of deployment for its members stationed overseas, who are allowed to ship vehicles financed through SAFE Federal Credit Union to their next outpost as long as the loan and all other lines of credit and credit cards are current, and accounts have a positive balance.
If deployment expenses threaten to put a soldier in the red, the credit union's military emergency loans can provide affordable assistance. With amounts between $250 and $500 accruing just a 3.99% APR, a military emergency loan can help ease cash flow without the tight repayment deadlines of a payday loan — members get 12 months to pay off the borrowed funds. Additionally, through MISSION: SAFEkeeping, the credit union provides assistance and international calling access to a representative who can answer any questions.
8. Andrews Federal Credit Union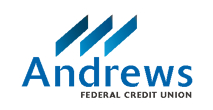 Andrews Federal Credit Union serves a wide range of members, including those who reside in Washington, D.C., Joint Base Andrews, Joint Base McGuire, Dix and Lakehurst, as well as military installations in central Germany, Belgium and the Netherlands. Employees of more than 200 employer groups in Maryland and New Jersey can also enjoy the perks of membership.
The credit union's military center provides relevant information to military members, as well as banking products that members can access from anywhere in the world. The credit union's SmartConnect online banking, SmartPay, SmartMobile and SmartCall help members maintain their accounts electronically from their computers or by phone, no matter where they're located.
The credit union's strong European presence helps those stationed in Germany, the Netherlands and Belgium maintain the same in-person banking experience they enjoyed stateside. Additionally, the credit union provides toll-free calling for over 30 countries, ensuring that it's always affordable and easy for members to manage money.
The credit union also provides servicemen with information regarding finances, legal matters, insurance concerns and tips for deployment and PCSing, as well as help for those leaving the military or retiring from active duty. Additionally, there is information available on the credit union's website to guide those deployed in Europe through their vehicle purchases abroad and teach them how to use European bill pay. Members can track the current Euro-to-U.S. dollar exchange on the site and even find resources to consult in the event of identity theft — a serious concern when deployed.
9. Ent Federal Credit Union

Military personnel stationed in Colorado should look into Ent Federal Credit Union. With on-base credit unions at Peterson, Schriever and Buckley Air Force bases, the credit union offers benefits specifically for active duty, reserve and National Guard members.
Making banking affordable, Ent Federal Credit Union offers official checks, travelers checks and money orders free of charge with a military ID at any Ent service center. Military personnel also enjoy free direct deposit with the credit union. Ent provides military members with useful resources, such as a predeployment checklist and tips to make PCS easier.
Ent Federal Credit Union also honors the Servicemembers Civil Relief Act (SCRA), which helps military personnel receive reduced rates on their loans, with the SCRA reducing interest to 6% APR on preservice loans and obligations. The act also requires court protection before rental property eviction, allows termination of a preservice residential lease and allows servicemembers to maintain their state of residence for tax purposes.
Membership is broad, with the credit union serving those who live, work, worship or attend school in Denver, El Paso, Pueblo and Teller counties, as well as select communities in Weld, Adams and Arapahoe counties, and civilian or military personnel of the Colorado Air National Guard and the Colorado Army National Guard, along with people associated with Buckley Air Force base and their families.
10. AmeriCU

Today, those who live, work, attend school or worship in Onondaga, Oswego, Cayuga, Madison, Jefferson, Lewis, Herkimer or Oneida counties can become members of AmeriCU; however, the credit union's early connections to the Griffiss Air Force Base and Fort Drum continue to shape the products and banking services it provides.
The credit union still maintains a financial center where it was first founded, at Griffiss Air Force base in 1950, as well as a branch at Fort Drum. These branches, in addition to its location in Watertown, all specialize in providing banking service to members of the military and their families. Along with typical fixed- and adjustable-rate, FHA, rehab, jumbo and construction loans, AmeriCU also offers VA loans for eligible military personnel.
To provide serivcemen with an alternative to payday lending, AmeriCU partnered with The Pentagon Federal Credit Union Foundation to offer Asset Recovery Kit (ARK) loans. These loans are available with no credit report pulled and just a $6 application fee for the initial loan and any later advances. These loans can be for amounts between $100 and $500; however, the loan value cannot be in excess of 80 percent of a borrower's net pay, with loan renewals available up to four times after the initial advance.
As one major way AmeriCU supports troops, the credit union also hosts a tribute concert called SaluteConcert. Since 2012, the SaluteConcert has featured several artists to support troops at its Fort Drum, N.Y., location. The program is part of the U.S. Army Morale, Welfare & Recreation Division's MountainFest event and is free and open to the public.
Major Financial Institutions With Military Divisions
In addition to these banks and credit unions that were founded at military installations or have a history of providing military-specific banking products, there are several big banks that also have military banking divisions to better serve service men and women, as well as their families and retired military personnel.
Bank of America: Online banking services, money transfers and patriotic-themed debit cards are just a few of the military-focused banking products that Bank of America offers. Additionally, the bank offers information to customers regarding the benefits of the Servicemembers Civil Relief Act (SCRA) to better help its customers know their SCRA rights when conducting financial transactions.
Chase Bank: Chase Military Banking offers military personnel and veterans a Chase Premier Plus Checking account with the following benefits:
No minimum balance requirement
Free Chase design checks when ordered through Chase
Free small safe deposit box (subject to availability)
No monthly service fee (normally $25)
Free money orders, cashier's checks and travelers checks
JPMorgan Chase also created a centralized military recruiting team focused solely on hiring veterans, offering additional resources to help veterans and military families with education, homeownership and the Military Survivor Program.

PNC Bank: Under PNC Military banking, the major bank offers a checking account specifically for members of the military. With PNC's Performance Checking or Virtual Wallet with Performance Spend, military benefits include:
No monthly service charge if direct deposit minimum requirements are met
Competitive deposit rates
Free PNC-exclusive checks and unlimited check-writing
Bonus rates on select CDs and IRA CDs
These accounts, along with other military banking services highlighting career opportunities and financial education resources at PNC Bank, are available to active U.S. military members, reservists, veterans and National Guard members.
U.S. Bank: The bank has added 1,114 veterans to its roster since 2012 and now employs approximately 2,000 veterans nationwide. U.S. bank offers special products designed for military service members. All current and former members of the Armed Forces can choose any consumer checking account and have no monthly maintenance fees or minimum balance requirements. Additionally, the bank offers VA home loan benefits to help military members purchase a home with little or no down payment, as well as loans through the SBA Patriotic Express Program to provide funds for start-up, equipment, inventory and working capital for small business owners who have served in the military.
Wells Fargo: The bank offers military financing and preferred rates through the Military Mortgage Express Program, which helps provide military and VA loans to qualifying customers. Its Worldwide Military Banking services are available to active and retired personnel of the Armed Forces, including new enlistees, ROTC students, disabled veterans, and members of the National Guard or military reserve. Wells Fargo supports veterans transitioning from military service with a variety of job options, confidential resources, educational information and career guidance.
Ent Federal Credit Union and Air Force Federal Credit Union are GOBankingRates clients.
Photo Credit: Hammerin Man
Editorial Note: This content is not provided or commissioned by the bank advertiser. Opinions expressed here are author's alone, not those of the bank advertiser, and have not been reviewed, approved or otherwise endorsed by the bank advertiser. This site may be compensated through the bank advertiser Affiliate Program.