45 Percent of Bank Customers Care More About Fees Than Rates, Convenience and Service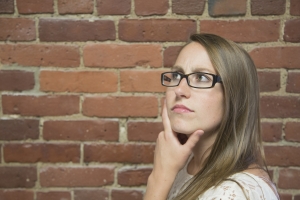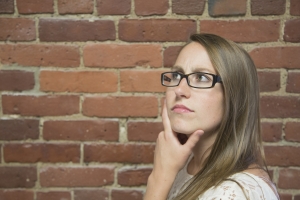 The 2011 uproar over banking fees cast a dark shadow over big banks, as more financial institutions began implementing excessive fee structures on their customers. Years after this transgression, it's clear that fees now play a dominant role in depositors' banking preferences.
In a recent GOBankingRates survey, 1,517 participants were asked to rank which bank feature they valued the most in a financial establishment, and the responses exposed that some wounds do not heal with time.
Poll Results: Which Bank Features Are Most Important?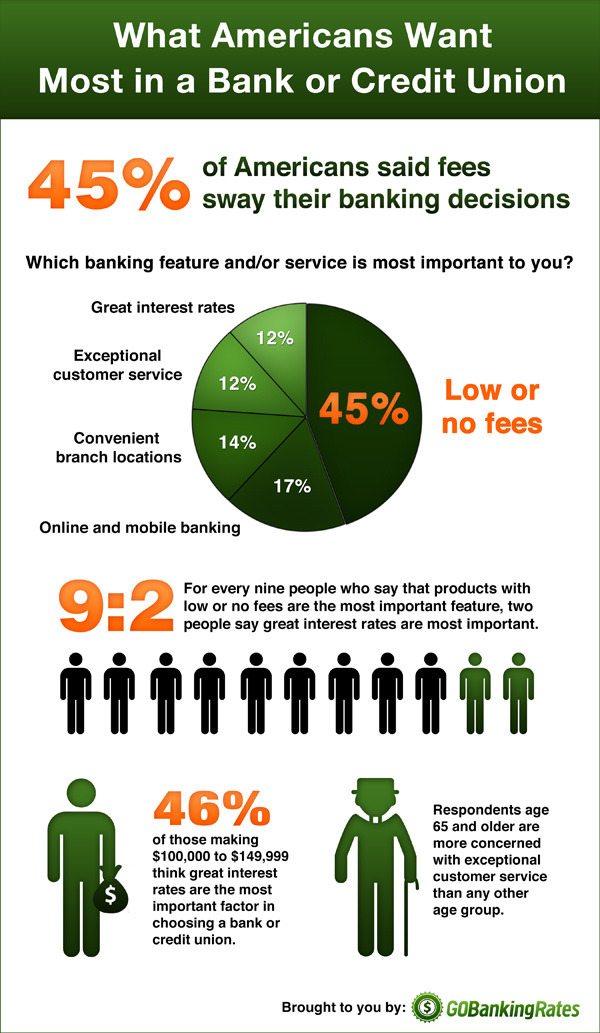 Share this Image On Your Site
Please include attribution to GoBankingRates.com with this graphic.
Find the best bank rates at GoBankingRates.com.

Survey participants were asked, "Which banking features and/or service is most important to you?"
The results revealed that an overwhelming majority of bank customers prefer to passively save money by dodging fees — 44.7 percent of Americans polled listed a low or fee-free financial institution to be of greater value over banks with spot-on customer service, advanced technology, accessible locations or competitive interest rates.
Conversely, 17.4 percent of respondents claimed that all the bells and whistles that come with online and mobile banking were an essential component of their banking experience, while 14.2 percent of customers found convenient branch locations to be critical. The categories of exceptional customer service (12.1 percent) and great interest rates (11.6 percent) polled closest, with 424 and 354 responses, respectively.
Fee Fighters Vs. Rate Mavens
A number of factors played into what kind of features bank customers were more inclined to favor, including age and income. While the overall results of the poll placed low or no fees as the chief factor influencing customers' banking preferences, the data exposed that only 6.7 percent of those who fell within the highest income bracket ($100,000 to $149,999) cited fees as being of high importance. More than 40 percent of individuals polled in other income groups selected low to no fees as the most dominant bank feature.
The group with the most capacity to invest, those making between $100,000 and $149,999, were also most likely to prioritize competitive interest rates when choosing a bank or credit union; 46.7 percent of this bracket were more interested in securing great interest rates than avoiding fees.
These findings support the theory that those who don't have a lot of money to begin with are less inclined to put their financial growth and stability in the hands of external forces, instead trying to avoid the line of fire that overdraft and checking account fees present against their savings.
Related: How to Avoid Bank Fees
Age-Based Banking Preferences Remain Significant
In addition to income, the survey revealed that age has a lot to do with banking preferences; 22.8 percent of respondents between the ages of 18 and 24, the youngest bracket polled, said they find online and mobile banking features most important — more than any other age group. The oldest age bracket (65 and older) was the most swayed by a bank's exceptional customer service (21.4 percent) than other age brackets surveyed.
Banking, even in its most transparent form, can be a completely unknown playing field for those who are not well-versed with personal finance. It's therefore reasonable to find bank customers sticking to the features and services they're most comfortable with.
Younger, Generation Y customers who have been immersed in technology from a young age recognize the ease of using digital services (whether with online banking or mobile banking) as practically inherent and natural as a money management tool. Conventional bankers, on the other hand, tend to find face-to-face assistance and interactions much more valuable than digital tools.