Fed Nominee Janet Yellen Boasts a Bank Account Worth up to $14.4 Million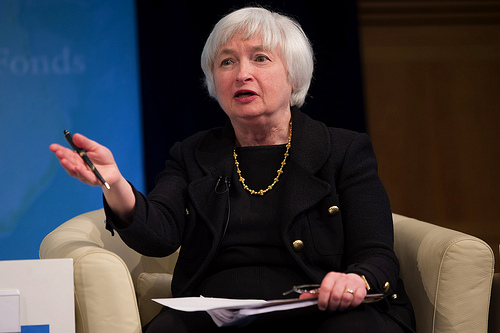 Janet Yellen, recently nominated as the new Federal Reserve Chairman to replace Ben Bernanke by President Obama, is no stranger to implementing economic policies with positive returns. In fact, she's an affluent multimillionaire in her own right.
Yellen Accumulates Great Wealth and Savings
As a member of the executive branch, Janet Yellen was required by law to file a financial disclosure form which listed her total wealth between $5.1 million and $14.4 million. On the other hand, Yellen's predecessor, Bernanke, only had assets listed between $1.1 million and $2.3 million.
At 67, Yellen would be the first woman to lead a major central bank like the Federal Reserve. As vice-chairwoman of the Fed since 2010, Yellen has demonstrated a penchant for policies that promote low unemployment rather than regulating inflation. If the recently nominated Federal Reserve leader can grow her own wealth successfully, perhaps she can lead the Federal Reserve into its next golden era.
Smart Savings and Investments Keep Yellen's Finances Growing
Yellen currently earns a salary of about $400,000 from the Federal Reserve, as well as  a monthly pension of about $3,000 from the University of California. From those earnings, she has anywhere from $250,000 – $500,000 in a savings account with Wells Fargo, as well as about $100,000 – $250,000 in a Wells Fargo checking account for everyday spending.
A financial expert with a talent for smart investments, Yellen has several million dollars in stocks and bond funds. She's placed hundred of thousands of dollars in specific stocks like PFizer, Raytheon, DirecTV and OfficeMax. A smaller and more personalized investment in the form of a substantial stamp collection is valued from $15,000 – $50,000.
Photo credit: International Monetary Fund