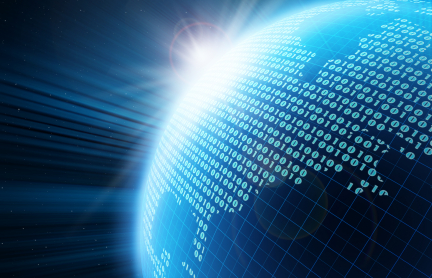 GoBank™ announced in a June 25 press release that any public user could now create an account with the bank—straight from their mobile device. Despite the fact that it has no physical branches, GoBank™ offers mobile bank accounts, with no overdraft fees, and over 40,000 free ATMs. The new platform (which the Wall Street Journal Marketwatch cites as "specifically designed for the smartphone generation") is primarily targeted towards Millennials looking for a fast, easy, and convenient way to bank.
While GoBank™ remains one of the only mobile-only banks, many traditional banking institutions—facing competition from online financial services as well as competition within the industry from other banks—are hard at work developing banking technology to reach a new generation of customers with devices theses consumers already own, use and love.
Because of these recent advances, customers no longer have to visit a bank branch during normal business hours to make a deposit, and bill paying has never been easier. Below are several new banking technology trends that have already been introduced or that are expected to be introduced in the coming months.
5 Products that are the Future of Banking Technology
1. Digital Deposit Apps
Although credit cards, debit cards, direct deposit and on-line bill payments have made old-fashioned paper checks a vanishing species, paper checks are still encountered by most people from time to time. Internet technology and mobile apps have been developed that make depositing a check as easy as scanning the check into a digital format or taking photographs of the front and back with a smartphone or other mobile device. The resulting digital file or photographs can then be sent to the bank where the check is processed in the same way as a deposit made at the teller window — and certainly seems like the future of branch banking.
Bank of America, Chase Bank, and CitiBank are just a few of the major financial institutions now offering mobile check deposit through their apps.
2. Photo Bill Payment Apps
Following fast on the heels of digital deposit technology are photo bill payments apps that facilitate payments to companies that only issue hard-copy bills and invoices.
This new technology in banking works by transmitting information from the bill into an individual's bank account using a digital photograph of the bill. The payment amount, due date and company issuing the bill is collected, allowing the bill to be paid electronically from the user's account. Regular bill payments can also be scheduled using these apps.
Currently only a few banks offer this service, including City Bank Texas, but like all new technologies that make life more convenient, use of this service is sure to spread.
3. Smartphone Credit Card Scanners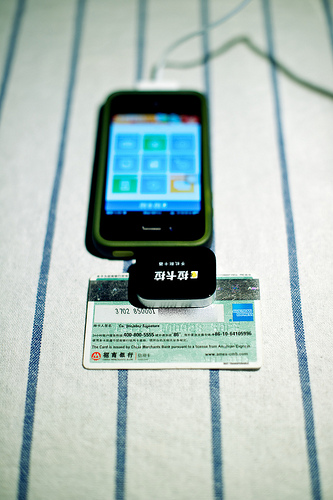 Studies have shown that consumers tend to spend more when using a credit or debit card to make a purchase than they might with cash. This fact has been a selling point for companies who market and service credit card processing machines.
However, new technology now circumvents the traditional credit card machine by allowing credit or debit card payment processing using a reader attached to a mobile device (one example of this service is the Square app). The scanner reads the card, and the specified amount of money is transferred directly from the cardholders account into the payee's account.
According to the Better Business Bureau, this new banking technology allows small vendors to sell more goods to a wider market and gives a competitive edge to small businesses that only receive occasional credit card payments and craftspersons who sell at venues that are traditionally cash-based, such as craft shows and flea markets.
(Image: Flickr User SimonQ)
4. Electronic Meetings
Teleconferencing itself is not a new technology, but teleconferencing with a bank teller or loan officer in lieu of a personal meeting at the local bank branch is relatively new and likely to be a big player in future banking technology. Combined with on-line applications that are completed prior to the teleconference, this service can be used to open a new account or apply for a loan or mortgage.
In a similar fashion, some credit unions and smaller banks are beginning to use uGenius technology to enable video conferences  at their local ATMs. The move is being made in an effort to "rebrand the branch experience by putting less emphasis on transactions, and more on customer service," according to USA Today.
5. Mobile Payment Apps
Debit and credit cards were the technology in banking industry that revolutionized payment for goods and services in the twentieth century. Now, those payment methods are no longer convenient enough for many shoppers and are being replaced by mobile payment apps that serve the same function.
Payment apps are increasingly accepted at many mainstream stores. To use a mobile payment app, the user's credit or debit card information is loaded into the app. Instead of searching through a wallet full of cards, the consumer selects a card to use from the menu on their smartphone and then touches the phone to an in-store reader. The payment is processed like a regular credit or debit card transaction.
LevelUp and Dwolla remain popular mobile payment apps for small business owners, according to Fox Business News. While access is currently limited, Google Wallet is looking to be a popular mobile payment app in years to come. The Google Wallet app also offers deals for certain stores that customers can redeem just like coupons, as well as a loyalty program.
Advances to Watch For in the Future of Banking Technology
Biometrics
, a method of identifying a person using one or more physical traits, has been used for years in banking as thumbprints have been collected for security purposes. More advanced biometric identification, including voice analysis and facial recognition, is expected to make the banking industry more secure by allowing instant, accurate identification of accountholders and authorized users.
The banking industry as a whole is also placing more emphasis on mobile banking apps and technologies as more people ditch their personal computers in favor of mobile devices. (Since 2011, smartphone sales have outpaced sales of personal computers.)
Banks seeking to satisfy current customers and to attract new clients have found ways to use online banking and mobile technology to make banking easier and more convenient. With technology increasing at an exponential pace, the day may be approaching when all banking can be conducted using a smartphone, tablet or other mobile device. While more traditional methods of banking may always be available, apps like these may make it easier for people to track payments, keep their funds organized, and manage their money.
Chad Fisher understands that with an increasing reliance on mobile phones and computers for banking, it's imperative to trust your electronics during these important transactions. He recommends investing in a RBC7 battery from BatteryPlex to ensure that electronics are safe during a power outage.