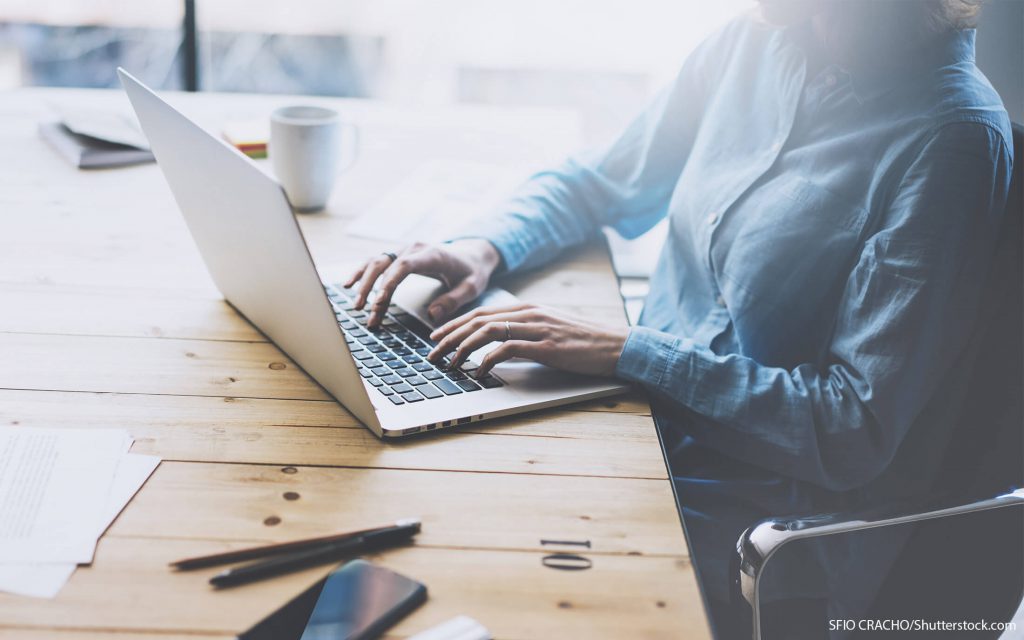 Predicting future interest rates is an art and a science that involves integrating current data and projections. With the current historically low interest rate environment, the discussion of an interest rate hike has been going on for several years and has yet to actually materialize.
"Most importantly, the economy has registered considerable progress over the past several years toward the Federal Reserve's goals of maximum employment and price stability," Reserve Board Chair Janet Yellen said during her June 6, 2016 address at the World Affairs Council of Philadelphia. "There are good reasons to expect that we will advance further toward those goals." Yellen highlighted the Fed's expectation of further advancing toward those goals with significant job gains, unemployment declines and rising incomes.
Use this 2016-2017 interest rate forecast to drive your future credit, saving and investing decisions.
Find Out: What Is the Average Savings Account Interest Rate?
Interest Rates Today and the Economic Outlook
The Federal Reserve System is the central bank of the United States and plays a large part in current and long-term interest rates. Fed chair Yellen's recent speech, mentioned earlier, details her thoughts on how interest rates might change in the future. Here's what you need to understand.
The Fed does its job by influencing monetary policy. The Fed strives for economic stability with these three goals:
Strive for stable prices and full employment.
Supervise and regulate the banking system.
Keep inflation within a 2 percent range.
One of the ways that the Fed implements its mission is by adjusting interest rates. These changes have a ripple effect throughout the American economy.
What do economists mean when they reference interest rates?
If you've borrowed money or have a savings account, you should understand that there is more than one interest rate. You pay a higher interest rate on your home mortgage or car note than you receive on your bank savings account. So when you hear the phrase "rate hike" or "interest rate hike" you might wonder what interest rate is being referred to. In general, the federal funds rate is the interest rate reference point, and it indirectly influences other interest rates in the economy.
The federal funds rate refers to the target interest rate that member banks charge each other for overnight loans. This interest rate, set by the Federal Reserve Bank, indirectly influences the prime interest rate and all other interest rates. On the week ending July 8, 2016, the fed funds rate was 0.39 percent.
Take a look at the graph to see the trend in the federal funds rate since 1980.

Recent Interest Rate History: 2014 to 2015
Before we dip into predicting the future interest rates, take a look at several interest rates during the recent past few years.
The Fed Funds Rate
The fed funds rate began in January 2014 at 0.07 percent and ended at 0.24 percent in December 2015.

Recent Savings Rates
The average savings account interest rate was 0.06 percent during 2014 and 2015, following a steady decline from 2010 until 2013.

The average money market account interest rate was 0.08 percent during 2014 and 2015. The average one-year certificate of deposit interest rate was 0.20 percent and rose to 0.21 percent in December 2015. The average five-year CD interest rate was between 0.78 percent and 0.79 percent during 2014 and 2015.
Recent Lending Rates
Four-year average auto loan interest rates ranged from 4.24 percent in 2014 and fell to 4.19 percent in 2015.

Thirty-year fixed rate mortgage loan rates ranged from 4.17 percent in 2014 and fell to 3.85 percent in 2015.

Historical average credit card interest rates ranged from 11.87 percent in 2014 and rose to 12.09 percent in 2015.

Notice that in general, all the rates moved in a very narrow range. Most of the saving and lending rates followed the trend direction of the fed funds rate of rising a small percentage in 2015, except the 30-year fixed mortgage interest rate and the 48-month average auto loan interest rate. The bank savings and money market rates held steady during the past two years, a trend that illustrates how bank savings rates are slow to increase, despite gains in market rates.
How have interest rates progressed in the first half of 2016?
This year, the fed funds rate started out at 0.34 percent, rose to 0.38 percent in February and dropped to 0.36 percent in March. In July, the fed funds rate is trending in the 0.38 percent range. This rising Federal Reserve Bank overnight lending rate reflects Yellen's June report that the U.S. economic picture is improving. This is in line with current monetary policy and her recent speeches which suggest that when the economy strengthens, interest rates will increase.
The saving and money market bank rates in the first half of 2016 haven't budged from their 2014 and 2016 levels at 0.6 percent and 0.8 percent, respectively. The bank CD rates have inched up slightly to 0.22 percent for the 1-year CD and 0.79 percent for the 5-year CD, after a peak for the 5-year at 0.80 percent in January.
The mortgage lending rates have been a surprise, starting out at 3.87 percent in January for a 30-year fixed-rate mortgage, and falling to 3.59 percent in June. The 48-month car note rates rose from 4.17 percent in February to 4.33 percent in May, the last available date for data. Finally, the credit card rates inched up slightly to an average 12.31 percent.
As the data shows, there is more to historical interest rates than simply tracking the fed funds rate. Other factors that go into interest rate directions include national and international economic news and activity, the inflation rate, supply and demand and more.
You can integrate the historical information and use it to project an economic forecast for the direction of interest rates for 2016 and 2017.
See: Countries With the Highest Interest Rates Today
When will interest rates rise?
Before making an economic forecast, it's crucial to mention that the future is unpredictable. Few knew Britain's exit from the EU, or Brexit, would happen. To make a well-reasoned estimate, integrate the economic data, jobs growth, historical interest rate information and comments of Yellen and other Federal Reserve Bank representatives.
The Wall Street Journal reported in July 2016 that Daniel Tarullo, a Fed governor, said that before raising interest rates, the Fed should wait until there's more evidence that the inflation rate is closer to the Fed's 2 percent target, and that inflation would remain near that level. During the Fed's mid-June 2016 meeting, the board of governors indicated that before raising interest rates, they need more economic data in order to show that the economy is growing, said Tarullo.
Confirming Tarullo's prediction is Jack McIntyre, a chartered financial analyst, senior research analyst and portfolio manager for the global fixed-income fund at Brandywine Global Investment Management. McIntyre predicts that the Fed will not raise interest rates during the rest of 2016. Given the over $8 trillion of sovereign bonds with negative yields, Treasury bonds will continue to be attractive to investors, McIntyre said. He believes this global perspective, not economic policy, will hold interest rates steady in 2016. Into 2017, McIntyre believes that if interest rates rise, they will do so at a gradual pace and be influenced by U.S. economic forces as well as other global considerations, such as China's economy.
In general, over the past few years, the government stated that the U.S. economy must show sustainable signs of growth before raising interest rates. Thus, even if rates rise in 2017, the increase is likely to be a small. Additionally, the uncertain GDP growth and global economies will factor into when and how much interest rates rise next year.
"Even if the Fed does [raise] rates, as long as they do it slowly, I don't believe that consumers will feel the effects, at least initially," McIntyre said. "Because if the Fed slowly tightens monetary policy, that is associated with a U.S. economy that is doing better, and therefore, we should see rising wages." In the end, consumers might have to pay a little more on their mortgage or credit card, but higher rates should be offset by increased income, McIntyre said.

Interest and Credit Card Rates Forecast for 2016-2017
Between 2014 and the first half of 2016, average credit card interest rates inched up from 11.87 percent to 12.31 percent, an interest rate hike of 0.44 percent. Given the slight projected rate changes, it's unlikely that future rates will increase substantially during the rest of 2016 or 2017.
Despite a forecast of a mild interest rate increase, it's wise to follow sound money management principles. This is especially true when it comes to credit cards; of all of the lending rates, credit card rates tend to be higher. So attempt to pay off credit card balances as quickly as possible. And understand that to qualify for the best credit card rates, it's important to maintain a high credit score.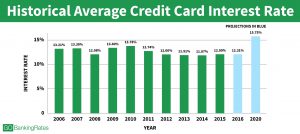 Interest Rate Forecast for Mortgage and Auto Rates
As home and auto expenses are typically your largest budget expenses, it's important to minimize these rates whenever possible. Even a small interest rate hike on a large loan balance can cause a significant increase in monthly debt payments. In 2014, the average 30-year fixed mortgage loan rate was 4.17 percent. In 2015, the average dropped to 3.85 percent, and by June 2016 the rate fell to 3.59 percent.
The monthly principal and interest payment for a $225,000 mortgage at each of these rates is:
4.17 percent average rate in 2014: $1,096
3.85 percent average rate in 2015: $1,055
3.59 percent rate in June 2016: $1,023
If we estimate that, in 2017, mortgage rates will return to the 2014 levels, it would cost $73 per month — or $876 per year — more at the higher interest rate. Multiply that $876 over 30 years and the higher interest rate risk could cost you an additional $26,280 over the life of the loan.
With 30-year fixed mortgage rates at the lowest levels in 18 months, it would be wise to refinance an existing loan. If you are considering buying a home or condo, you might want to buy sooner rather than later with the expectation that rates will trend upwards in the next year or so.
The same premise applies to auto loans. As a rule of thumb, to qualify for the best loan rate, pay your bills on time, use credit wisely and maintain good credit and a high credit score.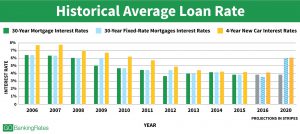 Interest Rate Forecast: Impact for Savers
The best rates from GOBankingRates' database are as follows:
Best Savings Rates Today
Account Type
APY
Financial Institution
Savings Account
1.20%
UFB Direct
Money Market Account
1.26%
Popular Community Bank
6-month CD
1.15%
CoastalStates Bank
1-year CD
2%
Financial Health Federal Credit Union
5-year CD
2%
Synchrony Bank, Gold Coast Bank, The Federal Savings Bank, EECU, Goldman Sachs Bank
4-Year New Auto Loan
1.90%
Randolph-Brooks Fed CU
Source: GOBankingRates Database, July 14, 2016
Savers have been hurt the most during the recent low interest rate environment. Although savvy consumers can uncover higher-than-average CD rates, an interest rate rise will be a boost for savers.
With the possibility of higher interest rates in the near future, savers seeking the best interest rate might want to examine step-up CDs to profit from an upcoming rate boost. Another alternative is to focus saving on shorter-term options — 6-month, 12-month and 24-month CDs — instead of locking your returns into a 60-month CD.
Learn: CD Rate Strategies for the New Interest Rates
Many banks and financial institutions are courting savers with exceptional CD rates. If you are enticed by a higher-yield, longer-term CD, it might be worth paying the three- to six-month interest penalty to withdraw the funds early, after interest rates go up in the future.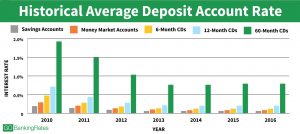 The Bottom Line
Regardless of whether you're a borrower, saver or both, you want to maximize your savings returns and minimize your lending interest payments. For savers, spend some time scouring the internet for the best rate deals, just make sure you're dealing with an FDIC-insured bank. For borrowers, keep your credit profile strong. If you have credit issues, take steps to improve your credit score to receive the best borrowing rates in the future.
Although no one knows where interest rates will land in the future, the current low rates are unlikely to continue indefinitely.