Apple High Yield Savings Deposits Hit $1B in Four Days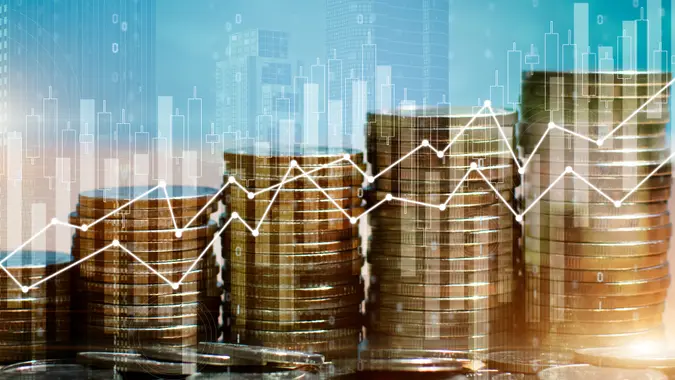 KanawatTH / Getty Images/iStockphoto
Apple, famed manufacturer of the iPhone and not to be confused with Apple Bank, has launched a high-yield savings account serviced through Goldman Sachs. Connected to the Apple Card, the savings account offers an APY of and links to your Apple Wallet.
Within the first four days of its launch, users deposited nearly $1 billion, Forbes reported. On the first day, Apple received $4 million in deposits, a testament to the tremendous demand for such a product.  
As you earn Daily Cash rewards by using your Apple Card, you can transfer the funds directly to your Apple Savings account and earn APY on your money. Once you set up your savings account, Daily Cash will be automatically deposited into the linked Apple Savings account, according to a press release issued by the company.
You can also deposit additional money into the account from a linked bank account or from your Apple Cash balance. Funds in your Apple savings account are FDIC-insured by Goldman Sachs up to the allowable limit of $250,000 per account holder.
The account has no minimum opening deposit, no monthly fees, and no minimum balance requirements to earn .
Consider These Other Savings Accounts for High APY
If you aren't an iPhone user or you don't take advantage of the features of your Apple Wallet or you don't have an Apple Card, you can still earn interest at more than 10X the national average with several other online and traditional banks.
Citizens Bank is a traditional bank with branches in 11 states. But the bank's online division, CitizensAccess.com, offers a high-yield savings account with a APY, no fees and no hidden costs. You can open an account with as little as one cent opening deposit. Citizen's is currently offering a 1-year CD with a APY, which requires a minimum deposit of $5,000.
CIT Bank, an online-only bank, division of First Citizens Bank, also offers a APY on its Savings Connect account, with no monthly fees. However, you'll need a $100 minimum opening deposit.
SoFi, rated one of the Best Online Banks by GOBankingRates, with an overall score of 4.9 stars, offers a APY on savings and a APY on balances held in your SoFi checking account. Plus, you can earn a bonus when you set up direct deposit.
A Cornerstone Money Market Savings account from Vio Bank delivers a high APY on all balances, with a minimum opening deposit of $100. There is no monthly fee.
Take Our Poll: Who Has Given You the Best Money Advice You Have Ever Received?
While many users may covet the convenience of savings linked to their Apple Card, it pays to shop around for the highest interest rates and other benefits of some of the best online and traditional banks.  
More From GOBankingRates