How Deposit Interest Rates and Loans are Related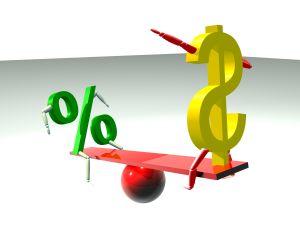 Shopping around for an interest rate when opening a deposit account or applying for a mortgage loan makes good financial sense. You undoubtedly want the best interest rate possible, as this determines how fast you're able to grow your regular savings, money market accounts, CDs and interest-bearing checking accounts. And with regards to a home loan, a low rate influences purchasing power and affordability.
But what is the relationship between deposit interest rates and home loan rates, and why do banks charge more than they pay out?
What Happens When the Fed Changes Interest Rates

Interest rates have a long history of intermittently rising and falling, and the Federal Reserve (the central bank of the United States) determines bank rates. The Fed monitors banks to make sure everything runs smoothly, in addition to maintaining the stability of our financial system.
To put it plainly, the Fed may lower interest rates in a down economy to stimulate consumer spending, and then increase rates in a booming economy to slow growth. This simple act explains the fluctuations in bank interest rates, which can be either a good or bad thing, depending on why you need a bank's business.
Here's the thing: The Federal funds rate determines how much banks charge each other for loans, which essentially dictates the interest rate banks charge customers for loans, as well as how much interest a bank pays on deposit accounts. A higher funds rate translates into higher borrowing costs for banks, and to compensate for this higher cost, banks lend at a higher rate.
So, when the Fed increases rates, you can expect a higher rate on mortgages and other types of loans. This isn't the best news if you're in the market for a home loan, but if you're trying to grow your savings accounts, a higher Federal funds rate can be incredibly beneficial.
How Deposit Accounts and Loan Interest Rates are Linked

Rising interest rates might put the brakes on your plans to purchase or refinance your mortgage loan, but they don't have to stop your savings plans. As a matter of fact, this is the best time to increase how much you contribute to deposit accounts such as your regular savings and money market accounts.

When the Fed adjusts interest rates, the effects are felt across the board. Therefore, a rate increase not only increases mortgage rates, but also deposit interest rates, allowing you to maximize and grow your savings faster. Just the same, a drop in mortgage rates typically causes a drop in deposit rates.

The way this works actually makes perfect sense. Rising home loan rates discourage borrowing, yet higher deposit interest rates encourage savings. It's a win-win for banks.
What Does This Mean for You?
Home loan rates are slowly increasing. The national average on a 30-year fixed rate mortgage in July of 2013 was 4.37%, up nearly one percentage point from the previous year, according to Freddie Mac. But as banks charge more for home loans, you might discover little change in your deposit interest rates — depending on where you bank.
Understand that banks don't always respond simultaneously to change. Some banks might quickly adjust the rate on deposit accounts to keep pace with market trends. For other banks, it's more profitable to keep deposit accounts low for a period, while charging more for home loans and other loans. This gives the bank a financial cushion.
At the end of the day, deposit rates typically climb with mortgage rates. Therefore, as home loan rates continue to increase, it's only reasonable to expect higher returns on deposits accounts — eventually.
More Interest Rates
More from GOBankingRates