Comparing Historical Interest Rates Versus Today's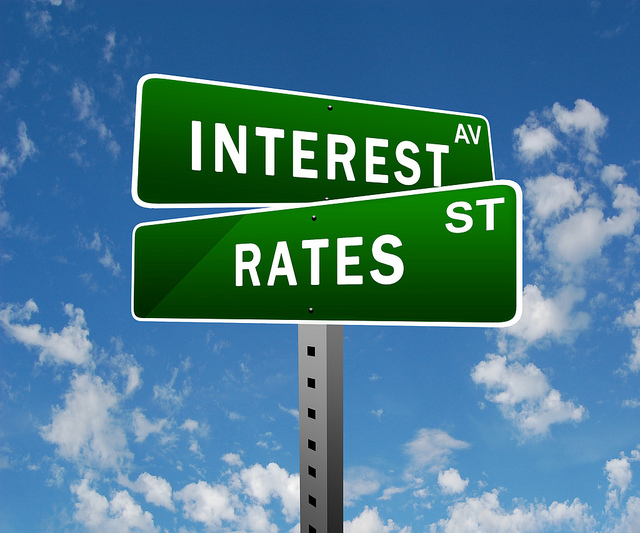 Depending on whether consumers are looking for lending or savings products, the interest rates they find at their local bank or credit union could range from fantastic to insulting. In fact, for more than a decade, anyone looking for a loan would have been pleasantly surprised, whereas anyone looking to save money might have found better rates under their mattress. The question for most consumers is, "Where do these rates come from?"
Who Sets Interest Rates?
The Federal Reserve heavily influences the numbers you will find on a rate sheet at a local financial institution. Lending rates are typically indexed, meaning they are priced off the prime rate, the London InterBank Offered Rate or the 10-year treasury rate. Loans given to business, which are called commercial loans, are normally tied to the prime rate or Libor.
Mortgage rates over time have moved with the 10-year treasury rate. Consumer loans, like home equity or car loans, are typically based off the prime. Ultimately, the local banks and credit unions will have the final say in what gets offered to the customer, but these rates are analogous.
Sponsors of
That Covers Loans, What About Savings?
Banks need to "fund" their loans. In a perfect world, banks and credit unions will take in deposits from their customers or members and then loan these deposits to another customer or member. Therefore, the savings rates that they offer will have to be much lower than their loan rates in order to cover their operating costs.
Competition from other banks helps determine these rates too. As a bank or credit union lowers its operating costs, it can make loans at a lower "spread," and by default offer a higher savings rate.
That is not the only consideration, though. Banks can also borrow from a Federal Home Loan Bank. That means that a bank has two "funding sources," customer deposits and the FHLB. This is normally bad news for anyone looking to save, because the rates the FHLB offers act as a governor to control how high a bank or credit union will offer a savings rate.
Sponsors of
Rates Have Not Changed Much Lately — Is This Normal?
Anyone tracking lending and savings rates over the last few years will have noticed that not much has changed with commercial, consumer or savings rates. Historical interest rates have moved around, but that's due to fluctuations with the 10-year treasury in response to economic programs.
A Look at the Interest Rate History
prime rate that consistently bounced around in the 8-10 percent range. Anyone older than 50 can tell you stories of a 20 percent prime rate in the early 1980s.

Sponsors of
These fluctuations have a direct impact on how Americans view saving money. As the prime rate has receded from its highs in the early 1980s, the savings rate in America (not the interest rate, but rather the rate at which Americans save money) has fallen off the cliff. This is because with each passing quarter, it essentially became cheaper to borrow money.
As it became cheaper for businesses to fund their growth, corporate profits took off, as did the stock market. This caused many consumers to find better yields in the stock market, instead of savings accounts, pushing demand down, which lead to lower interest rates being offered by banks and credit unions.
After the stock market crash of 2008, many people became skeptical of the stock market, and the personal savings rates improved even though the interest rates remained low. Community banks and credit unions saw a surge of deposits into their balance sheets. That surge has dissipated a bit as the economy has stabilized and the stock market has rebounded.
Many experts expect rates to start increasing in 2014 or 2015. The question is whether the economy can support higher lending rates yet, or if it will seize up once again.
More Interest Rates
More from GOBankingRates
Photo credit: 401(K) 2012