Want a Higher Savings Rate? Ask Your Bank for a Raise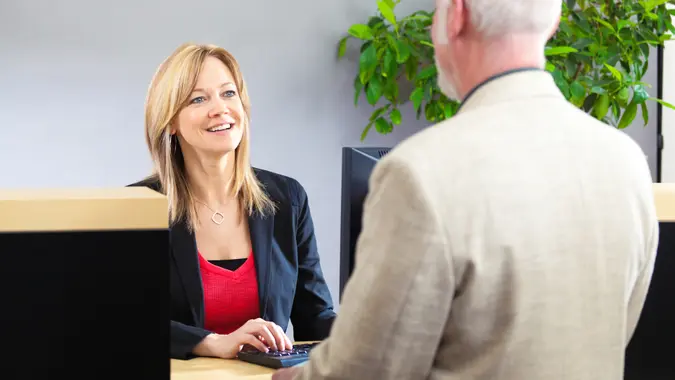 YinYang / Getty Images/iStockphoto
The Fed is trying to tame inflation by raising interest rates, which means it's a great time to squirrel money away in a savings account.
But not all savings accounts are created equal; some offer higher interest rates than others. GOBankingRates has highlighted some of those that offer the best APYs on savings accounts out the gate.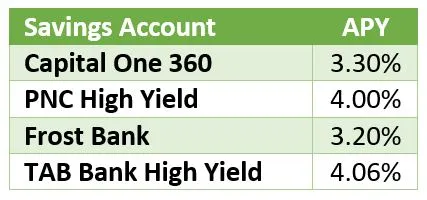 Want to nab a higher interest rate? You may be able to, in essence, ask your bank for a raise. Here's what to do. 
Do Your Research and Consider Online-Only Banks 
"Before running to your local bank or calling their customer service, do your research online to find out what rates are offered in the market," said Ohan Kayikchyan, Ph.D., CFP, money coach and the founder of Wealth Roadmap. 
It's also worthwhile to investigate online-only banks, which can afford to offer higher interest rates because they don't have to cover the high overhead, administration and infrastructure costs that brick-and-mortar banks do.
"While many larger banks still offer an annual percentage yield of around 0.2%, there are some smaller or online banks that as of now offer savings rates above 4% annually," Kayikchyan said. "So the first tip will be to do your research and compare rates prior to making your final decision on where to deposit your cash: mainly your emergency funds and the money you are saving for your short-term and mid-term financial goals." 
Maintain a Greater Balance
Note the fine print. Some banks, like Frost Bank Savings, pay higher APYs on higher sums of cash. It may be useful to simply store more cash (say from your checking account) in your savings account if you're looking to score higher interest rates.  
"Many banks will pay a higher yield across all balances," Kayikchyan said. "Ask your bank to explain the balance requirements. Don't confuse the tiered interest rate with a promotional or so-called teaser rate. The promotional rate is usually offered to new customers for their new accounts; and, after a certain time period, which can be just a few months, the rate switches back to a lower level. These bonus rates are just incentives for new customers to open an account. As with any financial transaction, you should read the fine print explaining the interest rate terms."  
Consider a Money Market Account 
You might want to consider moving your money from a traditional savings account into a money market account. 
"In the current rising interest rate environment, you'll actually do better with a money market account at a major financial institution," said Joseph M. Favorito, CFP, managing partner at Landmark Wealth Management, LLC. "While money markets are not technically FDIC-insured savings accounts, it is extraordinarily rare for them to see a default.  And if that concerns you, it's always possible to put your savings into a money market that invests exclusively in U.S. treasury debt, which eliminates the default risk.  
"Today that will yield more than 4%, which is better than most savings accounts. Since it's invested in treasuries, you can have more than $250,000 in cash and not have to worry about the FDIC limits."
Shop Around
Loyalty may be important to you, and changing banks can be a nuisance — but shopping around really is the best way to "get a raise" on your savings, if you will. 
"Banks, online lenders and credit unions all offer different savings rates," said Tommy Gallagher, an ex-investment banker and the founder of Top Mobile Banks. "By comparing rates across different institutions, you can find the best one that meets your needs. Get quotes from at least two or three banks to ensure you get the best deal." 
Call Your Bank and Ask for Its Best Interest Rate 
Don't be shy. Pick up the phone and call your bank. You are the customer, after all. 
"Banks want to hold onto people's money right now; and, because of inflation, people are looking around for the best deal," said Rachel Burk, a financial advisor and financial planning specialist with Offit Advisors. "So, if you want to get the best savings rate, just call and ask them for their highest yielding savings rate.
"Be sure to ask how often their interest pays out, as that makes a big difference, and make sure you know about any terms, like keeping an account minimum. And if you are comfortable with keeping your money tied up, ask for CD rates, too. I've seen these go up at smaller banks and credit unions as they try to hold on to your money."
Threaten (Nicely) To Take Your Money Elsewhere 
It may seem like a low move, but money talks, and if you tell your bank you're moving yours to another bank that will offer a higher APY, then your bank may be compelled to match what the competitor is offering. 
"In many cases, your current bank, which pays lower savings rates than its competitors, will agree to pay you more if you decide to move the money out," Kayikchyan said. "Tell them that you did your research and name the competitor banks that currently offer better savings rates." 
Good manners are important here. You want to keep a civil and forward-moving relationship with your bank.  
"Always ask what your current bank can do for you to keep your relationship with them," Kayikchyan said, adding that you should make a habit of checking in with your bank for better APYs and other deals often. "You can put a calendar event on a schedule and ask often." 
More From GOBankingRates