Your iPhone Could Be Putting Your Bank Account In Danger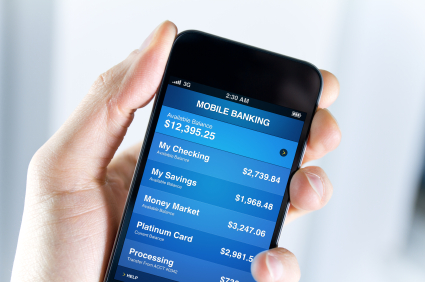 Today's mobile age has created an outright dependency on handheld devices. We use mobile phones to connect with friends on Facebook, entertain ourselves with a quick round of Flappy Bird in the elevator and even juggle our most sensitive bank accounts.
Studies show that at some point within the last six months, more than half of Americans used a mobile banking application to access their personal financial data. But despite the clear convenience of mobile banking, the other half of the country would rather hold its breath than jump on the bandwagon.
The resistance to mobile banking is a result of a number of factors, according to the Federal Reserve's "Consumers and Mobile Financial Services 2013" report.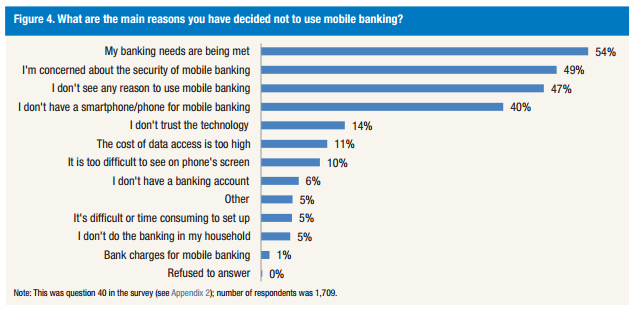 The uncertainties associated with mobile banking security were rated as the second reason Americans are hesitant to convert to mobile banking, with 49 percent of those who don't bank on their phones blaming mobile security. Some skeptics even believe that its predecessor — online banking on a PC — actually provides a more secure banking experience, while mobile banking advocates claim that mobile banking risks are minimal at best.
Ultimately, the question may simply be misplaced — instead of targeting mobile banking risks as a point of contention against using the service, smartphone users can eliminate the anxiety surrounding mobile banking by executing a few identity theft best practices.
MoneyWatch asks the man on the street: Is banking on your phone safe?
Is Mobile Banking Safe?
Like anything else that is a relatively new trend in an industry, the mobile banking process has the nation divided. With more and more banks and credit unions going in the direction of mobile banking (not to mention the rise in popularity among online banks), it's up consumers to determine whether their PC or iPhone is better equipped to securely initiate fund transfers, verify account balances and pay bills.
Related: Growing Source of Excessive Bank Fees: Mobile Banking
The Safety of Mobile Banking
Proponents of mobile banking express that mobile banking risks are not augmented, compared to traditional online banking on a computer.
Robert Siciliano, McAfee Online Security Expert, is a supporter of mobile banking's ease of use and argues that mobile banking can at times be more secure than banking on a personal computer.
"Mobile banking, typically conducted via mobile application, offers the same basic features as browser-based online banking," explains Siciliano. "Mobile banking can also offer additional security by enabling text-backs, which employ a customer's phone as a second form of authentication when using either browser-based or mobile banking."
In addition to these added authentication methods employed by mobile banking apps that protect users from fraud, bank apps like the Chase mobile app for the iPhone does not allow customers to save their full log in information. Only the User ID may be stored in the app's log in field, all users must manually enter their passwords upon each use.
Furthermore, push notifications are now employed by financial institutions to alert users of potentially fraudulent activity. According to a study by Morgan Stanley, 91 percent of survey participants "have their cell phone within arm's reach 24 hours a day."
The study suggests that since Americans are always aware of where their cell phones are at any given time in the day, there is less threat for loss, unlike with a lost credit card or lost wallet which takes a longer time to notice it has gone missing.
Claim Against Mobile Banking Security
The mobile banking risks of accessing private financial data on a phone, however, are huge for those who encounter identity theft and fraud cases on a daily basis.
Senior data security analyst at Aite Group, Julie Conroy McNelley, argues that since mobile banking is so young to the online industry, it isn't as well armed against mobile banking risks like fraud or identity theft. Online banking, on the other hand, has developed a solid security process to ensure customers' private information is heavily encrypted and secure.
McNelley isn't the only one who's tentative about casually using smartphones for banking needs. Neal O'Farrell, is the executive director of Identity Theft Council, a San Francisco based non-profit who educates Americans about the dangers that easy-access financial data can bring.
O'Farrell reveals that "There were more breached records [in 2012] than U.S. population — than U.S. residents last year and more cases of identity theft than just about all other crimes combined."
Regardless of the type of smartphone consumers use — an iPhone or an Android device — O'Farrell says they are both fair game for hackers and malware via unverified apps.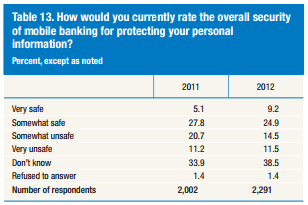 Americans' distrust of mobile banking security has gradually grown over the years, and the Fed's report demonstrates the a heightening uncertainty over mobile security.
In 2012, 38.5 percent of individuals surveyed said they "don't know" how safe overall security of mobile banking is when it comes to protecting their personal data, compared to the 33.9 percent of respondents in 2011.
Additionally, the number of individuals who saw mobile banking security as "somewhat safe" in 2011 (27.8 percent), dropped to just 24.9 the following year.
Keep reading: 6 Things You Must Do to Protect Your Digital Wallet
How to Reduce Mobile Banking Risks
The potential mobile banking risks involved in using a smartphone to manage funds can be unnerving for those who use their devices for everything from A to Z. Fortunately, there are ways to enhance mobile banking security and keep private financial information secure.
Always log off: Merely exiting an mobile banking application does not mean you've safely logged off. Make sure to go through the app's formal log off process to ensure your account access information is secure.
Download authorized apps: Downloading authorized smartphone apps, like those found in the Apple App Store or Android App Store, can reduce the possibility of downloading malware. This approach is by no means foolproof as a way to eliminate mobile banking risks, but limits its potential.
Don't store log-in information: There is no reason to store log-in information of any kind, even if it's just a user ID. Saving user IDs is just giving hackers one less obstacle to tackle when stealing your account information.
Download an antivirus app: As long as you use common sense when mobile banking, this final step shouldn't be a necessity. However, those who are extra wary of the mobile banking security can turn to an antivirus application like Avast! Mobile Security or Lookout Security. There are free versions available to smartphone users.
Contact service provider: If your phone is stolen, and you think you're at risk of a mobile banking security breach, contact your service provider immediately. Request to freeze service to prevent unauthorized transactions and monitor your financial statements closely in the next few weeks to spot any inconsistencies.
Mobile banking was designed to be an enjoyable and handy option to manage funds between bank accounts. Don't let the threat of identity theft scare you into avoiding this service altogether; enacting the precautions above can do a number to give you the protection you need to bank worry-free.
Disclaimer: This content is not provided or commissioned by the bank advertiser. Opinions expressed here are author's alone, not those of the bank advertiser, and have not been reviewed, approved or otherwise endorsed by the bank advertiser. This site may be compensated through the bank advertiser Affiliate Program.