U.S. Bank Mobile App Review: Complete Mobile Banking — for a Price
With the U.S. Bank app, you can deposit checks, pay bills, request payments and more.
Mobile banking is changing how people manage finances, and U.S. Bank is one of the financial institutions known for being at the forefront of the mobile banking revolution. The bank was one of the first to offer mobile photo bill payments, which it launched in March 2013, and at one point even allowed consumers to apply for a balance transfer to a U.S. Bank credit card simply by taking a picture of a credit card statement.
The U.S. Bank mobile app offers so many features — everything from check deposit to payment requests — that there's little need to visit a branch or use U.S. Bank's online banking website. "Almost all facets of your everyday banking can be done on this app," wrote an Amazon reviewer who rated the app five stars. "I rarely use the web browser for U.S. Bank — the app is simply easier and faster."
To help you decide if the U.S. Bank mobile app could be easier and faster for you, too, learn what the app offers and how it works.
Read: 10 Best National Banks of 2016
U.S. Bank Mobile App Review
U.S. Bank is the fifth-largest bank in the nation, with $429 billion in assets and locations in 25 states. The bank's app is available for select Android, iPad and iPhone devices. It's available as a free download from the U.S. Bank site at www.usbank.com, Amazon, Google Play or the iTunes App Store. Check out some of the app's basic stats:
U.S. Bank Mobile App at a Glance
Cost to Download
Free
Where Available
Number of Downloads (Google Play)
1,000,000 to 5,000,000
Amazon Rating
3.3 out of 5 stars
iTunes Rating
3.5 out of 5 stars
Google Play Rating
3.8 out of 5 stars
Download the U.S. Bank Mobile App
The U.S. Bank mobile app requires Android version 2.3.3 or higher or iOS 6 or later for iPhone and iPad. To get the app from the bank's website, follow these steps:
From the U.S. Bank site, select the device you want to download the app onto.
Scan the provided barcode with your phone.
Enter your phone number to have a link sent to your phone or click through to the corresponding app store.
You can also access the U.S. Bank mobile app directly from iTunes, Amazon or Google Play. Once you've downloaded the app, you can set it up to begin using it by following a few more steps:
Open the app on your device.
Create a personal ID and password.
Enter your account number, check card or ATM pin and the last four digits of your Social Security number.
Choose an image to identify your account.
Choose a word or phrase that will appear every time you log in.
How to Use the U.S. Bank Mobile App
The U.S. Bank mobile app allows you to handle most common banking activities from wherever you are. You can view balances for any of your U.S. Bank accounts, including:
Savings
Checking
Credit cards
Mortgage
With the U.S. Bank mobile app, you can also transfer money between accounts, so you can easily send loan and credit card payments. Customers can use the app to send, request, and receive money from other people or to locate the nearest of the bank's 3,129 offices and nearly 5,000 ATMs.
You can review transactions, see copies of your canceled checks, and deposit slips, and, with the snap of a picture, you can make deposits and pay your bills. Take a look at these and some of the app's other features to see how it might fulfill your mobile banking needs.
Use PhotoBanking to Make Deposits and Payments
U.S. Bank offers PhotoBanking, which allows users to deposit checks via DepositPoint and pay bills via Photo Bill Pay. DepositPoint makes it easy to deposit checks using your phone, but it costs $0.50 per check. App users must have a U.S. Bank checking or savings account and no more than two returned checks within the past three months.
To use DepositPoint to deposit a check, follow these steps:
Open the app and select the account where you want to put the funds.
Select "Deposit."
Follow the on-screen instructions and take a picture of the endorsed check.
Verify that the captured information is correct.
Click "Submit."
The other PhotoBanking feature, Photo Bill Pay, allows users to easily pay bills. You can take a picture of a bill, and the app will capture and store the details needed for payment. Save time by not having to enter the biller information manually, and the next time you make a payment, the biller details will already be filled in.
For even more convenience, you can set up recurring bill payments. For rush payments, the U.S. Bank app offers Express Bill Pay service for $14.95, which transfers funds the same day or overnight.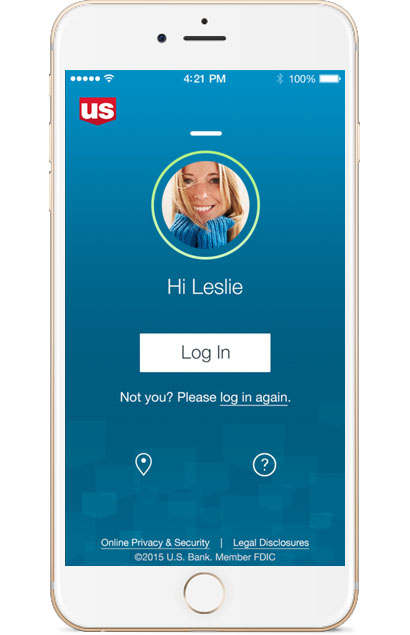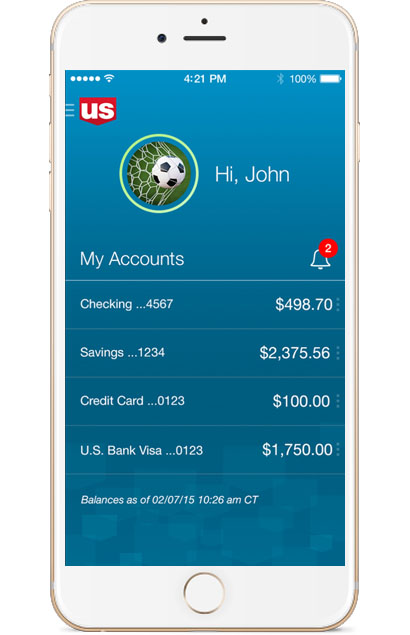 Send, Request and Receive Money
The U.S. Bank mobile app lets you send money to almost anyone in the U.S. All you need is the email address, mobile number, or account details, such as the account number and bank routing number of the person you want to send money to. If you choose standard delivery, sending money is free, but it takes up to three business days for the recipient to get the cash. Next-day delivery is an option with a $2.95 fee, and instant delivery is available for $6.95.
Use the app to request money from up to five people at once and track their responses in the app. Receiving funds is free, but U.S. Bank does take three days to deposit the money into your account.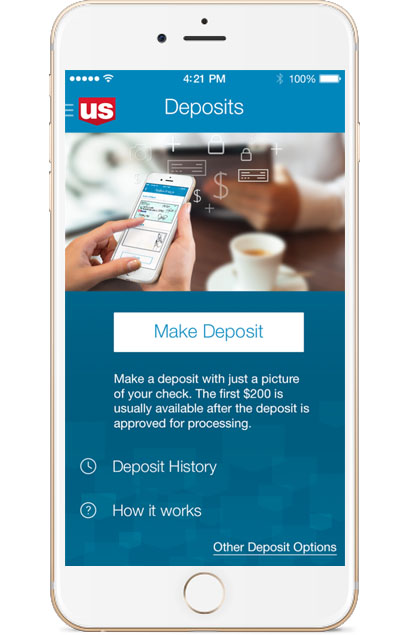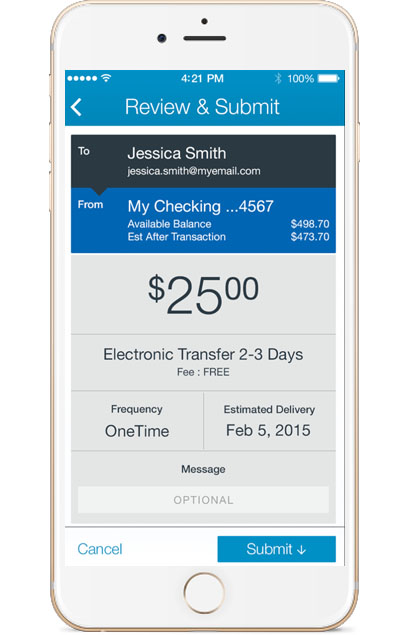 Log In With Touch ID
At the end of March 2016, U.S. Bank announced the launch of Touch ID, which opens the app with a fingerprint. Although this iPhone-only feature offers convenience, the bank discourages using Touch ID if you share your phone or if anyone knows your phone's passcode.
Touch ID will unlock the app with any fingerprint that's stored on your phone, not just yours. So if someone has access to your phone, that person can save his fingerprint and access your U.S. Bank account.
Read: History of Online Banking: How Internet Banking Became Mainstream
U.S. Bank Mobile App Security
U.S. Bank provides security for its app by using advanced electronic encryption and firewall technology to prevent unauthorized account access. For greater security, the bank employs monitoring technology to watch for suspicious activity. As another safety measure, U.S. Bank does not store any personal information on your phone.
U.S. Bank also protects customers from fraud with an Online Risk-Free Guarantee. According to this protection agreement, the bank reimburses 100 percent of the losses from unauthorized online transactions if the incidents are reported within 60 days.
The Pros and Cons of the U.S. Bank Mobile App
The U.S. Bank mobile app could be worth downloading if you're a U.S. Bank customer looking for mobile banking convenience. If you're not sure whether the app is right for you, take a look at its advantages and disadvantages to help you decide.
The Pros: PhotoBanking and Customer Service
One of the app's most compelling offerings is the PhotoBanking services, giving customers the ability to make mobile deposits and pay bills from their devices. Other advantages to the U.S. Bank app include:
Free download: The app costs nothing to download.
Customer service: Help is always available online, via email or by phone. The U.S. Bank customer service number for mobile banking issues is (800) US-BANKS.
Free money-transfer options: You can send and receive money for free.
Online Risk-Free Guarantee: Use the app with confidence knowing fraudulent losses will be reimbursed.
Touch ID: Fingerprint authentication makes accessing the app more convenient and faster.
The Cons: Fees and Limitations
Although the app performs a number of functions, it does have some limitations that users might find annoying. For example, the U.S. Bank mobile app allows you to access your e-statements, but you can't use the app to opt into that service; you still need to go to the U.S. Bank website to sign up.
Also, you can use the app to set up and manage alerts, but messages aren't delivered via the app; alerts are still only available by email and text. Other disadvantages include:
Fees: Although the U.S. Bank mobile app is free to download, some of its important features cost money to use. Users pay fees to move money fast, and DepositPoint costs users $0.50 per check, a fee Google Play reviewer Beelel A. called "petty" and "pathetic."
Touch ID limitations: Fingerprint authentication is only available for iPhone 5s or later.
Security issues: If someone has access to your phone, he can save his fingerprint and access your account with Touch ID.
Slow transfers: Moving money for free takes up to three business days.
Lengthy list of permissions: To get the app, you must grant U.S. Bank extensive access to your phone, including permission to record audio.
U.S. Bank Mobile App for PhotoBanking Convenience
If you're looking for a banking app that doesn't charge fees for making mobile deposits or choosing quicker payment delivery options, the U.S. Bank app might not be right for you. But the U.S. Bank app offers functions that could be too good for an account holder to pass up; PhotoBanking and the ability to manage all your U.S. Bank accounts from the palm of your hand are major conveniences.
App store reviewers give above-average ratings, and fans of the app commend U.S. Bank for offering a user-friendly, effective tool that provides necessary functions. "U.S. Bank, now that the kinks are worked out the app, is very useful," reviewer Leah Greer wrote in her five-star review.