TransUnion Mobile App Review: Protect Your Credit Health From the Palm of Your Hand
From credit monitoring to protecting your identity, here's everything you can do with TransUnion Mobile.
For some people, there are few things in life more stressful than worrying about their credit and their FICO score — especially when trying to prepare for a big purchase like a house or a car. The TransUnion Mobile app is designed to help credit users keep track of their records and scores by providing credit monitoring — and might be the right tool for helping alleviate some of the stress associated with those tasks.
Read: 9 Credit Report Myths You Need to Know
The TransUnion Mobile App at a Glance
TransUnion's app is free and available for users of Android devices and iPhones. The free credit score app lets you take advantage of TransUnion credit monitoring and check your credit easily and when you're on the go.
Here's a quick look at some of the app's details:
TransUnion Mobile App at a Glance
Cost to Download
Free
Where Available
Number of Downloads (Google Play)
50,000 to 100,000
Google Play Rating
3.5 out of 5 stars
iTunes App Store Rating
2.5 out of 5 stars
TransUnion Mobile App Review
The TransUnion mobile app comes from TransUnion, one of the major credit reporting firms. TransUnion offers credit scores and credit reporting tools to businesses and consumers. The app lets you use a tablet or smartphone to harness some of TransUnion's best tools: You can check your credit health, get alerts to protect against identity theft, view your TransUnion credit score, and block or unblock your TransUnion Credit report.
Users have given mixed reviews to TransUnion Mobile, but based on the their comments, some of the customer dissatisfaction seems to be the result of the general frustration associated with trying to improve one's credit score and not due to reasons that are entirely TransUnion's fault. To see if TransUnion mobile could be the right credit-monitoring tool for you, check out some of its uses, advantages and disadvantages.
Download the TransUnion Mobile App
Follow these steps to download and start using TransUnion Mobile:
Download the app from Google Play or the iTunes App Store.
Create an account login and register with TransUnion. A username and password are required for security purposes.
Once you've downloaded the app and registered with TransUnion, you can start keeping track of your credit.
How to Use the TransUnion Mobile App
The TransUnion app offers a number of key features for anyone looking to keep track of their credit health. For example, you can use the app to go beyond simply checking your credit score and start figuring out what the drivers of your credit score are. Take a look at a couple of the app's most useful features:
Plan Your Credit Score Improvement
TransUnion Mobile can be an effective tool for figuring out the drivers of your credit score. You can then use that information to figure out your plan of action to improve your credit score.
To start planning your credit score improvement, follow a few simple steps:
Select the "About My Credit Score" option.
View "My Score Factors."
Review the positive and negative determinants of your credit score.
Use the provided information on how to improve your score to decide your plan of action.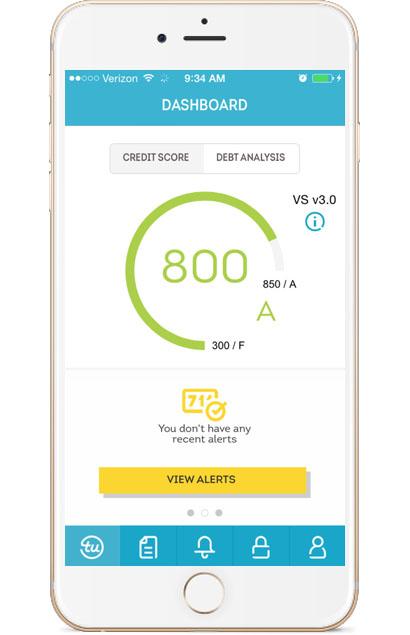 Read: X Best Check-Cashing Apps Right Now
Protect Yourself From Identity Fraud
Users can view their credit accounts and get a complete view of their credit history. Beyond this, you can also review your credit inquiries, so you'll be able to see if someone else has applied for credit in your name and help you self-protect against identity fraud. Similarly, you can view public records associated with your name to find liens and legal issues that might impact your credit health.
To use these tools, take the following steps:
Go to the Identity Protection page.
Select Credit Lock and then swipe right to lock your credit and stop others from getting access to credit in your name.
Tap Credit Report to view information about your outstanding credit accounts and discover possible fraudulent activity.
Select Alerts to view unusual activity related to your profile, including the ability to dispute various types of accounts pulled in your name.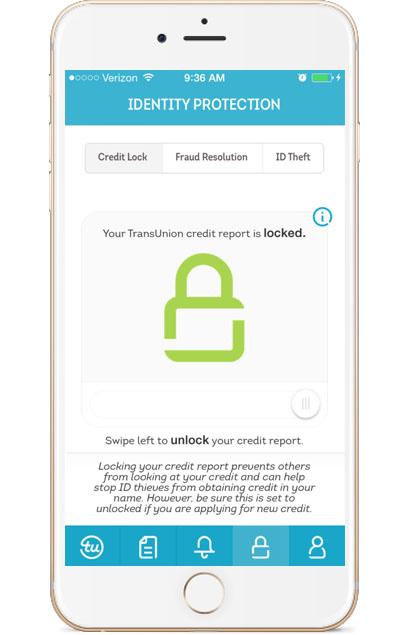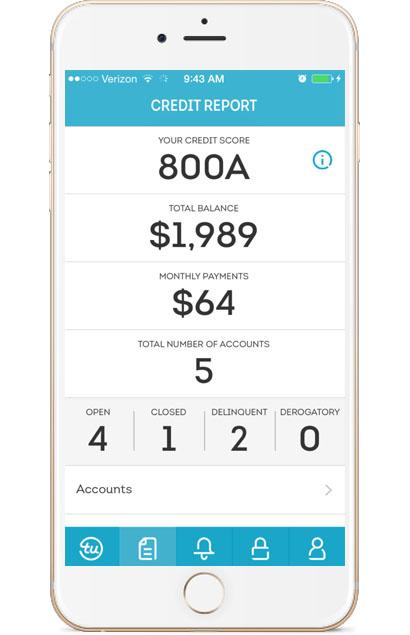 Pros and Cons of TransUnion Mobile
The TransUnion mobile app is well-designed and offers many functions. Although TransUnion Mobile's many features are generally a strong advantage, having access to so many functions could be a disadvantage: The app can offer so much information that it's hard to consume on a tablet, much less a smartphone.
TransUnion Mobile Advantages: The Power to Protect Your Identity and More
If you are looking for an app that will provide many features related to managing your credit health, the TransUnion mobile app could fit the bill. At least one Google Play reviewer described the app as "easy to navigate."
Aside from its ease of use, TransUnion Mobile offers many advantages, including:
Ability to review your credit scores from all three credit reporting companies
Ability to dispute potentially fraudulent applications
Power to lock your credit report and impede identity theft as it is happening
An inside look at the factors affecting your credit score
Advice on what actions you can take to improve your credit score and to overcome past credit problems
TransUnion Mobile Disadvantages: Sometimes More Is Less
Despite its usability, the TransUnion Mobile app might be less desirable for some users. Performing so many credit-related tasks can be cumbersome on the small screen of a tablet or smartphone, and you might find that the app offers way more than you actually need or want.
Here are some disadvantages to consider:
TransUnion can electronically impede identity theft – but can't stop it
All of the information offered by the app can be hard to view on a small screen
TransUnion charges for some services
Neither TransUnion nor any of the other credit reporting companies will tell you precisely what formula they use to calculate your credit score
Another thing to note is that TransUnion is only one of the three credit reporting companies — so it's possible that even if you correct issues with your TransUnion account, those issues may persist with the other two companies, Equifax and Experian.
Apps Similar to TransUnion Mobile App
Equifax offers an app similar to TransUnion Mobile. The Equifax Mobile app has a 3.5-star rating in Google Play and a two-star rating in the iTunes App Store. Equifax Mobile offers the same features as the TransUnion app; users can perform the same tasks as with TransUnion Mobile:
Monitor credit
Check credit score
Lock or unlock credit reports
The only notable variance between the two apps is the difference in interfaces.
TransUnion Mobile: Monitor Credit Health and Identity Protection
The TransUnion mobile app can be an ideal tool if you want to monitor your credit health and keep close track of protecting your identity. But TransUnion Mobile won't truly stop identity theft, and it is still very difficult to repair damage done by identity thieves. Still, the app is a good start to protecting yourself; it's worth at least checking out if you are interested in your credit.