What Is a Money Market Account?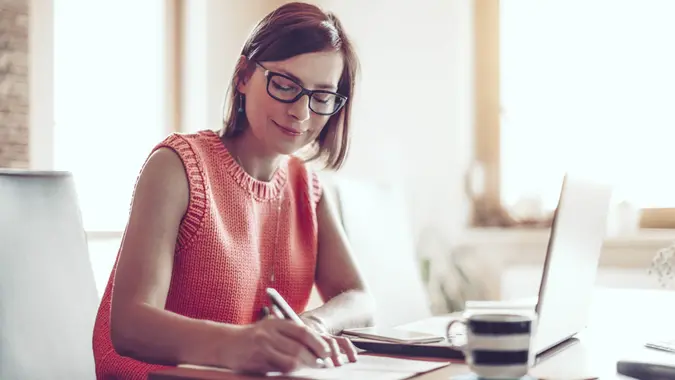 Eva-Katalin / Getty Images
Savings accounts are great places to deposit your money and leave it. Though, they aren't always the most convenient when need to access your money quickly and easily. This leads some consumers to avoid savings altogether.
If you want to save money but need ready access to the funds, consider opening a money market account. Keep reading for a breakdown of money market accounts, how they work, and the costs and benefits.
What Is a Money Market Account?
A money market account shares similarities with a checking account and a savings account, so it is somewhat of a hybrid. Like a savings account, money market accounts pay interest on the balance you deposit. They typically come with checks and debit cards for easy access to your money, like checking accounts. 
However, there are a few unique things about these accounts. Interest rates are sometimes higher than savings account interest, although they can go up or down. Furthermore, even though you can pull your money out more easily than you could from a traditional savings account, banks — such as Chase, as an example — usually limit you to six fee-free withdrawals per month.
How Does a Money Market Account Work?
Money market accounts work similarly to other bank accounts. You deposit your money into the account and the bank pays you an agreed-upon interest rate as a return on your investment. The individual bank decides the interest rate, so you may after researching different banks.
In some cases, the bank may require you to meet minimum balance and minimum deposit requirements. This differs from traditional savings accounts that don't usually have minimum requirements. 
How Money Market Accounts Compare to Other Types of Savings Accounts
Money market accounts aren't the only types of savings accounts out there. Here's a snapshot of how they compare to other popular savings options.
Type of Account
Interest Rate
Account Size
Money Market
May be higher than traditional savings accounts, varies widely by bank
Between $500 and $2,500
Traditional Savings
Less than 1%
-As little as $1, but some accounts require a higher initial deposit.
-Some require a higher balance to avoid fees. Traditional Bank, for example, requires $100 in the account to avoid the $2 monthly service fee.
High-Yield Savings
Up to 5.00%
Varo offers between and APY. You can earn the higher APY for balances up to $5,000. You would need to also have direct deposits linked to the account that add up to $1,000 and maintain a positive balance.
CD Accounts
Higher rates than other types of savings accounts; the longer the term, the higher the interest rate
Between $0 and $2,500
Money Market Accounts vs. Savings Accounts
Money market accounts have reliably paid higher interest than savings accounts at some points in the past. However, that trend has begun to reverse. As of March 2023, the average savings account pays 0.37% APY while the average money market account pays just 0.23% APY.
As the Federal Reserve increases interest rates, traditional savings accounts will offer higher interest rates as well. With the Fed's aggressive approach to interest rates at the moment, it may be some time before money market accounts yield more than traditional savings accounts again. 
Money Market Accounts vs. CDs
CDs typically offer significantly higher interest rates than money market accounts, but you'll have to make a trade to get the extra interest. When you deposit money into a CD, you must agree not to touch that money for a predetermined period of time. That's typically between three and five years.
So, while you can definitely earn more money with a CD, it may not be the best option. That's especially the case if you're building an emergency savings account. 
Consider building your emergency savings in a traditional savings or money market account. Once your savings reaches a comfortable limit, start earning higher interest by investing your excess in CDs and other high-yield options.  
How To Choose a Money Market Account
Every money market account is different. Banks are free to set their own interest rates, require their own minimum deposits and choose whether to offer other benefits. Consider the following as you compare your options:
Interest Rates: The interest rate is how your money will grow as it sits idle in the account. Simply put, the higher the interest rates are, the more money you will earn. 
Account Minimums: Chances are you'll have to make a minimum deposit and maintain a minimum daily balance. Make sure the account you choose has limits you can live with. 
Accessibility: Some money market accounts come with checks, others with debit cards and others with both. Only sign up for a money market account that gives you access to your money the way you want it. 
Final Take
Money market accounts are a good option for those who need easy access to the money they save. If that sounds like you, compare your options at different banks. However, if you're looking for much higher interest rates than those that savings accounts offe — and you can comfortably put your money in an account you can't access for some time — a money market account is not the right fit.
Banks that Offer Money Market Accounts:
Our in-house research team and on-site financial experts work together to create content that's accurate, impartial, and up to date. We fact-check every single statistic, quote and fact using trusted primary resources to make sure the information we provide is correct. You can learn more about GOBankingRates' processes and standards in our editorial policy.