7 Needless Banking Fees That Are Costing You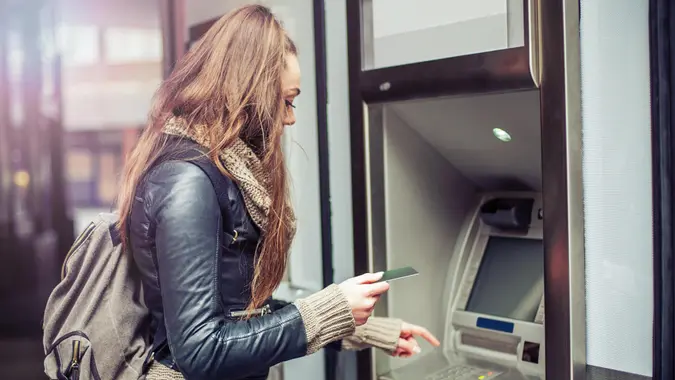 guruXOOX / iStock.com
Banking should be a pretty straightforward affair. One deposits money, takes out money and so on. And yet, so often banks make it complicated (and costly) by tacking on fees.
See the List: GOBankingRates' Best Banks of 2023
Check Out: 4 Reasons To Visit Your Bank in Person This Month
GOBankingRates consulted with finance experts to list seven of the top fees that banks commonly pile on consumers — and the best ways to dodge them. 
Let's have a look. 
Out-of-Network ATM Fees
On the go and need cash? Better hope your bank has an ATM nearby.
"ATM withdrawal fees [for non-network ATMs] can be as much as $5 in total just for withdrawing your own money, since you often are charged by both your bank and the ATM as well," said Fred Winchar, CEO and president of Max Cash. 
Your best bet to dodge these fees is to simply avoid using any out-of-network ATMs. 
Winchar pointed out, "Most banking apps will show you a map of the closest in-network ATMs so that you can better plan where to go if you need to withdraw cash."
Note that some banks and credit unions offer out-of-network ATM reimbursement refunds; so, if you're selecting a new institution and this is important to you, definitely do your homework.
Live Richer Podcast: Scamdemic – Don't Fall Victim to These Money Scams  
Wire Transfer Fees 
Wire transfers are often so tempting because they seem so convenient, but then comes the dreaded fee, embedded in the fine print like some secret code. 
"Wire transfer fees can be trickier to avoid, depending on what you are trying to do," Winchar said. "For some more old-fashioned loan payoffs, this may be the only option. But most tasks traditionally done by wire transfers can be done with Zelle or another payment service, or even your banking app or website. Just verify that your bank doesn't charge for this transfer service, or you're no better off than you were with the wire transfer fee."
Foreign Transaction Fees
Traveling is getting more expensive, and using a debit card can make it even costlier thanks to foreign transaction fees. 
"Foreign transaction fees hover around 3% and can add up quickly over the duration of your trip," said Andrea Woroch, a money saving expert. "Considering there are many credit cards that do not charge this fee, you're better off getting a new card before you travel. Compare airline miles and other travel reward credit cards to find the best one of your travel needs that also waives this fee.
"While you're at it, look out for other benefits such as bonus rewards for travel purchases, included travel insurance, travel credits, free hotel stays and more." 
Checking Account Maintenance Fees
You may not even realize that the "free" bank account you signed up for a while back is now charging you monthly maintenance fees for not maintaining a certain minimum balance. 
"In the event you cannot meet this [minimum balance] requirement, look for a bank that has a lower minimum balance requirement to qualify for a free account," Woroch said. "You can also find online banks that offer free checking accounts with no minimum balance necessary. Another perk with moving your money to an online account is that you can take advantage of higher interest rates paid on savings."
Interest Fees 
A bank might pay you interest; it also might charge you to carry interest on your credit card account, if applicable. 
"If your bank is charging you interest to carry a balance on your credit card account, consider transferring the balance to a 0% balance transfer card," Woroch said. "This will give you some time to pay down the debt without additional interest piling up. During this time, it's important that you don't use your old card as you could dig yourself deeper into debt."
Paper Statement Fees
Still getting paper statements in the mail? Not only is it definitely bad for the planet, it might also be bad for your wallet. 
"Since so much banking is done online, banks often use this as a way to charge customers," said Gabe Krajicek, CEO of Kasasa, a financial technology and marketing provider for community banks and credit unions. "If you receive a paper statement, find out if your bank is charging you for it, and make the move to paperless."
Monthly Maintenance Fees  
"Some banks charge a monthly fee to maintain your account, which can vary depending on the type," Krajicek said. "There are many free reward accounts that have a meaningful impact for people. Shop around and find the ones that are right for you."
If you find that you no longer go to the bank much and are doing the vast majority of your transactions digitally, you might find that a neobank is the right fit for you. Most of these banks sport low or no monthly fees and other perks such as higher interest rates.
More From GOBankingRates