Why It's a Fantastic Time to Put Your Money in a CD Account
Brought to you by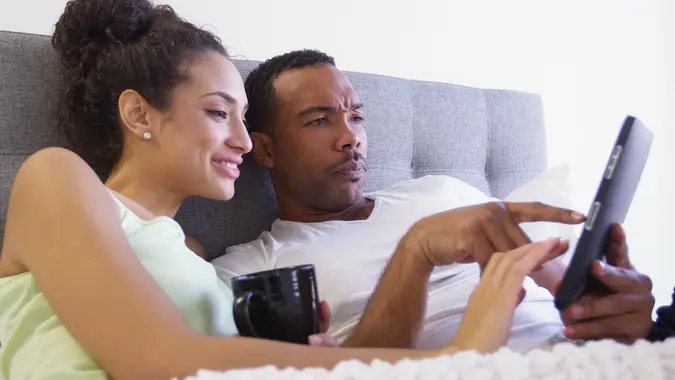 ©Shutterstock.com
We're living in a uniquely challenging time, besieged by soaring inflation and supply chain chaos. It's all taking its toll on the economy and predictions of a recession are running wild.
How can we ensure our own financial safety in such uncertain times? The answer, in part, is to open a certificate of deposit (CD) account.
"There are several benefits of a CD account. One is that it can offer you stability and peace of mind," said Harry Turner, founder of The Sovereign Investor.
Interest Rates Are On The Rise
A CD account paves the way to peace of mind because you're putting your money — for a fixed amount of time — in a kind of vault designed to make those funds generate even more money. How much money a CD account generates depends on the term and the CD interest rate (APY*), and right now CD rates are climbing, with experts predicting that rates will continue to rise throughout the remainder of 2022.
"Though no one can predict exactly how interest rates will rise and fall, it is important to consider current trends, as there may be better yielding account types if interest rates are sitting lower," said Anthony Martin, founder and CEO of Choice Mutual. "By locking in at a high interest rate, your savings will be protected if interest rates fall during the course of your account's maturity."
Amerant Bank: A Leading Example in the CD World
There's much more to be said about the timely benefits of opening a CD account, but first, let's break down exactly how these accounts work by exploring a leader in the field of CDs, Amerant Bank.
Headquartered in Florida and touting over $8 billion in assets, Amerant Bank offers a robust portfolio of CD accounts*:
12 Months: APY*
18 Months: APY*
24 Months: APY*
36 Months: APY*
48 Months: APY*
60 Months: APY*
You'll need $10,000 to open a CD account with Amerant Bank, which is admittedly steep (many CD accounts require just $1,000 to get started), but that $10,000 opens access to the world of notably high APY*. Banks with lower bars to entry usually sport weaker APYs*.
With an Amerant Bank CD account, all funds are FDIC-insured up to $250,000 — which is standard for banks — and you can have a max of $500,000 in your account at any time. Amerant Bank's site allows prospective account holders to see how much money over what period of time could earn them what amount of interest. For example, if you lock $10,000 in a 60-month CD account today, you'll have $11,386.68 thanks to that hefty 2.60% APY*.
Opening an Amerant Bank CD account is easy. All you need to do is fill out an online application and link your bank account to open your CD. You can check your interest earned and account balance online and via the Amerant mobile app.
*CD account offers not available in Florida or Texas
Without A CD Account, You're Losing Money to Inflation
"I'm on a mission to make sure that everyone no longer uses a regular savings account, and either has a high yield savings account, or a CD" said Chloe Elise, a certified financial coach, and the CEO and founder of Deeper Than Money. "With inflation rising, keeping your emergency fund in an account that pays you 0.01% interest, you are losing money."
If your money is generating interest, it can better keep up with soaring inflation. Better yet, once inflation cools down (as it hopefully will in the coming months), you'll still be earning the high CD rate. Ideally, you could outpace inflation or at least not lose money because of it.
CDs Sport Higher Interest Rates than Other Types Of Accounts and Motivate You to Save
In any event, you're generally getting a sweeter interest rate over a set period than you would if using any other type of bank account.
A CD account is a great option for those of us who want to grow their liquidity without putting their savings at risk as they would by, say, investing in stocks. It's the same as putting it in a savings account, essentially, but in a savings account that is specifically engineered to make your money grow. The trade-off, of course, is that you can't withdraw any of those interest-laden funds until the term has matured.
Knowing that you can't touch the funds in your CD account without penalty should help motivate you to keep saving — all while staying sheltered from falling interest rates in the future.
The Only Drawback? That Early Withdrawal Penalty
The reason you get such a luxurious APY* with a CD account like those offered by Amerant Bank is because you're promising to leave your $10,000 (or however much up to $500,000) in the account for the fixed term. Withdrawing your money before the account term is done can lead to an early withdrawal penalty. That can mean giving up some of the interest you've earned or even some of the principal, depending on the details of your specific CD account.
The Bottom Line: If A CD Works For You, Seize the Day
A CD account is ideal for someone who wants to build up their savings in a hands-off way and not fall prey to future plunging interest rates (and they will drop again; such is the ebb and flow of the economy). With interest rates as strong as those Amerant Bank is offering, this is the time to open a CD account. And again, there's no risk.
"Because you are locking your money away for a fixed term, it means you can usually earn a higher interest rate on your deposited money than you would if the money was just sitting in a checking or savings account," said Turner. "This can be helpful if you are looking for a low-risk investment option that will provide you with some guaranteed income."
More From GOBankingRates
*Rates are not valid in Florida and Texas. Domestic accounts only. Annual percentage yield (APY) is accurate as of 6/2/2022. To take advantage of this offer, CD must be opened via online account opening commencing 6/2/2022 with new funds deposited to Amerant Bank N.A. The minimum balance to open an account and obtain the advertised APY is $10,000 up to maximum of $250,000 per account, not to exceed a total deposit of $500,000 per customer. Stated APY is valid for Personal account customers. Individual customers must be citizens or resident aliens of the United States (U.S.) with a valid U.S. tax payer identification number. Advertised rate is subject to change without notice. Penalties for early withdrawal may be imposed. Fees could reduce earnings on the account. Interest compounded and paid monthly. Interest may not be credited to another account other than the same CD at this time. CD will automatically renew for the same CD term at the rate and APY available at that time. Member FDIC