Savings Account Rates of 3.00% APY at Solera National Bank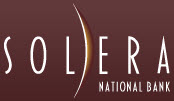 Solera National Bank is offer a savings account rate at 3.00% APY on their Traditional Savings Account. This is one of the best savings account rates available to consumers. Although the rate is very appealing – the features can be a bit unattractive if you don't plan on using the account actively. However, since the minimum required deposit is low – only $50 to open the savings account and the rate is competitive, makes this a savings account to consider.
The features for the Traditional Savings Account are:
You must maintain $100 in the account at all times to avoid the basic quarterly service fee of $5
Deposits in excess of 20 will be charge 15 cents
Withdrawals and transfers in excess of 6 per month will be charged a $10 fee; in addition an excess of 6 per quarter will be charged $1
The interest is paid quarterly not monthly
There are no ATM fees if ATM card is used on other bank ATMs
If account is inactive with balance of $100 or less for 6 consecutive months – there will be a fee of $15 per quarter
This bank is FDIC insured
Again the emphasis on this account is activity – so if you're looking for decent savings account rates this would be a great bank to grow your wealth. However, if you open it and don't use for what it's meant to be used for and leave it dormant, this may not be the right account for you.
Check out more great Rates on Go Banking Rates.