Here's How Much Americans Have in Their Savings Accounts in 2023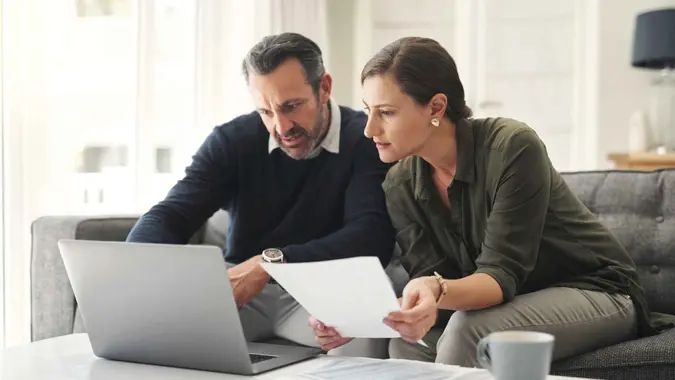 shapecharge / iStock.com
How much do you currently have in your savings account? For nearly a third of average Americans, this number is $100 or less.
GOBankingRates recently surveyed 1,000 Americans ages 18 and older to learn more about their banking practices and found that 32.9% have no more than $100 in their savings account. In a similar study conducted in 2022, 22% of Americans responded they had $100 or less in savings.
While these results may seem concerning, do not sound the alarms yet — there's a bigger story behind the responses. Here's a look at just how much Americans are saving, as well as how much they should be saving.
Demographics Behind the Numbers
For this study, survey respondents were 42% male and 58% female. The age breakdown may be viewed below:
22.40% were ages 18 to 24
22.10% were ages 25 to 34
23% were ages 35 to 44
13.60% were ages 45 to 54
9.20% were ages 55 to 64
9.70% were ages 65+
As such, one should not view a percentage like 32.9% of Americans only keeping $100 or less in their savings as applicable to all Americans. Rather, it is the average overall percentage for survey respondents.
For example, 30% of respondents polled between the ages of 18 to 24 said they have $100 or less in their savings. However, that figure was a combination of 36% women and 27% men.
Using More Than One Savings Account
When we see a percentage like 32.9% of Americans keep $100 or less in a savings account, it's important to consider this amount may be in just one savings account. This account does not necessarily make up anyone's entire financial picture. 
Katie Ross, executive vice president for American Consumer Credit Counseling (ACCC), said consumers typically have two different types of savings accounts. One is for emergency uses. The other is used to save up for a specific financial goal, such as paying for college or another large purchase. 
While our survey does not indicate whether respondents have multiple savings accounts, GOBankingRates asked whether Americans would ever create different types of accounts across different banks — 56% of respondents said yes.
In terms of age breakdown, the most likely to create different accounts with different banks include those between the ages of 45 to 54 at 63% with ages 35 to 44 right behind them at 62%. Men, at 60%, would also be more likely than women, at 53%, to open a different account at another bank.
What Is the Ideal Amount for Savings?
While Ross said the ideal amount to keep in savings depends on what you're saving for, those saving for emergencies are recommended to have at least six months' worth of living expenses. This amount can act as a safety net for unforeseen circumstances like sudden job loss or an emergency expense like a medical bill or car repair.
In the GOBankingRates poll, the age difference between someone who has $10k in savings versus those with $100 seesaws significantly. Only 8% of respondents between the ages of 18 to 24 have $10k in savings. The same age group makes up 30% of respondents who said they have $100 or less in savings. And while most media narratives imply older generations keep more money in savings, only 25% of respondents surveyed between the ages of 55 and 64 said they have more than $10k in savings.
During an inflationary period, Ross said it would be wise to increase your savings by a certain percentage to match the costs of daily expenses going up. This is applicable for saving in an emergency fund account and any account opened for a specific savings goal. (Your goal, Ross said, is now more expensive.)
What About Americans Nearing Retirement?
For those nearing or in retirement age, Ross recommends keeping higher amounts of savings. Only 19% of respondents 65 and older surveyed by GOBankingRates said they currently have more than $10k in their savings account. 
"Because you won't be working anymore, you'll likely just be left with your retirement savings and maybe a pension if this was part of your job terms," said Ross. "You'll never regret putting aside as much money as possible. Having ample savings during your golden years can help you avoid having to rely on credit cards during emergencies — and accruing credit card debt."
Tips for Properly Managing a Savings Account
As you work to manage your savings account or accounts, Ross recommends following these three best practices:
Do research. "Save your money in an account that is not easily accessible and earns interest," said Ross. If you aren't sure which bank or financial institution is best for you and your needs, conduct research to learn more about your options.
Don't touch your savings. Once your money is in the account, leave it alone. "If you're spending it, it's harder to save for emergencies or your goal."
Revisit your savings account once a year. A lot happens in a year. Your savings may need to adjust to reflect the changes in your life. If you are making the decision to up the amount in your emergency fund, for example, Ross said life events including a higher (or lower) salary, new house or new baby should be factored in. Similarly, those with accounts designated to reach a goal purchase may, as Ross mentioned earlier, up the amount put into this account if your goal is getting more expensive due to inflation.
More From GOBankingRates