How Much Money Should You Have in Your Savings Account in Your 40s?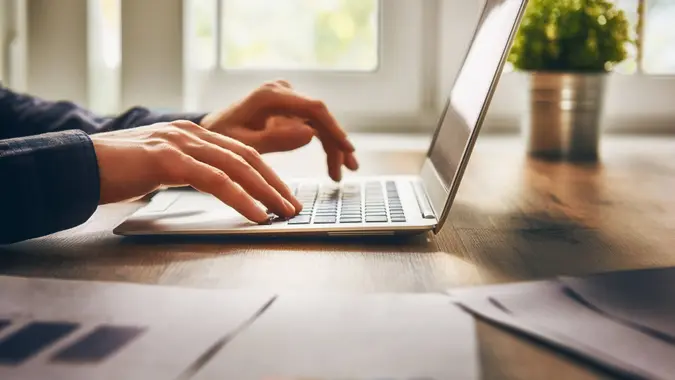 ©Shutterstock.com
How much money does the average 40-something have in a savings account? Ideally, nobody in their 40s should be without some substantial form of liquid funds.
See the List: GOBankingRates' Best Banks of 2023
Read More: What To Know If You Deposit More Than $10K Into Your Checking Account
Here's how much money should be in your savings account in your 40s.
Breaking Down Americans' Average Amount of Savings
In GOBankingRates' Best Banks 2023 survey polling 1,000 Americans, 33% of respondents said they have $100 or less in savings. That included 45% of people ages 45 to 54 and 29% of people ages 35 to 44.
About 57% of people have less than $1,000 in savings, including two-thirds of the 45-54 age group and 54% of the 35-44 group. Just 22% of the overall respondents have more than $5,000 — 18% of the 45-54 age demographic and 26% of the 35-44 segment.
Take Our Poll: Are You Concerned About the Safety of Your Money in Your Bank Accounts?
In a separate GOBankingRates' freeform survey of 1,002 Americans, the percentages ebbed and flowed slightly. About 36% of respondents ages 45-54 said they have $500 or less in savings, and 29% of the 35-44 age group had that little. About 20-21% of each age group covering the over-40 crowd had no savings at all.
Earning 4% Or More On Your Money?
Meanwhile, about 14% of the 35-44 set and 18% of the 45-54 Gen Xers said they have more than $10,000 in savings. 
How Much Should Be in Your Savings Account in Your 40s?
Jason Mountford is a trend analyst at Q.ai, an AI investing app. Once you're in your 40s, Mountford said, you should have $33,462 in your savings account.
Why this specific amount? Mountford said recent data from the U.S. Bureau of Labor Statistics shows the average U.S. household has a monthly expenditure of $5,577. As a general rule of thumb, households should aim to have an emergency fund with six months' worth of living expenses available in an accessible savings account. 
"This gives you six months to find a new job if you're laid off," Mountford said, "and can also serve as a buffer for ad hoc expenses like unexpected home maintenance or medical bills."
Tips for Building a Savings Account
If you don't have this amount in savings yet, the good news is you can start saving up to reach this goal. Mountford offers the following tips to help get started:
Start with whatever you can afford. Saving something, even if it's just a little bit of money each month, creates a positive habit. Even if it takes time, this helps build up your financial safety net.
Make it automatic. Rather than relying on discipline, Mountford recommends setting up an automatic transfer when you get paid. This sends your savings to a separate account. This means you're saving without thinking about it and you'll be able to budget for the amount left after the savings. 
Gradually increase your automatic savings. Did you recently negotiate a pay raise? Did you start a new job with a better salary? Mountford says, "Make sure you increase the amount of this automatic monthly saving."
Earning 4% Or More On Your Money?
More From GOBankingRates
Earning 4% Or More On Your Money?