You Only Need $1 To Earn Major Interest on Your Money With This Savings Account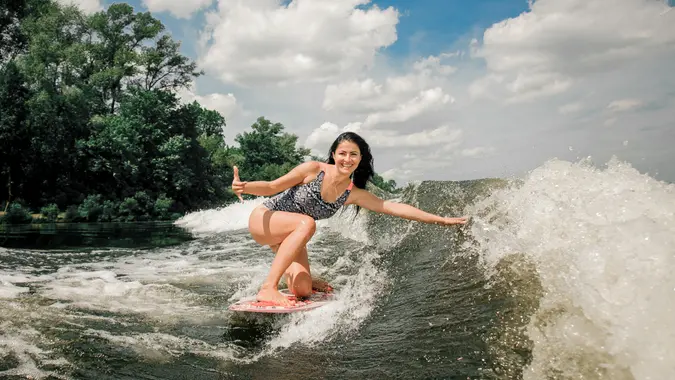 MaximFesenko / Getty Images/iStockphoto
GOBankingRates writes about products and services to help you find the best financial solutions for your needs. GOBankingRates.com can receive a commission from our affiliate partners when you sign up through our links, but our reporting and recommendations are always independent and objective.
What are you doing with your cash? Well, other than spending it responsibly, right? If you're like most Americans, you simply keep a balance in your checking account to pay your bills and possibly to contribute to your retirement savings. But unfortunately, like many Americans, you're probably earning little, if any, interest on the money in your checking account.
Interest checking accounts from many major banks offer just a 0.01% annual percentage rate, which is very close to absolutely nothing. So, instead of keeping your money in your checking account, you could be earning significant interest through a savings account. And if you're looking to earn big with a savings account, the HSBC Direct Savings account now offers a 2.30% annual percentage yield. That could add up to some nice, extra money in the long run.
How the HSBC Direct Savings Account Works
Who doesn't want to make money while doing absolutely nothing? Even though you might think that's just a dream, you can make it come true with the right savings account. When you open an HSBC Direct Savings account, you'll earn 2.30% APY on your savings, which equates to an interest rate of 2.28% APR.
The HSBC account is an online-only savings account, which means that you won't have access to a teller in a branch. Instead, you'll have to use telephone banking, e-statements and the internet to manage your account.  Furthermore, this is a personal account, and it's not available for business use.
When opening this account, you only need $1, which is the minimum balance for the account. However, there are no effective limits on the amount you can deposit, other than a $350,000 maximum daily online limit and a total maximum of $2 million. More importantly, there are no monthly fees for this account — just another way to keep more money in your pocket.
Find Out: Here's How the Average Savings Account Interest Rate Compares To Yours
To open an account, you need to be 18 years old and have a Social Security number. You also need to supply your current U.S. residential address and your addresses dating back three years. Finally, you'll need a valid U.S. ID such as a driver's license, ID card, passport or permanent resident card (green card).
Once open, you can deposit money using the HSBC Mobile Banking App. You can also use it or your online login to complete online transfers, view, download and print e-statements and receive live chat assistance, if necessary. Through this account, your money is FDIC insured, which is backed up by the full faith and credit of the United States. This means that your account isn't an investment that is subject to loss; it's an interest-earning deposit account that's guaranteed by the U.S. government. Not a bad deal.
Why You Might Want to Consider an HSBC Direct Savings Account
Why not consider a savings account that adds to your savings? Why not earn more money without trying? Seriously, why wouldn't you want to consider this free cash?
According to Moebs Services, an economic research firm that studied data from the Federal Reserve, U.S. consumers maintained historically high balances in their checking accounts in 2018, which averaged $3,673. If you were to deposit that amount in an HSBC Direct Savings account, it would grow to $3,758.38 after one year. This means that you could earn $85.38 in interest. That's not a fortune, but it's money you didn't work for that you're just leaving on the table if you aren't earning significant interest on your checking account balance. And if you deposit $8,000, you could earn $185.95 in interest each year.
The Bottom Line on This Savings Account
Opening a savings account will never be exciting or glamorous, but it can offer you the opportunity to earn interest on the money you already have. By taking a closer look at the HSBC Direct Savings account, you could be earning more interest income than you might have thought possible.
Click through to find out how much Americans have in savings at every age.
More on Money