Jaspreet Singh: This Is How Much Money You Should Have in Your Savings Account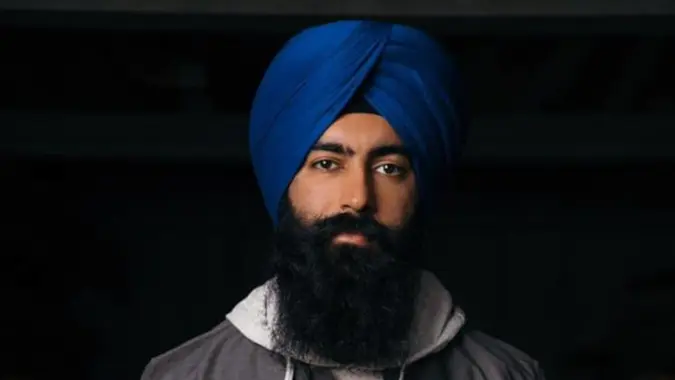 Jaspreet Singh / Jaspreet Singh
Americans are dipping into their savings accounts at alarming rates, according to economists. As of March 2023, Americans had just $500 billion in emergency savings, in total, compared to $2.1 trillion in August 2021, Fortune reported.
A 2023 survey from SecureSave found that 67% of adults can't cover a $400 emergency without using their credit cards — and 74% of Americans live paycheck to paycheck.
At the same time, Americans are also saving at a slower rate, rather than trying to rebuild those depleted savings accounts. The personal savings rate fell to 3.9% in August 2023, down from an average of 8.9% over the past few decades, according to the U.S. Bureau of Economic Analysis as reported by CNBC.
Of course, most people realize that having some emergency savings is a good thing. But how much do you really need to save?
GOBankingRates' Jaime Catmull recently chatted with finance expert Jaspreet Singh, CEO of Briefs Media and host of The Minority Mindset Show, to discuss how much you should save and how to do it.
How To Determine How Much You Need in Savings
"You should have somewhere between 3 [and] 12 months' worth of expenses saved in a savings account," Singh told GOBankingRates' Catmull. "If you're 25 years old, single, and don't mind taking on risk, you might only need a few months' worth of expenses saved."
Likewise, a two-income household with secure jobs may also get by with just three months of expenses saved, according to Kevin Brady, a CFP and vice president at Wealthspire Advisors, per CNBC. Your fixed expenses include your mortgage, car loan, insurance, utilities, cell phone, food, and any other bills you might consider "non-negotiable" even if you lost your job.
He said that a single-income household with variable pay may want nine months of savings.
Singh also indicated that six to 12 months is a good savings amount for someone with a family. "If you're 45 years old, married with kids, and are anti-risk, now you might want 6-12 months' worth of expenses saved," he told GOBankingRates.
Financial expert Suze Orman recommended having two emergency funds in a prior GOBankingRates article. She suggested having 8 to 12 months' of predictable expenses tucked away in case of job loss. But she also said you should have an emergency fund for unknown expenses, such as car repairs or replacing home appliances. This fund doesn't need to be as large as your fund for expected expenses, but it should cover the deductibles for your home and car insurance in the event you have to file a claim.
However much you tuck away, make sure you set parameters for spending it so you aren't tempted to dip into your savings for frivolous purchases. "Now I should mention, this money is meant to be saved for emergencies." Singh said. "This is not money you use to buy a new TV."
How to Build Your Emergency Savings Fund
In one of his former videos, Singh recommended saving at least 10% of your income in an emergency fund. After that, 15% should go toward investments and 75% toward living expenses. One easy way to start building your emergency savings, experts agree, is to have that amount deducted directly from your paycheck into a high-yield savings account before you even see it.
As you work toward accruing the emergency savings you want, you also want to make sure you are paying off any high-interest credit card debt. Once those cards are paid down, you can split the extra money between emergency savings and investments.
What To Do With a Windfall
When you receive extra money, whether in the form of a tax return, a bonus at work, or anything else, you might be tempted to spend it on a vacation or a splurge.
Orman advised readers of her blog to have a game plan in place for any extra cash you receive. She suggested using roughly 10% (after taxes) on something that will make you happy, whether that's a vacation or a steak dinner.
After that, add a little extra to your credit card payments to pay down high-interest debt if you have any.
Finally, if your emergency fund isn't where you want it, add the extra cash to your high-yield savings or money market account.
If you have enough in savings that you can sleep well at night, invest the money so it can grow at a faster rate than it can in your savings account.
"If you're putting money aside to save it, you've taken the first step, which is great," Singh said in a Minority Mindset video. "But now, you've got to stop being scared with that money and you have to be willing to take risks with that money if you want to see your money grow and actually build wealth."
More From GOBankingRates