This Map Shows You the Best Savings Account in Every State
Big banks like Chase and Bank of America might be as ubiquitous as Starbucks with branches and ATMs dotting every street corner, but the massive presence of these megabanks doesn't mean they have the best savings accounts — at least not when it comes to interest rates.
View full map and listing by clicking below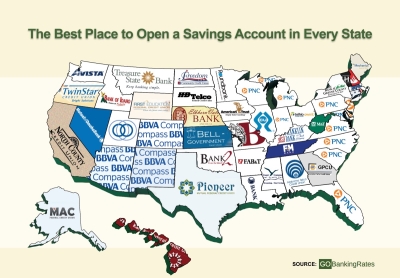 In a survey of more than 12,950 traditional and money market savings accounts offered by U.S. banks and credit unions, GOBankingRates located the financial institution in every state offering the highest interest rate, finding a regional bank or community credit union took the top spot every time.
See the map below to find out where to get the best savings account rate in your state.
View full screen map
Best Savings Account Interest Rates Vs. National Average
Among the best savings interest rates, several banks and credit unions stand out for offering incredibly high yields in comparison to the national average:
The Bank of Greene County (NY): 4.00% APY
Alabama Telco Credit Union (AL): 3.00% APY
Pioneer Mutual Federal Credit Union (TX): 2.52% APY
Genuine Parts Credit Union (GA): 1.76% APY
Win-Hood Co-Op Credit Union (IL): 1.75% APY
National Average (Regular Savings + MMDA): 0.15% APY
How Local Savings Rates Are Determined
When it comes to how actual interest rates are determined, banks will consider a number of market indicators and indices, such as the Federal Funds rate, treasury yields and the LIBOR rate. However, Sol Nasisi of BestCashCow noted, "the way they interpret these indicators and how they decide to price depends on their own unique goals."
Nasisi pointed to the business plans of banks as a top contributing factor to how deposit pricing is determined. "Banks that are looking to grow will often raise rates to help fund that growth," he said. "Banks that are not looking to add assets will usually not have as much of an incentive to raise rates."

Additionally, the competition among local institutions also plays a big part in how high rates can go. Anthony Alfidi, CEO of Alfidi Capital in San Francisco, told GOBankingRates, "One very compelling local factor for interest rates is the competition for deposits among major bank branches. Branch managers are paid bonuses for new accounts opened and new loans originated. They have some temporary leeway in offering higher rates on savings accounts if those new accounts can immediately be churned into loan capital."
Further, as Nasisi explained, financial institutions often temporarily raise deposit rates in an attempt to bring in new business that can then be cross-sold on additional products and services.
Savings Account Map Methodology
Data was compiled from the GOBankingRates interest rate database, which, in partnership with Informa Research Services Inc. (www.informars.com), aggregates interest rates belonging to more than 6,000 U.S. banks and credit unions for various deposit accounts and loans. Although the information has been obtained from the various financial institutions, the accuracy cannot be guaranteed.
GOBankingRates examined interest rates on personal savings accounts and money market savings accounts with an assumed $10,000 opening deposit. Note that many of these interest rates are short-term or promotional offers only, and it is possible additional terms and conditions must be met in order to obtain the interest rates listed.
All interest rates were last verified as of June 1, 2014. Rates are subject to change at any time at the discretion of individual financial institutions. Please verify rates before opening an account.
GOBankingRates is a personal finance and consumer interest rate website owned by ConsumerTrack, Inc., an online marketing company serving top-tier banks, credit unions and other financial services organizations. Some of the banks mentioned in this ranking are ConsumerTrack Inc. clients.
Editorial Note: This content is not provided or commissioned by the bank advertiser. Opinions expressed here are author's alone, not those of the bank advertiser, and have not been reviewed, approved or otherwise endorsed by the bank advertiser. This site may be compensated through the bank advertiser Affiliate Program.