Savings Rates Study: How Well Do Community Banks Compete with Credit Unions?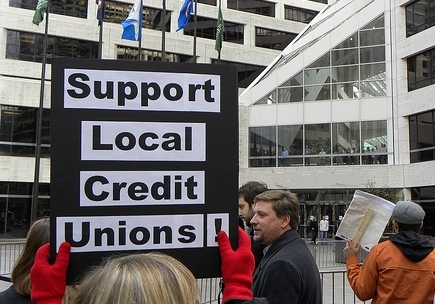 We're all well acquainted by now with the many advantages to banking locally. Living within an economic environment in which decent savings rates have become as mythical as the unicorn, depositors are continuing to move money away from the nation's largest financial institutions and into small, community-oriented banks and credit unions in an effort to earn better returns.
Along those same lines, the reigning assumption when it comes to local banking is that credit unions are superior. Indeed, credit unions largely outshine major for-profit institutions in terms of personal service and affordability. But what about local banks? Many of the priorities that drive credit unions — namely, serving the unique financial needs of the surrounding community — and subsequently lead to these favorable qualities are the same for local banks.
Looking at deposit rates specifically, the clear-cut line between banks and credit unions may begin to blur. After all, local is local — does institution type play a role in the competitiveness of deposit rates on the local level? We performed a study comparing savings account rates belonging to more than 5,000 local banks and credit unions throughout the U.S. to find out.
Best Savings Account Rates Goes to Credit Unions
Based on the data, which averages savings rates from both local banks and credit unions, it's financial not-for-profits that do, in fact, come out on top. However, it's important to note that the disparity in average savings account rates is so tiny that it would be wrong to conclude that credit unions are "better" than local banks for high-yield savings opportunities.
Rather, the information shows that community banks are competitive with credit unions, making either a strong option for depositors. When it comes to local banking, it's more important for savers to compare accounts based on individual terms and features, rather than institution type, when searching for the best savings rates.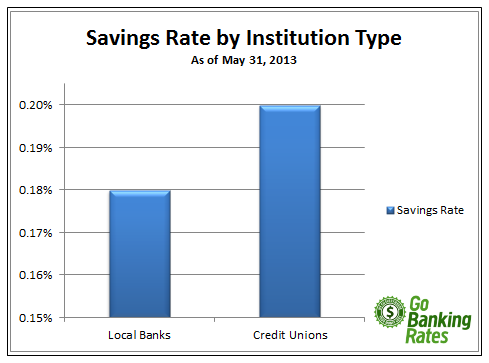 Highest Savings Rates – Top 10 Banks and CUs
To provide depositors a benchmark for comparing the best savings account rates, we compiled the top 10 highest savings rates from both local banks and credit unions, according to the GoBankingRates database.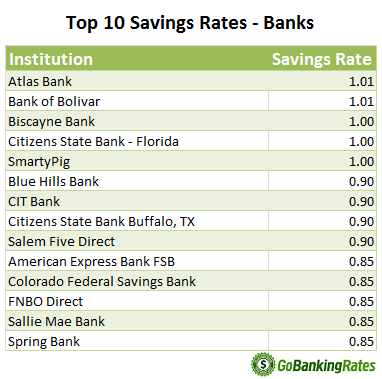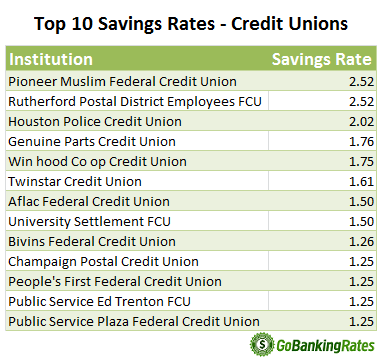 *Includes all institutions that tied for tenth.
About This Savings Account Rates Study
GoBankingRates employs a team that manually collects interest rates belonging to national, local and online banks and credit unions. Currently, there are more than 5,000 financial institutions in the GoBankingRates database. Rates are based on the online published rate sheets belonging to institutions, assuming a $10,000 opening deposit.
Information used in this study is accurate as of the most recent month-end of May 31, 2013. Please note that interest rates change at the discretion of individual institutions and may do so at any time. Rates may have changed since this date.


Image: Fibonacci Blue